loop of video showing meena khalili outside McKissick Museum drawing the museum facade in a sketchbook
Storytelling at the heart of UofSC professor's work
Artist Meena Khalili uses multiple mediums to share her stories
Meena Khalili starts off her explanation of why she became a visual artist this way:
"I blame Pee Wee's Playhouse."
An artist and designer, she now understands the feats of engineering and creativity that were used to pull together the children's television series known for its bright colors, zany characters and cool animation. But watching as a child, perhaps as young as 3, she remembers being intrigued and delighted by the show, particularly the short cartoons.
"There were animations. But it was sort of like a cross between real life — because it was shot in a kitchen — and stop motion animation and drawing. And it just blew my mind. That was, I think, the start of my visual curiosity about aesthetics and entertainment and storytelling."
That path of visual storytelling would take her from her family's home near Washington, D.C., to where she is now, an artist and an associate professor who teaches design and interaction in the School of Visual Art and Design at the University of South Carolina. She has won the National Award for Outstanding Professional Achievement in Graphic Design by the Southeastern College Art Conference and her pieces have been shown in museums and galleries around the country and internationally. She was recently profiled in The Great Discontent, an international online and print publication committed to sharing the untold stories of artists and risk-takers. The interviews with Khalili and another artist were translated to Farsi in the magazine's print edition.
The language holds a special connection for Khalili. Her work is informed by growing up as an Iranian-American; her father left Iran in 1970 and immigrated to the United States. Khalili remembers absorbing the spoken word as a young child, learning the English language, syntax and intonation, while also listening to her father speaking Farsi on the phone. At the same time, she started piano lessons at age 4, starting to read music and translating that to sound.
"So at this point in my life, what I can reflect on and take away from that is that there are myriad systems working in tandem and the rules of those systems have been established, but we can still question them. And that has brought me to a place in design, particularly design education, that keeps me excited," she says. "I started out with that curiosity and I've kept it going."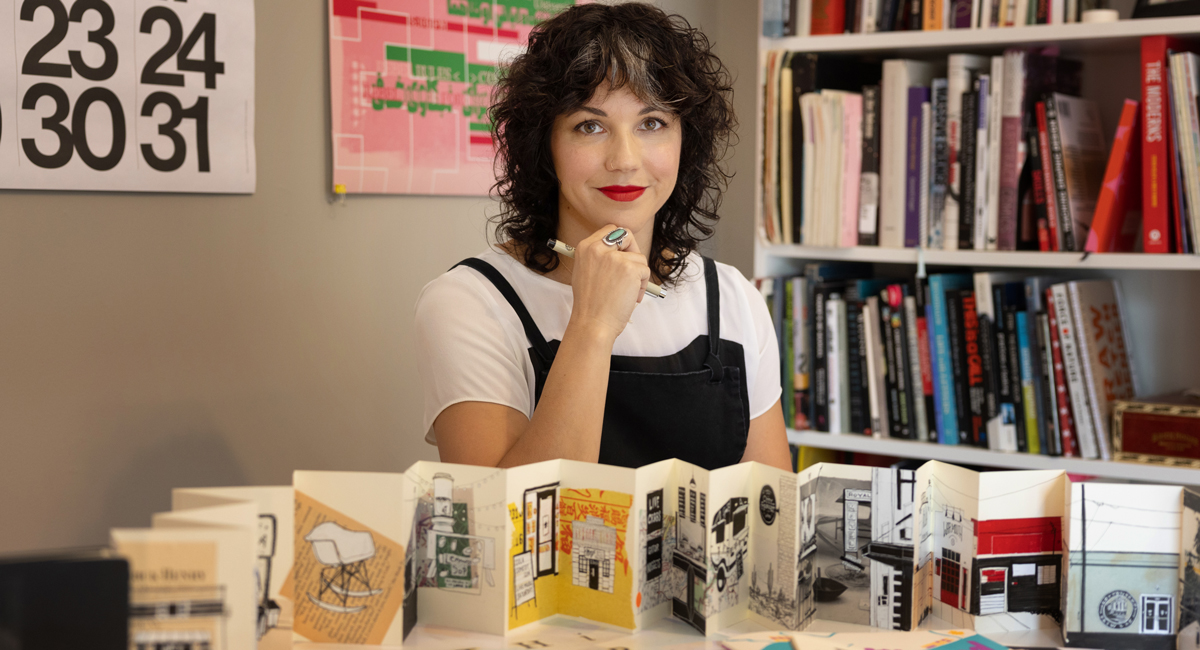 In the studio and the classroom
She has "kept it going" with work that spurs that curiosity through multiple mediums. Print design, animation, pen-and-ink illustration, moving images and augmented reality — it's all in her toolbox. It's part of what she calls "non-siloed visual communication" where she uses many technologies and devices to create art.
It's all on display in her light-filled studio in Columbia's Cottontown neighborhood, where digital screens share space with art prints, and augmented reality co-exists with stacks of moleskin notebooks filled with her snapshot sketches.
In the classroom, she instructs students as they prepare for design careers while also helping them understand their responsibility to create not only beautiful pieces, but designs that work well for people. It's a field that is growing quickly in popularity, with the number of applications to the design program at UofSC tripling this year, she says.
Khalili and her colleagues in the Graphic Design and Illustration concentration have recently secured a McCausland Innovation Fund grant to start The Design Studio, a student-run design studio and incubator. The studio will pair the best emerging student designers with faculty and a multidiscipline community board of advisors. It will provide experiential learning opportunities and train students who are both creative and commercial-minded thinkers by linking them to organizations that need design services.
She is a true believer in the importance of mentorship —with a list of those who have inspired her in her career and creativity — and she works to pass that along to students and colleagues at the university. And she remains a champion of the importance of design education, recently wrapping up four years of service and leadership of the National AIGA Design Educators Community.
'Exploration of loss'
Much of her work has to do with the dissolution of cultural heritage, telling the story of what "cultural weaning out" looks like. "That is probably the most important work that I do personally, telling those stories, showing what that dissolution looks like, what that change looks like. I call it entropic design. It calls on that second law of thermodynamics to consider a system that's disrupted before it completely dissolves."
An example of that work, and her use of technology to create art, is evident in her piece called "My Grandfather and the Ravine."
It started with a landline phone call to her father, with Khalili asking him to tell her a story about his life in Iran. Khalili's father described his father's ritual of walking each day down a path he built on a ravine that ran through his land, and then climbing back up the stone steps each morning to start his day.
She took the words, and ran them through a telephone line 15 times, recording it each time. The number of times the recording was copied altered her father's clear voice to one that eventually faded into static and pops.
"It gets to where you just can't understand it, you can't hear everything. That is an audible translation of a feeling of loss," she says.
Then she printed her father's words on a fabric, and used the fabric to mimic a chador, the Persian covering that women wear around their head and upper body. She put it on and wore it out in the rain 15 times, causing the ink on the fabric to fade and run.
"My goal with this work is to express what that feeling of a cultural heritage being weaned out of you might look like. I'm a visual designer. So how can we visualize this?" she says. "It's an exploration of loss."
Life as she sees it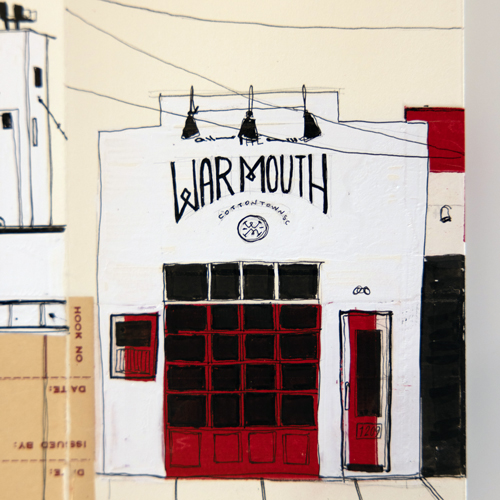 Storytelling remains at the heart of all of her projects. For example, the pen-and-ink sketches on expandable accordion pages in her notebooks are the basis for her popular practice known as "The Drawn Daily." The stories feature a glimpse of life where she is living it. The Columbia notebooks books are filled with buildings on campus, businesses in her neighborhood or coffee and drinks at a favorite spot. She posts the drawings on Instagram, and also makes prints available for sale.
These drawings aren't copied from photographs; instead, she quickly sketches what she sees in the moment. They are a nod to her upbringing, while reflecting the importance of a sense of place.
During the height of the COVID-19 pandemic, that love of restaurants and the people who keep them going translated into her selling prints of the War Mouth, a restaurant in her neighborhood. She donated the proceeds from the sales back to the restaurant to help during the difficult days of the pandemic.
"My father had restaurants. He was a small business owner," she says. "So I have a real love of small businesses."