"I got involved with Tiger Burn last year as a member of the build team. I ended up really enjoying the process and had a lot of fun with the team, and that's ultimately what got me back into working on it this year, even moving into more of a leadership role this year due to my past experiences working on the project.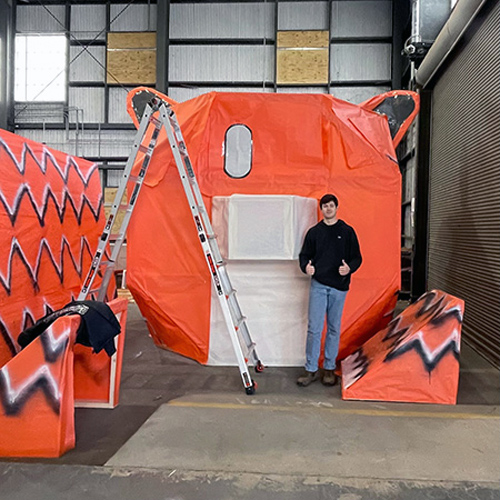 So, the planning process for us begins all the way back in the summer, around the July-August mark with the initial design modeling in software as well as brainstorming for new design ideas. After that, the design gets approved by several parties like the fire marshals and mechanical engineering faculty. By the time that's done, it is usually around the October mark, and it's time to start the actual build process, which really consists of two parts: building and wrapping. The wooden frame of the tiger gets built here, and then the second part, wrapping, is where we cover the frame in paper and decorate it with stripes and facial features. On the day of the burn, everything gets assembled, as it's originally built in parts, and then obviously there is only one thing left to do: burn it down.
My favorite part of the project is the hands-on experience with lots of parts of the engineering process as well as the practical experience. Additionally, the team for tiger burn is always lots of fun to get to know and hang out with as you spend so much time working together on the project."
— Jackson Goldsmith, senior engineering major