It's no secret that South Carolina faces a litany of health care challenges, including high rates of heart disease, stroke, cancer and diabetes. Six in 10 adults in the state suffer from a chronic disease, according to the S.C. Department of Health and Environmental Control, and four in 10 suffer from more than one.
It's also no secret that these challenges hit especially hard in rural areas, where there are fewer doctors, nurses and hospitals available than in more populous areas of the state.
With its comprehensive portfolio of health science and health care offerings, the University of South Carolina is well positioned to help address these challenges.
The School of Medicine Columbia ranks No. 1 in the country for graduates serving in underserved areas.
Systemwide, the university awards 800 nursing degrees per year, helping to meet the need for nurses throughout the state.
Clinical faculty at the university have embraced telehealth as a way to increase access to health care services in underserved areas of the state.
The Arnold School of Public Health's Rural and Minority Health Research Center conducts rigorous research to understand health needs among rural and underserved populations.
The South Carolina Center for Rural and Primary Healthcare at the School of Medicine Columbia collaborates with partners throughout the state to enhance clinical care and increase access to services in rural and underserved areas.
Here are some of the ways in which university researchers and graduates are working to advance the health of South Carolina residents.
Variety, community draw practitioners to rural South Carolina
Close connections make service in rural areas special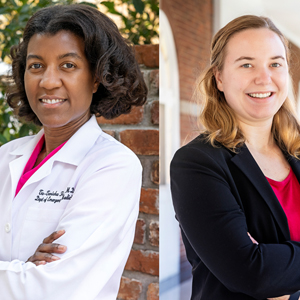 Born and raised in South Carolina, Dr. Ta-Tanisha Favor has no intention of leaving.
"South Carolina is always going to be home," Favor says. "It's where my family and friends are."
Favor, a 2006 graduate of the School of Medicine Columbia, specializes in emergency medicine and has found her place serving residents from rural communities.
"I get to serve as a primary care provider and can also serve in traumatic moments and everything in between," says Favor, who works at Lexington Medical Center and Beaufort Memorial, and also does shifts at the Orangeburg-Calhoun Regional Detention Center. "There's never a dull moment."
Community is another reason to practice medicine in a rural setting, she says. She has stories about people bringing her cakes and pies and asking about her baby after she'd been out on maternity leave.
"There's something special about small town people. It becomes one big cohesive family," she says. "The sense of compassion and caring: there's just something different about working in a rural community."
Grant increases family nurse practitioner workforce
Students gain immersive clinical training in community settings
Kayla Lee, a graduate student studying to be a family nurse practitioner, has seen firsthand the effect lack of access to quality health care can have on a community.
"A close friend passed away," says Lee, who lives in Ridgeville, S.C. Before she died, Lee's friend would talk to her about the limited medical options she faced.
A grant received by the College of Nursing in 2019 will help rural communities obtain the care Lee's friend did not.
The four-year, $2.4 million-dollar Advanced Nursing Education Workforce Grant will increase the number of students trained to be family nurse practitioners in rural and underserved areas in South Carolina. Students in the program have immersive clinical rotations in community-based settings.
"We want to make sure that we can serve our constituents more effectively," says Alicia Ribar, associate dean for academic affairs for the College of Nursing. "Part of our mission at the college is that we not only are educating undergraduate nurses but also graduate-level healthcare providers that can serve the health care needs of our state's population."
Filling the gap in rural health care
USC graduates give back to South Carolina
Rocio Mundo, who grew up in Allendale County, never doubted she would be a nurse in a rural part of South Carolina. She had been working as a licensed practical nurse for 11 years before returning to school at USC Salkehatchie to earn her Bachelor of Science in Nursing through the school's Rural Nursing Initiative. Mundo graduated in May 2020, right at the height of the pandemic.
Now a registered nurse, she accepted a job as the lead school nurse for Bamberg District 2.
"Growing up in a rural area, there's always been a shortage of nurses," Mundo says. "There's always been a shortage of almost everything … so it was very important for me to come back to my home county or the surrounding county and just give back."
That commitment to helping those most in need is what draws many to work in rural health care.
"There's a lot to be said for the sense of community in a little place that you don't necessarily get in an urban place," says Kevin Bennett, director of the Center for Rural and Primary Healthcare. "You're seeing your patients at the grocery store and knowing that you helped intervene and make that difference."
Paving a better path for children
Elizabeth Crouch, Arnold School of Public Health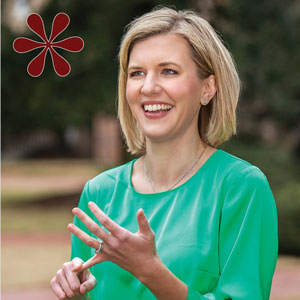 In 2016, Elizabeth Crouch started working on a grant-funded project with the Children's Trust of South Carolina. Through the partnership, she began to explore the subject of adverse childhood experiences, such as household dysfunction, substance abuse and caregiver depression.
"You're asking adults about their childhood," says Crouch, associate professor in the Arnold School of Public Health and the director of the Rural and Minority Health Research Center. "For example, did they experience household violence?"
As she became more deeply invested in the study, she found herself on a new path, increasingly interested in the plight of rural children, particularly minorities, compared to their urban counterparts.
Studying the rural-urban divide is a good fit for the Louisville, Ky., native, whose brother is a physician in Appalachia, and whose grandfather, a veterinarian, used to take her along on house calls to farms in the summers.
"I know some of the issues that rural people face," she says. "So, it's partially [my] personal background that got me interested in this work."
Education evolves to meet community needs
USC Upstate grant supports diversity in nursing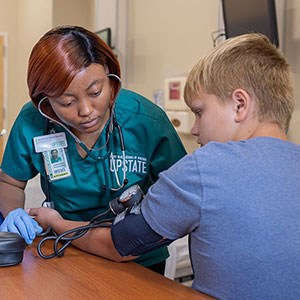 Taylor Williams was aware that health care is different in rural communities, but the class she took at USC Upstate as she completed her pre-nursing courses was still eye-opening.
"I'm from Barnwell, so when I got up here to Spartanburg, I thought these people were spoiled with all they have," says Williams, who is a junior nursing major. "But I also learned that even in areas like Spartanburg, there are places that still don't have access to a lot of health care resources."
The rural health class at Upstate was created as part of a five-year, $1.95 million grant from the federal Health Resources and Services Administration to increase the number of nursing students from underrepresented backgrounds. Students learn about disparities between rural and urban areas, and they identify ways to alleviate those challenges.
Williams, who plans to complete her studies in 2024, wants to stay in South Carolina and work as a nurse and later as a nurse practitioner.
"In my hometown, there are only a few doctors and it's hard for them to specialize in any area because they are having to deal with such a wide range of problems," says Williams. "I feel like having a nurse practitioner in these areas would free up the doctors to focus more on specialties."
A love of community
Ebony Toussaint, Arnold School of Public Health
Ebony Toussaint first discovered the field of public health as a freshman at the University of South Carolina. Today, the Beaufort native is a USC faculty member working to improve the lives of rural residents.
"My dissertation research was focused on mental health and access to health care, with one aspect focusing on access among rural Americans," Toussaint says. "I'm from a rural community, so it was fitting that I join the Rural and Minority Health Research Center in the Arnold School of Public Health."
Other areas of interest include the intersection of health and evictions, and the job satisfaction of nurses as it relates to health care quality.
At the Arnold School, Toussaint has found a welcoming environment in which to thrive.
"I love teaching, I love community outreach and I love research," she says. "I'm constantly surrounded by others who love teaching, research, and outreach also; it's so motivating and energizing."