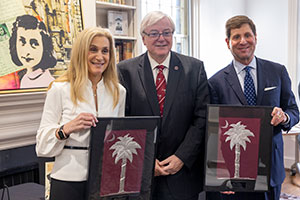 The University of South Carolina hosted a reception on Wednesday (Nov. 30) to thank those who supported the establishment of the Anne Frank Center on the Columbia campus and its ongoing mission to educate visitors about antisemitism and other forms of discrimination.
The center, which officially opened last year in the Barringer House, offers a permanent exhibition and educational program in partnership with the Anne Frank House in Amsterdam. It is one of only four partner sites in the world and the only one in North America.
Reception attendees included university President Michael Amiridis, former President Harris Pastides, state Rep. Beth Bernstein, S.C. Ports Authority Chairman Bill Stern and former state Sen. Joel Lourie. The Center's executive director, College of Education professor Doyle Stevick, said Bernstein was instrumental in securing the $2 million in state funding to support center.
"170 members of the General Assembly agreed that this was an important allocation," Bernstein said. "We hope that many generations—for years to come—will be able to come to this center and remember the message that we have to stand up against antisemitism, bigotry and hatred in all forms."
The center tells the story of the young Jewish girl who documented her family's two years of hiding in Nazi German-occupied Amsterdam during World War II. The journals were later published as The Diary of a Young Girl, also known as The Diary of Anne Frank.
More than 10,000 people have visited the permanent campus exhibit since its opening and center's traveling exhibit has reached more than 50,000 others, including students in schools across South Carolina. Amiridis said the work of the center is just getting started, and its message may one day reach millions in South Carolina and beyond.
"With the knowledge and understanding we gain through these exhibits and lessons provided through the center, we will multiply the voices who are prepared to tell the stories that must never be forgotten," Amiridis said.
For more information and to schedule a tour visit the center's site.