"Please recite the alphabet backwards."
David Banush laughs as he recalls the nervous excitement he felt as a teenager interviewing for his first job at his hometown library in Trenton, Michigan. He faced a spelling test, a shelving test and an intimidating interview before he was hired as a page.
"I was able to do that, but I thought, what a strange question," Banush says. "The librarian later told me the reason she always asked this question is to see how people would react to very unusual requests."
David Banush took the helm as dean of University of South Carolina Libraries in November. He has seen his career come full circle from shelving books as a 17-year-old to leading the libraries into a new era. His continuous pursuit of knowledge is a key skill in this fast-moving world which gives him the expertise to reenergize, reframe and rethink the purpose of libraries during the field's digital transformation.
Twenty-five years into his professional career in libraries, Banush has seen over and over why it is crucial for library leaders to be ready for anything.
"Most of our faculty are highly specialized in specific disciplines, but in libraries we have to be much more generalist. We serve everyone from public health to business to the humanities," says Banush. "Being curious and open to lifelong learning is critically important to be able to help such a wide variety of people. It is one of the joys of this job."
He led his team through the pandemic and Hurricane Ida as dean of libraries and academic information resources at Tulane University for the past seven years. He is proud of his role in bringing famed best-selling author Anne Rice's archive home to New Orleans.
Banush worked with collector Stuart Rose to get Rice's work back to her hometown, which was also the setting for her most famous books. Her novel manuscripts, diaries, recorded interviews and even her voluminous collection of fan mail is now available for public research at Tulane.
"The Anne Rice Archive was a lengthy negotiation, a very long and complicated process, but those items really belonged there and they will be cared for," Banush says. "I'm sure there will be opportunities like that here and I look forward to that."
What was once the hushed home for dusty stacks of books is evolving and he envisions new spaces and methods to connect students and ideas through the libraries. Banush has a drive to discover ways to keep moving forward with the ever-changing landscape of new technologies while also preserving and presenting past literature.
"I think we have a good foundation in our digital services and digital scholarship support. There's more opportunity to grow that. Our particular role centers around information resources. We have an incredible trove of rare materials and we need to explore how that can enhance teaching, learning and research."
He plans to bring more attention to the unique and growing services available to students, faculty and the campus community.
"We have such a range of expertise whether it's researching a family history in our South Carolina collections or being able to work with technology that enables students to record a podcast or video in our studios. Our services are very broad."
Banush believes the services of the libraries and their collections are more important now than ever before. Librarians serve an essential role in navigating the digital age by providing access and guidance to distinguish between misinformation and credible sources.
"That is not just for the first-year student, but everyone on campus has something to learn about technology, information and data literacy," Banush says. "You have to understand the role of technology and the power of technology and how it's going to shape our work."
Love for learning
Like many undergraduate students, Banush entered college at the University of Michigan with the concrete goal to become an economist. That plan was immediately derailed.
"One semester of calculus and economics class quickly cured me of that idea," Banush says. "Instead, I found that I really enjoyed reading, writing and foreign language."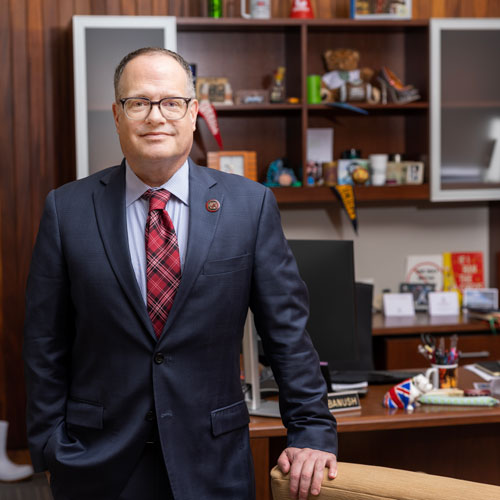 That continuous thirst for knowledge eventually drew him back to the library. Two years into a Ph.D. program in English at New York University he decided to pivot after earning his master's degree and return to Michigan to earn a Master of Library and Information Science from Wayne State University.
"I did really love being a student," Banush says. "I may have loved it a little too much because I never left campus really, one way or the other. I love being in an environment that is very stimulating and challenging. There is so much room for growth."
He took a break from earning diplomas, but couldn't stay away from college campuses. He began his professional career in 1998 at Ivy League libraries. His first stop was at Cornell University before going to Brown University.
Banush is now eager to seize the opportunity at South Carolina to create visionary library spaces online and offline that will advance study, collaboration and research.
"Our fundamental purpose is to be an academic support unit for the entire campus," Banush says. "We serve everyone from the first-year student to senior faculty and alumni. That is what is so exciting about this work. We get to keep learning and finding new ways to serve so many people."