Gwen Hopper's research takes her to rivers, drainages and stormwater ponds throughout Horry and Georgetown Counties. She collects water samples to examine the amounts and types of dissolved organic matter in each system.
Hopper has observed that waters in more developed areas are experiencing worsening water quality compared to non-developed waterways. Dissolved organic matter — naturally occurring plant and animal detritus — may be playing a role.
She's using chemistry to find out why that is the case, and what communities can do about it.
Hopper is working with the National Estuarine Research Reserve at North Inlet-Winyah Bay in South Carolina to examine how urbanization and development affect the water quality in local water sources as well as larger-scale climate change.
As a third-year Ph.D. student in analytical chemistry researching with Claudia Benitez-Nelson, Hopper has worked extensively at the Baruch Marine Field Laboratory in Georgetown, South Carolina, which shares a campus with the national reserve at North Inlet-Winyah Bay.
"I chose this area because it offers a great opportunity to look at highly developed areas, but also to look at naturally forested systems that don't have the same issues," Hopper says.
Following in Margaret Davidson's footsteps
Hopper recently received the Margaret A. Davidson Fellowship from the National Oceanic and Atmospheric Administration, which will support her studies and fund her research in the Winyah Bay watershed for the next two years.
The program pairs graduate researchers with National Estuarine Research Reserve mentors, such as Dr. Erik Smith at North Inlet-Winyah Bay. Hopper's work so far has equipped her to meet the specific needs of the reserve and the surrounding community.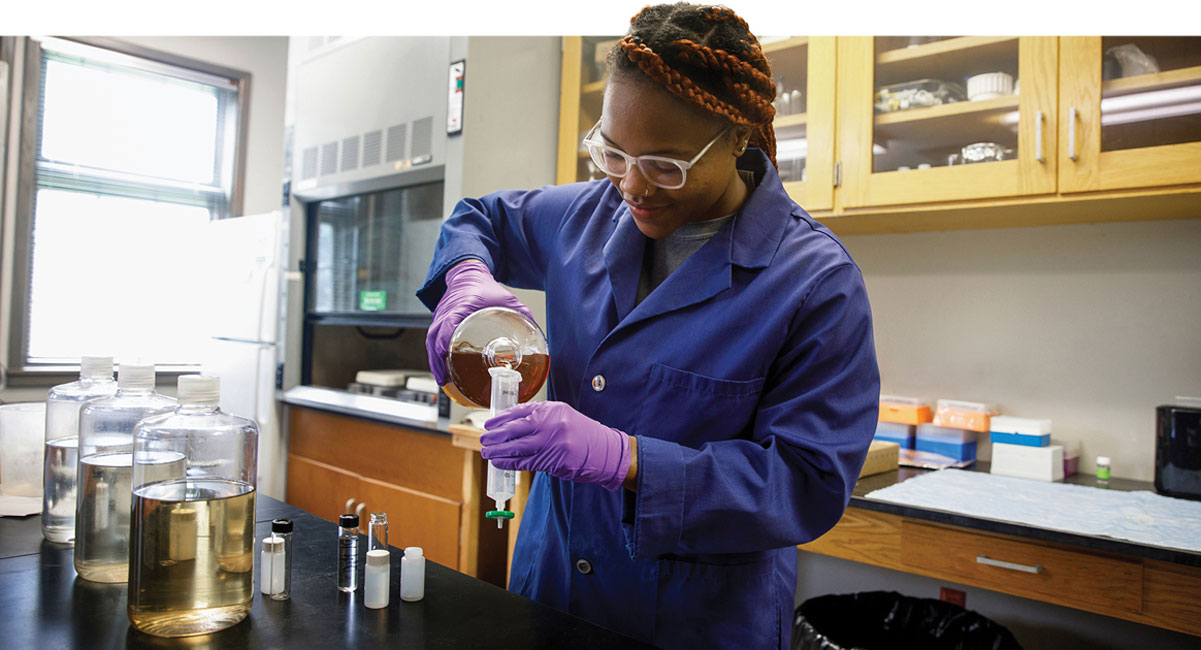 The Davidson Fellowship aims to educate and empower graduate students as well as the communities where they conduct their research. The opportunity to work with communities directly was one of the elements that drew Hopper to apply.
Hopper says the late Margaret Davidson, an influential researcher at NOAA, recognized the disconnect between community residents and scientists doing research, something that Hopper herself wants to help improve.
"She filled that gap in an informative way – in a welcoming way – not in a sense of pointing out what communities are doing wrong but pointing out what they're doing right," Hopper says. "I want to do what she did."
Down the line for Hopper's work, this could mean meeting with residents and policymakers in Horry and Georgetown Counties to inform them about her research findings and offer recommendations for improving management practices.
Hopper says over-developing areas increases pollutants in waterways in part because pavement changes the natural course of runoff.
"What was once a forested area is now a sidewalk or road. So, when it rains, dissolved organic matter no longer permeates into the ground. It washes directly into our watershed," she says.
Hopper hopes to develop actionable steps for how communities in urban and developed areas can protect their water supply. Small changes, such as fertilizing lawns once a year instead of multiple times, can reduce water quality problems, she says.
As solutions spread to more communities, the work could impact global environmental issues.
"Our long-term goal is to have the best management practices to clear up our waterways and also to mitigate climate change," she says. "What we do as humans and climate change go hand in hand."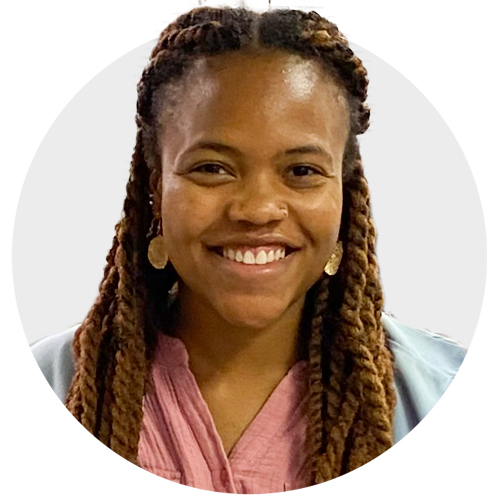 Teaching the next generation
While Hopper looks at the future impact of her research, she's making plans for her own future as a professor.
"It's always been a big thing for me to give back, especially to the communities that I come from," she says. "You hold the door open for people coming behind you."
Hopper started her time at USC through the Bridge to Doctorate Program for underrepresented students.
"The Bridge to Doctorate Program gave me a level of confidence that I didn't realize I would need until I was in certain situations, like choosing a research group," she says.
Hopper wants to help other students find their way to careers in science and research.
She's working toward her teaching goals through UofSC's Grace Jordan McFadden Professors Program, which provides additional funding and training for diverse and underrepresented students who aim to become professors.
"When I was coming up, I didn't have a lot of outreach and development in my area," she says. "I come from a more rural area of North Carolina, so when I started college, I had no idea what kinds of careers were possible."