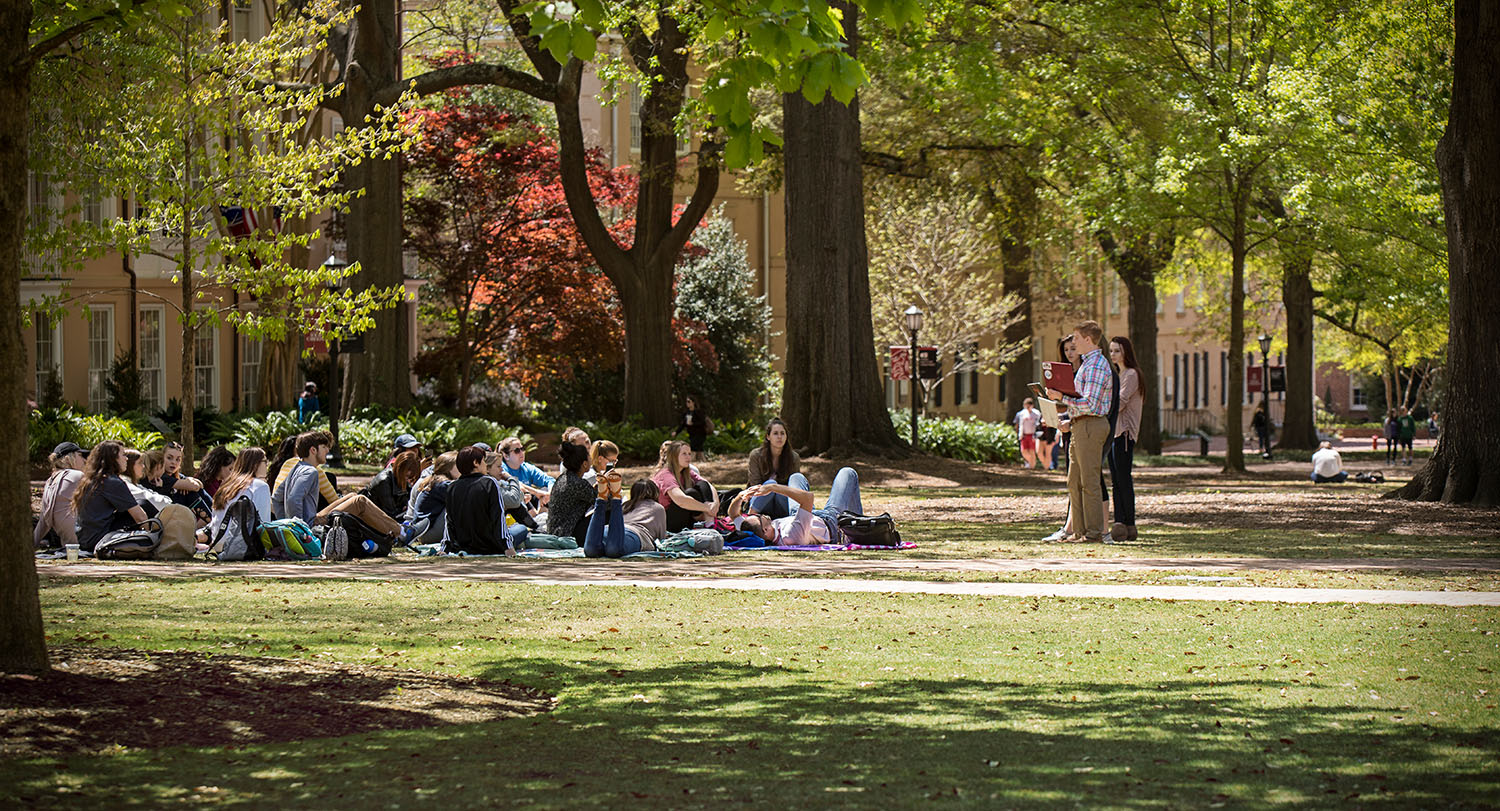 The Office of the Provost remains a source of mystery for many, but its reach extends to every aspect of academic activity on USC's campus. According to Provost Donna Arnett, the role of the office is quite simple.
"The Provost's Office oversees everything academically at a university, which includes managing all of the colleges and their deans," says Arnett. "Everything we do touches a student, most staff and all faculty."
Underneath Arnett's leadership is a team of vice provosts who oversee and support a host of centers, organizations and initiatives that reach across schools and campuses at the university. Other cross-college initiatives such as the Carolina Core and the First-Year Reading Experience originate from provost's office as well.
"Many faculty and students are going to come into contact with the Office of the Provost, but it's through the offices that report to us," says Vice Provost Sandra Kelly. "When there are good ideas, we help enact them."
Here is a look at just three of the offices that are advancing the provost's mission of academic excellence at the university.
Varshitha Karveti, a biology student on the pre-med track, has always had early graduation on her radar. With dreams of traveling between graduation and medical school, where she hopes to pursue ophthalmology, Karveti broached the subject of finishing her undergraduate degree in three years with her advisor and found herself in the office of On Your Time Initiatives.
Launched in 2016, On Your Time aims to provide students with pathways to graduate on timelines suitable to their own needs and desires. Need to take summer classes to stay on track for graduation? Hoping to graduate in three years instead of four? Looking for academic support after transferring to the university? On Your Time has solutions.
Karveti is reaping the benefits of On Your Time's extensive student support and flexibility. With staff to advocate for her when class seats are filling up and advise her in navigating her accelerated study plan, Karveti is on track to graduate a semester early in December 2023. Now, she's paying it forward by working to provide peers with similar experiences as an ambassador to transfer students and a member of On Your Time's student advisory board.
This opportunity to get an inside perspective on the office has been valuable. "I got to see how On Your Time works behind the scenes and how to stay on track while helping others achieve the same goal," says Karveti. "And because of the monthly meetings, I've met a lot of people who are on the same track as me. It's been nice to have that support system."
When Deborah Hazzard began in her role as clinical assistant professor at the Darla Moore School of Business in 2016, her search for mentors and opportunities to hone her teaching skills led her to the Center for Teaching Excellence.
"I had experience working in business and industry, but I only had experience teaching in an adjunct capacity," she explains. "Many of the people I spoke with said, 'Take advantage of the resources in the CTE.' Very early on, I began to do that and benefitted tremendously."
The Center for Teaching Excellence is a source of robust support for faculty members and graduate teaching assistants seeking professional development and consultation services. From mental health programming to technology resources, the CTE is equipped with the tools to help new instructors develop their skills as well as provide experienced professors with opportunities to grow. Hazzard intentionally pursues those resources and opportunities that suit her needs in the classroom.
In partnership with the CTE, Hazzard has integrated inclusive leadership content into her management courses. Though fostering empathy is a critical component of building leaders, traditional D&I initiatives rarely succeed in truly changing participant perspectives. That's where the CTE comes in.
Thanks to virtual reality headsets provided by the center, Hazzard uses applications to allow trainees to experience discriminatory events through the lens of individuals from a variety of marginalized groups. Participants say the session has given them new insight and understanding of equity issues in the classroom and the workplace. "It's truly transformational," says Hazzard.
Brooklyn Wiley was stuck. Several classes into a public health major that wasn't the right fit for her and unsure of her desire to continue on an unfulfilling path, Wiley decided to pursue changing her major. This decision led her to the University Advising Center's Office of Exploratory Advising and Academic Coaching, which assists students wanting to switch between majors, schools and colleges within the university.
Exploratory advisors are equipped with an intimate knowledge of all 144 programs of study at the university, allowing the team to help students as they navigate periods of substantial change. This familiarity with the full range of academic offerings is particularly helpful for students like Wiley, who left her public health major and transitioned into the School of Journalism and Communications to major in mass communications.
Regular advising sessions were a lifeline for Wiley in determining her path forward. "If I didn't have them, I'd be failing or taking the completely wrong classes," she says. "It's having a big impact on my grades."
Beyond bolstering her GPA, Wiley's change of course has helped set her on track to pursue her passions. Once she graduates in May 2024, she hopes to work in corporate social media management.
For now, Wiley is embracing the experiences she is able to have at the university. "During my first year, I couldn't wait to transfer," says Wiley. "Then I got a good advisor and I actually liked my major. Now, I love this school."