Bobby Donaldson's great-grandfather, Smart Williams, was born in 1897 in Aiken, South Carolina. Even though his great-grandfather had only a second-grade education, Donaldson remembers watching him habitually read the Bible and the newspaper.
"Granddaddy had an encyclopedic mind. He could recall dates and figures and people. I would just sit and listen," says Donaldson, associate professor of history at the University of South Carolina.
Every now and then, there would be paperwork or a document his great-grandfather needed to sign, and Donaldson recalls watching him make an X for the signature.
"I finally asked him, 'Granddaddy, why are you putting an X by your name?' And he explained to me that he knew how to read but he did not know how to write," Donaldson says, "And he said, 'Flipper — that's what he called me — whatever you do in your life, leave your mark.'"
Donaldson carried that advice from his great-grandfather through his early education in Augusta, Georgia, while earning his Ph.D. in American history and now as director of Center for Civil Rights History and Research at USC, where he is also the James E. and Emily E. Clyburn Endowed Chair of Public Service and Civic Engagement Fund.
As a respected scholar of Southern history and African American culture, Donaldson has served as a consultant for museum exhibitions, archival collections, oral history initiatives, documentary films and historic preservation projects. He also has been recognized for his teaching and community outreach.
He credits his parents and educators — from his elementary school librarian to a "drill sergeant" professor at Wesleyan University to his mentors and colleagues at USC — for inspiring his career.
'Lessons to be learned'
Growing up in Augusta, Donaldson says his parents were passionate about education and sparked an early interest in history with trips to historical sites. Even in church settings, he was drilled in Black history partly, he believes, because the adults found it lacking in schools.
He says grandparents also shared in his upbringing. They lived in a public housing project in Augusta, and he spent weekdays with them and weekends with his parents in their suburban neighborhood.
"Even though I had my friends, it would not surprise anybody to see me on the front porch with the old people — just sitting there being nosy," he says. "I always enjoyed sitting with them because I just knew there were lessons to be learned."
From an early age, he had a fascination with history, current events, social studies and books. He says he had many great teachers who nurtured and influenced those interests — one, in particular, has a special place in his memory.
When he was in the fifth grade, he became president of the Library Club, where he not only had tasks such as shelving books, he also helped the librarian, Mrs. C.W. Eason, with other projects and programming, including monthly bulletin boards about Black history.
"So many of us who went to W.S. Hornsby Elementary were kids from the public housing project," Donaldson says. "Mrs. Eason knew of our personal challenges and made it clear to us that those things should never be impediments to our aspirations."
Later, Donaldson was part of a group of students who attended a new magnet school focused on the performing arts. His instrument was the violin — which he admits he had no aspirations of pursuing further — and his focus was theater, where he learned skills he continues to use in teaching and community engagement.
But his passion for history continued, and during a centennial celebration at Paine College in Augusta — his father's alma mater — the keynote speaker was John Hope Franklin, a leading African American historian. Donaldson says he didn't know Franklin's credentials at the time; he just saw a distinguished African American holding forth in a pulpit. He remembers thinking, "Who is this guy?" When he found out, the seed for an academic career was planted.
A change of plans
His early aspiration was to combine his interest in history, theater and politics into a career as a lawyer. Many folks assumed he would go to Morehouse College in Atlanta. That was a little too close to home, and he began to look at schools in New England. During a college day when he was a junior at the Governor's Honor School in Valdosta, Georgia, Donaldson was introduced to Wesleyan University in Connecticut.
"I was very impressed by their curriculum, and I was really intrigued by going to New England, so I went to Wesleyan with early admission, sight unseen," he says.
He initially majored in political science, but with mentoring from African American history professor Michael Harris, he changed his major to history and African American studies.
"He was a drill sergeant," Donaldson says of Harris. "This guy was intense. We were all intimidated by his intellect and his style of teaching … I think he saw some potential in me, and he asked, 'Have you ever thought about the academy?' "
"What is that?" Donaldson wondered. He learned it was Harris' shorthand for earning a postgraduate degree and becoming a professor. Harris also suggested Donaldson participate in a program through the Andrew Mellon Foundation to increase diversity among faculty at institutions of higher learning.
To pursue his doctorate in American history, Donaldson returned home to Georgia to study at Emory University in Atlanta. He says Emory felt right because his mother had attended the university but didn't finish after he was born at the end of her freshman year.
His research focused on early civil rights pioneers — of the 1860s, not the 1960s. He was intrigued by William Jefferson White, a political activist, Baptist minister and journalist, who founded Morehouse College in 1867 and was the founding pastor of Donaldson's church in Augusta. His research on White continues with plans for a biography.
At Emory, he was an editorial assistant for the Martin Luther King Jr. Papers project to preserve King's writings, sermons and other records. He also was an archival research assistant, cataloging rare book material.
"Part of what brought me to USC was the fact that I could (continue to do the type of work I did at Emory) and still be a teacher," Donaldson says. "I can still be involved in public history. I can still help build collections, and I can still have strong community engagement."
From scholar to mentor
In 1999, while still working on his dissertation, Donaldson came to USC jointly hired in history and African American studies. He was part of a cohort to expand the African American studies department.
Another plus for USC was the opportunity to follow the legacy and be mentored by people he respected such as Grace Jordan McFadden, Cleveland Sellers and Willie Harriford. Harriford helped found African American studies program in 1971 and was the university's first Black associate dean. With Donaldson's background in archives, he also was intrigued by the university's impressive collection of materials about Reconstruction, the early 20th century and civil rights.
Donaldson's career at South Carolina has spanned 20-plus years, during which he has been in residence at both Dartmouth College and Harvard University. At Dartmouth, he held the Thurgood Marshall Fellowship. That's where he met his wife Elise, who was an assistant provost at the time. They have two children, a son and a daughter. He also held Susan Biddle Ford Fellowship at the W.E.B. Du Bois Institute for African and African American Research at Harvard.
At USC, Donaldson has been a mentor with the Grace Jordan McFadden Professors Program, which provides financial support and helps prepare underrepresented, ethnically diverse students to become professors. He also has worked with the Ronald E. McNair Program, which involves TRIO-eligible students in research and other scholarly activities to help prepare them for graduate education. But because of his experience attending a small college, Donaldson says the one of the most rewarding phases of his career at USC was serving as faculty principal of Preston Residential College from 2010-2016.
"We had within our space effectively a small liberal arts college," he says. "We had 230 dynamic, diverse students from across the university … and we worked to build a community."
His parting gift from Preston was a walking stick crafted by one of the students. He keeps it in his office today along with a walking stick that belonged to his grandfather and others he's collected over the years.
Teaching inside and outside the classroom
In the classroom, Donaldson uses the theatrical skills he learned at his magnet school in Augusta to make his lectures energetic and imaginative. He also tries to break the perception that history is just a regurgitation of dates and facts.
"I'm asking you to place yourself in a particular time period. I'm asking you to become a historian," he says. "I'm asking you to work with primary material to develop your own analysis – not the only answer, but your own analysis of history."
He also believes that teaching takes place outside the classroom, so he shares university resources to educate the public through projects such as Columbia SC 63: Our Story Matters, a documentary history initiative that chronicles the struggle for civil rights and social justice in Columbia.
He uses his role as director of USC's Center for Civil Rights History and Research for outreach such as partnering with other community groups to unveil a historical marker for a 1961 student march on the State House. Arrests from that march to protest racial inequality led to a landmark U.S. Supreme Court decision in Edwards v. South Carolina.
The popular and successful 2019 Justice For All exhibit shined a spotlight on turning points in South Carolina's civil rights history that influenced nationwide change. More than 5,000 visitors toured the exhibit, which showcased historic items from more than 60 university library collections and combined documents with visuals, videos and oral histories to immerse visitors in the moment.
The center has funding from the National Park Service to launch a digitized version of the exhibit and to create a semi-permanent exhibit in the historic Booker T. Washington Auditorium building on Wheat Street. A gift from Williams, an energy infrastructure company, helps fund traveling exhibitions.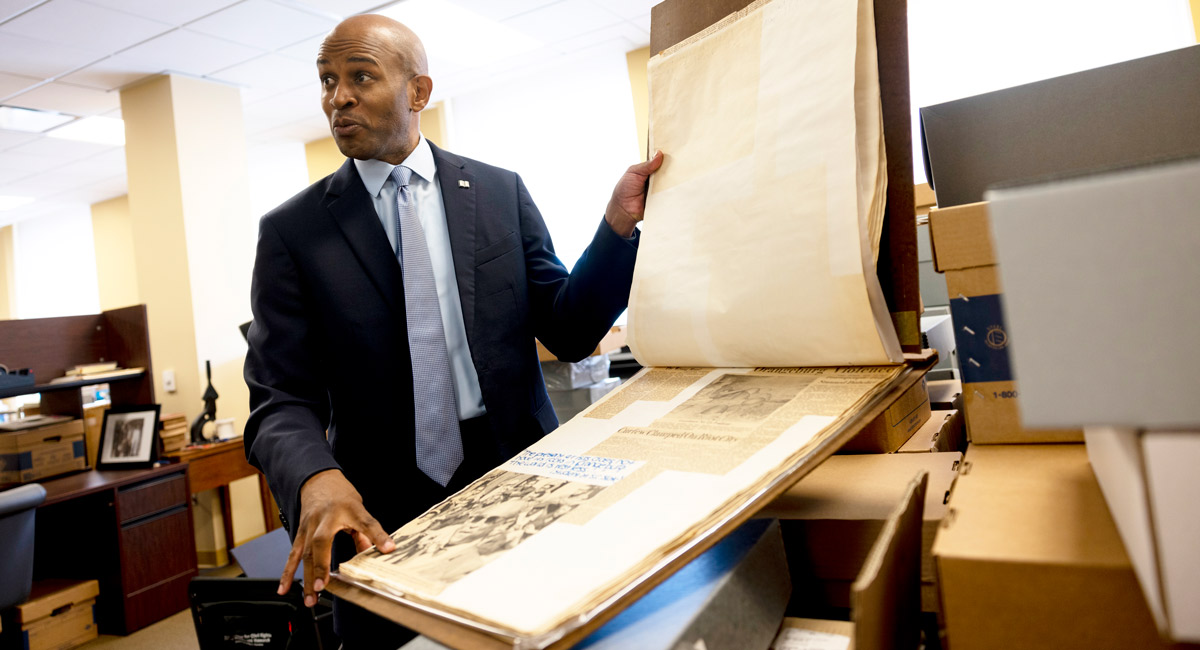 From dream to reality
The National Park Service also has provided grants for the restoration of the auditorium building, where, Donaldson says, the center started as a dream, which became a reality in November 2015 as the first organization dedicated to chronicling South Carolina's civil rights story.
It was launched within months of the mass shooting at Mother Emanuel African Methodist Episcopal Church in Charleston in which nine African Americans were killed during a Bible study. Even though groundwork for the center preceded the tragedy, Donaldson says, it confirmed the need to move forward.
The cornerstone of its collections is the congressional papers of U.S. Rep. James E. Clyburn, the state's first African American member of Congress since 1897.
"The genesis of a civil rights center at the University of South Carolina grew out of conversations my late wife Emily and I had with Bobby Donaldson almost a decade ago," Clyburn says. "It brings me great joy to see our dream of sharing and preserving the untold and under-appreciated role that South Carolina played at various pivotal moments in our nation's history."
Clyburn recognized that his papers were part of a larger story, Donaldson says. The university already had the papers of civil rights activists I. DeQuincey Newman, Modjeska Monteith Simkins and James McCain. Clyburn continues to be a strong advocate for federal and corporate support and an invaluable partner with the center's work to tell the history as accurately as possible.
"I applaud Dr. Donaldson's work at USC and appreciate his dedication to preserving our archives and filling in those very historical gaps," Clyburn says. "It is critical for succeeding generations to know and understand the contributions and sacrifices of the giants whose shoulders we stand upon."
Continuing preservation efforts for the auditorium building advance USC's commitment to documenting that history and has helped strengthen partnerships between the university and the Booker T. Washington High School Foundation and the neighborhood organizations for Ward One and Wheeler Hill, historically Black communities.
"Students who go in that building — if they're paying attention — are reminded that it is a historic African American space," Donaldson says.
Becoming 'a national model'
A $1.8 million gift in 2009 for renovations to the auditorium building from the Rev. Solomon Jackson, known for his philanthropy in South Carolina and to higher education, laid a strong foundation on which the center continues to build. The restoration funded partly by his donation has amazed Jackson.
"I didn't know that was even possible — for the façade to be restored back to what we remember," he says. "It meant so much to those of us who went to school there in the 60s and 70s, and it took a lot of relationship-building by Dr. Donaldson to make that happen and bring the university and the Booker T. Washington Foundation together."
In 2022, the center's research and community engagement attracted major public and private support, receiving nearly $6.5 million in gifts and grants from Williams, Boeing Corp. and the National Park Service to expand its mission and outreach and to establish the Clyburn endowed chair.
On the horizon is a partnership with the Columbia Museum of Art to develop an exhibit that tells the history of African American life in downtown Columbia. The opening is planned for August, and it will showcase the work of Richard Samuel Roberts, an African American photographer who documented the lives of African Americans in the segregated capital city in the 1920s and 30s.
"We've advanced the mission of the university's civil rights center. The ultimate goal is to serve as a national model for interdisciplinary research and teaching of the civil rights movement," Donaldson says. "Our university has a very strong legacy of civil rights research and documentation, a very strong African American studies program, public history program and Southern studies program. Part of what we aim to do is to pull all of those academic strengths together to help promote and advance the teaching and research of civil rights in South Carolina."