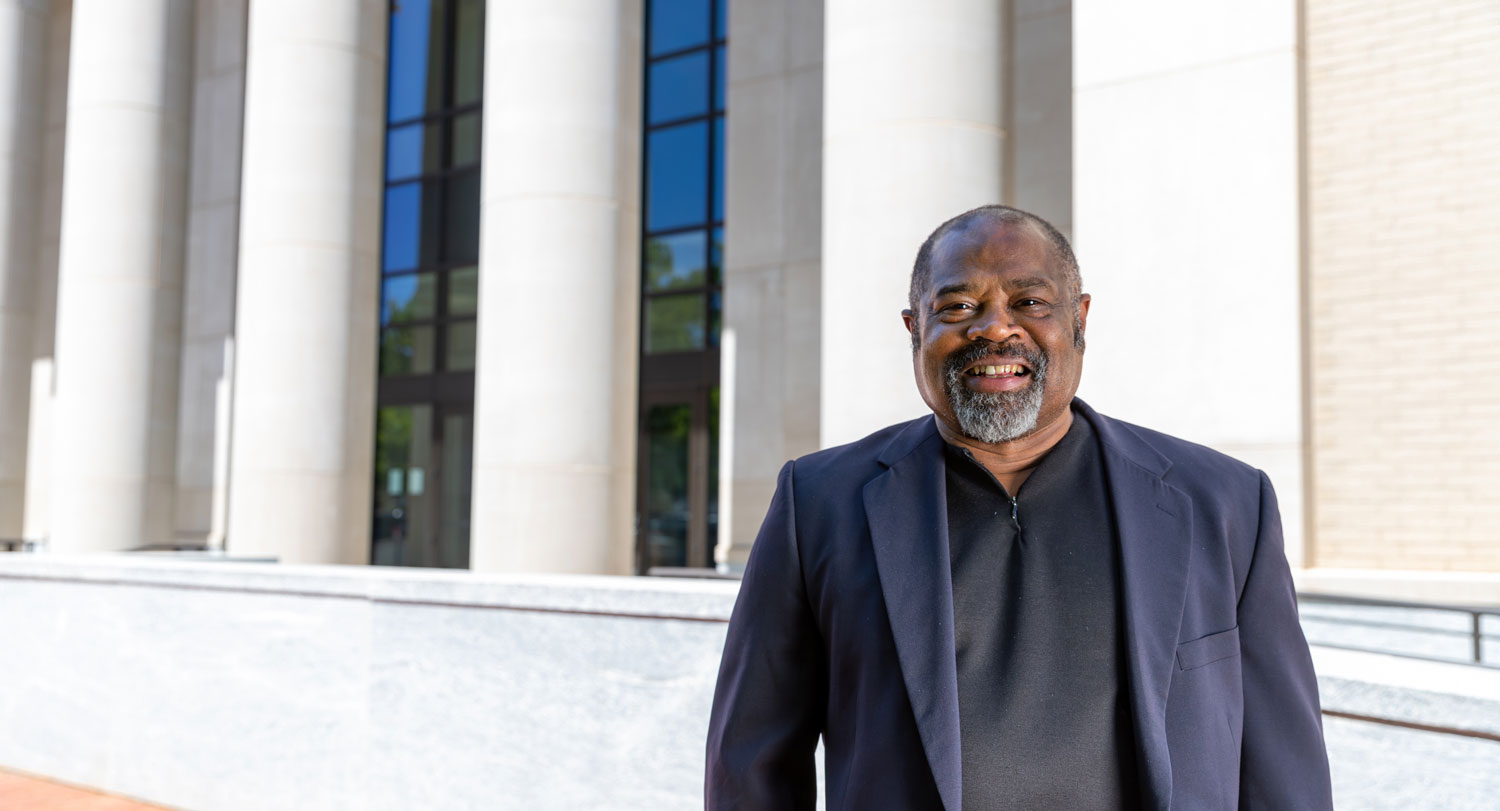 One of the places where Kevin Brown finds his inspiration is in a 1996 photo he took of a little girl suffering from extreme poverty in a market in Delhi, India. She was begging him for money, while holding her infant brother. "I saw the baby start using the bathroom and as it was running down the little girl's arm and then down her leg, she didn't flinch, she didn't move, it didn't faze her. " Brown says. "I couldn't help wondering, how much of her life is shaped by deprivation and destitution as I reached into my pocket."
Brown learned more about the plight of 300 million so-called "untouchables" in India's caste system who suffer what Brown calls the worst form of discrimination in human history. Along with 35 years of research in the areas of race, law and education, he has spent the past 30 years working to bring justice to Dalits — people at the bottom of the Hindu caste system. Brown also writes about the uses of U.S. anti-discrimination law to combat caste discrimination Dalits encounter in the U.S. — a move he thinks could eventually improve their standing in India.
Brown brings that drive for justice to his new role at the University of South Carolina as the first Mitchell Willoughby Distinguished Professor of Advocacy and Public Justice.
Into the future
Brown's inspiration to see himself in such a large role, came early in his life as a child watching the original Star Trek television series. It was there that he saw several Black characters including actress Nichelle Nichols who played communications officer Lt. Uhuru, William Marshall who played most brilliant scientist in the world, Richard Daystrom, and Percy Rodriquez's portrayal of Commodore Stone, a top ranking Star Fleet officer who oversees the court-martial of lead character Capt. Kirk.
"Star Trek was the first television program where Black people made it into the future, so it was revolutionary," Brown says. "It let me know that there could be a great place in the world to come for us."
In the real world, Brown attended segregated schools until the fourth grade, when he found himself thrust into predominantly white schools where he could clearly see a racial divide.
He says his parents, who were both public school teachers in all-Black schools, taught him the importance of education and were his mentors and keys to his success. "We lived in an area of Indianapolis known as the 'Golden Ghetto,' because that is where the Black teachers lived."
"When American society opened up, it opened up for the youth in my neighborhood who were the sons and daughters of Black teachers. At that time, our parents were the elites and intellectuals of the Black community," Brown says.
Within the five or six blocks of his home in Indianapolis, Brown says he had friends who became dentists, psychologists, lawyers, stock brokers, news anchors, corporate executives and a heart surgeon.
Drive for equality
Brown started his professional life at a national accounting firm in Indianapolis after he graduated in 1978 with an accounting degree from Indiana University's Kelley School of Business.
"I was the second person of color to ever work in that office as a professional, and on the very first job, the client effectively said to the manager in charge, 'If he's back here tomorrow, we're going to take our business elsewhere.' The firm did not stand up for me," Brown says. "This solidified my commitment to go to law school."
Brown graduated from Yale Law School in 1982 and recalls not even being able to get an interview with any large law firm in Atlanta. The uphill battle that he and many Black lawyers faced at the time intensified his drive to strengthen equality under the law.
Brown joined the Indianapolis law firm of Baker & Daniels as only the second person of color to work for a law firm of any significant size in Indiana. He joined the faculty of Indiana University's Maurer School of Law in 1987. He has published over 90 articles on topics including school desegregation, school choice, affirmative action, the impact of African Americans on the anti-apartheid struggle in South Africa, and caste system discrimination in India.
Brown says it is his background and experiences, especially travel to other parts of the U.S. and the world, that informs his teaching and scholarship. He has been a visiting faculty member at law schools at the universities of Texas, San Diego, Illinois and Alabama. He has also taught law students overseas in Bangalore, India; Capetown, South Africa; Shenzhen, China; Almaty, Khazhakstan; and London. He has worked with attorneys in Ramallah in the West Bank.
"I'm very, very proud to be African American," Brown says. "It is just an incredible experience and provides a fascinating view into life that is not really appreciated. I wouldn't want it any other way."