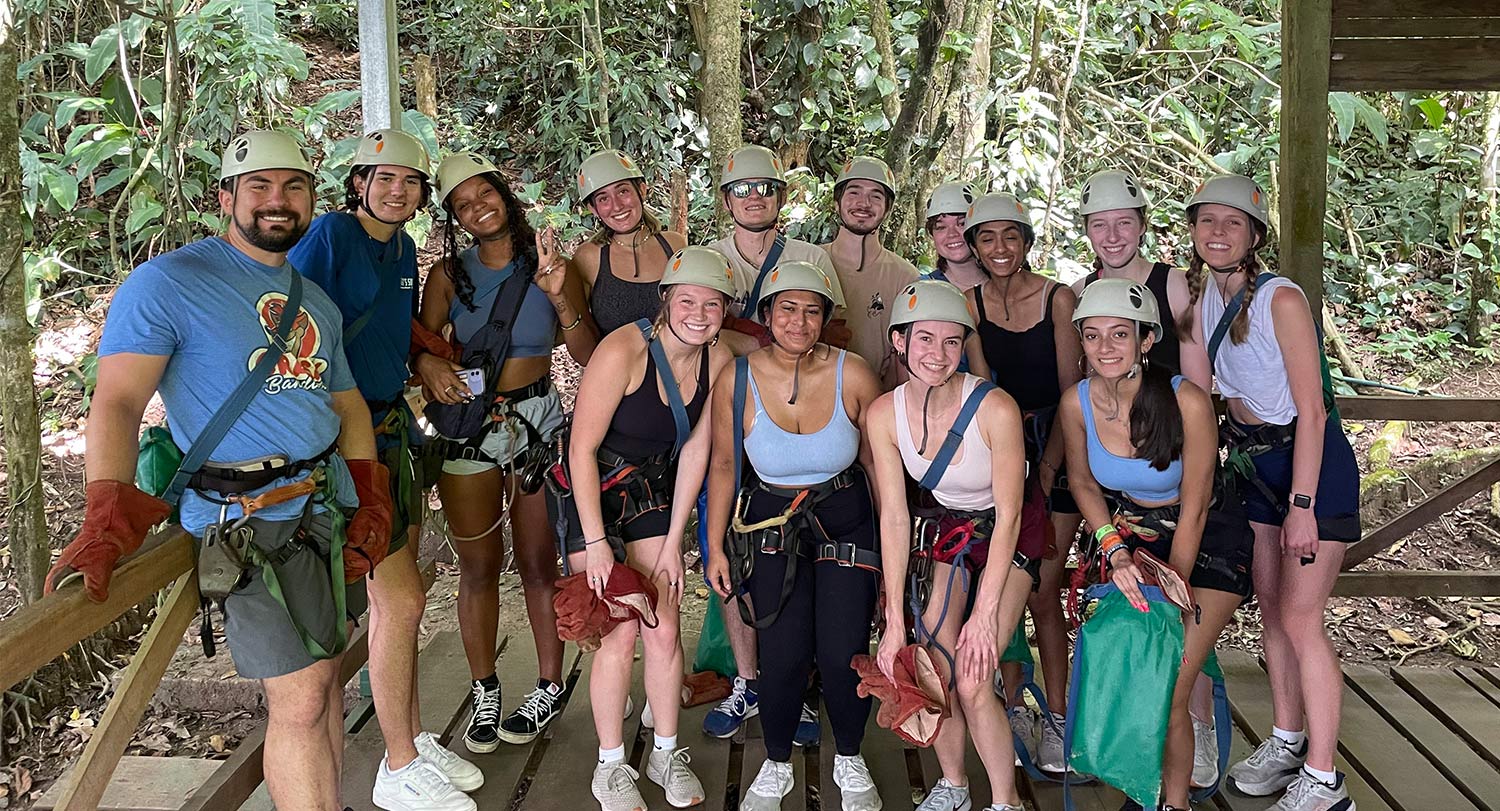 For many students in the Arnold School of Public Health, the idea of studying abroad with the Global Health in Costa Rica program starts off as a convenient strategy to complete prerequisites over the summer while exploring a tropical country.
By the time they return from a three-week foray into rainforests, medical clinics and Spanish-speaking host homes, students grow far more than just academically — they encounter a whole new vision of public health informed by cultural immersion.
The early days of the trip are a whirlwind. Upon arrival, the group — public health students, public health professor Edena Guimaraes and Spanish instructor Ana Cueto — explore regional history in downtown San Jose, learn about farming at a coffee plantation and settle into their host homes to experience cultural and language immersion with families who speak limited English. By Monday, it's time to hit the ground running with classes at Veritas University and excursions planned by Cueto, a native Costa Rican.
In the classroom, students discuss global health principles with Guimaraes and practice Spanish for health care professionals with Cueto. On their excursions, academic discussions become realities.
"We'd have a lecture on the health care system, and the next day we'd go and visit a local hospital, we'd learn about everything before we went so we could ask questions," says Palmer Bowles, a public health major who is minoring in psychology.
Her favorite excursion was a trip to La Carpio, a poor community of undocumented Nicaraguan immigrants. Though Costa Rica boasts a universal health care system through the Costa Rica Social Security Fund, with remarkable outcomes often surpassing those of the United States, noncitizens lack the same coverage. Students meet with the staff at a Catholic clinic that serves the migrant community.
Jason Czerwinski, a Marine Corps veteran, public health major and environmental studies minor, was also powerfully impacted by his time in La Carpio. As a leader with Sustainable Carolina and a coordinator for Zero Waste's trash pickup program, he is passionate about waste disposal. He enjoyed his time at the clinic, watching a play in Spanish and learning from the nurses. However, what he saw when the group hiked down to the riverbed shocked him: a river swirling with trash.
"That's something that stuck with me. I was able to see how environmental principles apply," Czerwinski recalls. "How does that trash pickup impact their ecosystem? Is that their drinking water? If it is, what kind of health risks does that pose?"
La Carpio resonates deeply with students, but the range of excursions packs in a healthy mixture of education and recreation. Students tour a tropical rainforest and explore beaches, practice pottery and discuss medicinal plants with indigenous community in the mountains, and soak in Baldi hot springs, warmed by the dormant Arenal volcano.
The combination of activities is designed to immerse students in Costa Rican culture and the Spanish language while giving them real-world exposure to a universal health care system.
Spending time abroad and having time to connect his classroom learning to his practical experiences in Costa Rica, Czerwinski is now considering pursuing his master's in public health and environmental health sciences to prepare himself for a career in sustainability.
Bowles also found the trip inspiring when reflecting on her future goals. An aspiring occupational therapist who works in a clinic as a student, she has had experiences with patients who didn't speak English or benefit from the translators provided at the clinic. After her time in Costa Rica, especially living in a home with a host mother who couldn't understand English, Bowles knew it was time to start learning Spanish for herself.
She also values the relationships forged on the trip. One of the university's most popular study abroad options, Guimaraes and Cueto usually take 26 students, but the 2022 group was a bit smaller than usual. "It was great because, ever since COVID and going to a big state school like this, I haven't really been able to connect with people in my classes," says Bowles. "But the people on my Costa Rica trip are like my best friends now, and I've never been able to build a relationship with a professor like this."
It's exactly what Guimaraes and Cueto hope to accomplish in making this trip happen. Guimaraes wrote letters of recommendation for both Czerwinski and Bowles as they apply for graduate schools, and students value the friendships they develop abroad far beyond the end of the trip.
"We are a Gamecock family in Costa Rica," says Cueto. "The students may take this program for their major, for health and Spanish credits, but the experience in Costa Rica is unique."