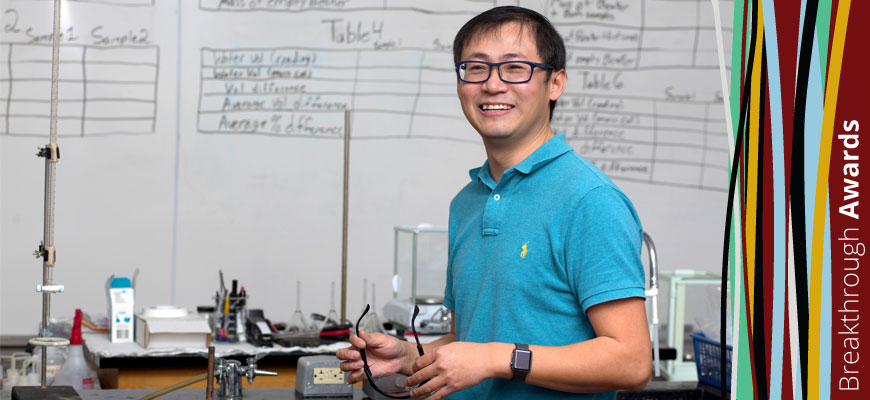 Teacher, researcher, mentor
USC Salkehatchie researcher Li Cai makes time for research, teaching and mentoring — lots of it
---
By Chris Horn,
chorn@mailbox.sc.edu
, 803-777-3687
---
In a normal equation, teaching five college classes plus five labs would equal not much time for anything else. But don't tell Li Cai that.
The USC Salkehatchie chemistry associate professor is often teaching and conducting experiments — his expertise is in synthesizing rare sugars. When he's not busy with those activities, he's reviewing manuscripts for 31 scholarly journals (he's also the academic editor for the International Research Journal of Pure and Applied Chemistry). Since joining the campus in 2011, Cai has written 22 peer-reviewed journal articles, partnered with Qian Wang at USC Columbia and collaborators in China to conduct cancer-related research and picked up several internal and external research grants on his own.
He's also working to develop an undergraduate research program that could potentially be funded by NSF. No matter what he's involved in, Cai doesn't lose sight of his teaching mission.
"A tiny percentage of our students are advanced and just need a bit of inspiration," he says. "It's the mid-range students who need me most, so I tailor my content to that group."
And while he doesn't try to persuade them to become chemistry majors, Cai does try to show his students that chemistry is a tool to understand other things in the everyday world.
As a faculty member at one of the university's regional campuses, which focus more on teaching, Cai doesn't have an abundance of resources for research. That's why he has focused on low-cost experiments, feeding bacteria inexpensive materials to produce rare sugars. His expertise with those sugars, which have potential as antibiotics and artificial sweeteners, has led to invited speaker opportunities at academic conferences. Cai has also involved undergraduates in his research.
"It is more challenging supervising undergraduate students than graduates but all my research students were able to participate in independent research projects in the lab," he says. "These students were then able to have their participation documented in scientific publications while also having the opportunity to apply for undergraduate scholarships."
Cai's mentoring of undergraduate research produced the first Magellan Scholar Award in chemistry for USC Salkehatchie as well as two internship awards from the Science, Technology, Engineering and Mathematics Talent Expansion Program.
---
Share this Story! Let friends in your social network know what you are reading about
---