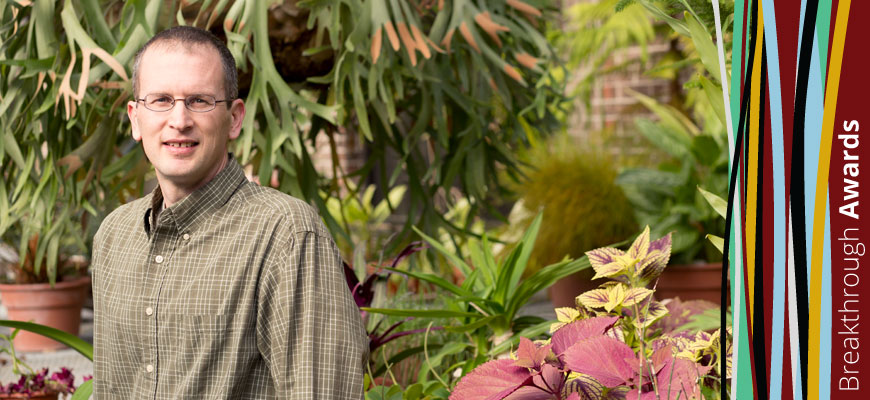 Jumping genes!
Nathan Hancock likes taking things apart to see how they work
---
By Craig Brandhorst,
CraigB1@mailbox.sc.edu
, 803-777-3681
---
An assistant professor of biochemistry at USC Aiken, Nathan Hancock studies the biochemical and genetic mechanisms of transposable elements, more simply known as transposons — and more colloquially as "jumping genes."
Whatever we name them, these pieces of DNA move from one part of the genome to another, often resulting in significant mutations to the organism. Learning how they do what they do has applications in pretty much any field affected by genetic mutations.
"The first question is, 'How do they move around?' " says Hancock, whose own lab studies transposons found in rice. "The second question is, 'How can we use it?' "
Answering the first questions provides Hancock and his team of undergraduate researchers plenty of opportunity for discovery. Answering the second question requires additional jumping.
When a transposon makes mutations, it breaks things, so you get weird-looking organisms. Then you can go back and say, 'OK, what gene got broken?'

Nathan Hancock
See, instead of simply moving transposons around within their native genome, Hancock's team moves the rice transposons to the genomes of other organisms, notably soy beans, which can be genetically manipulated in a variety of ways affecting such agriculturally significant factors as soybean oil quality and output.
"No one would want to eat the soybeans I make, because they're riddled with mutations," says Hancock, whose interest in biology dates back to a childhood love of gardening. "You would go back to a good soybean plant and say, 'Okay, now that I know this particular gene is important, how can I use that gene in traditional breeding or other methods to identify versions of that gene that are going to be better?' "
But it doesn't stop with soybeans. In collaboration with USC Aiken assistant professor of biology April DeLaurier, Hancock is also putting transposons into zebrafish, which the researchers hope —
Wait, say that again. You can put genetic material obtained from rice into a fish?
"Yeah, were trying to put them in zebrafish and see if they'll jump," Hancock explains. "It's not the first time it's ever been done, but different transposons work to different degrees when you move them from one species to another."
If that sounds like weird science for the sake of weird science, it isn't. DeLaurier's research on the skeletal formation in zebrafish contributes to the understanding of vertebrate cellular mechanisms more generally. That, in turn, could have medical applications down the road.
"When a transposon makes mutations, it breaks things, so you get weird-looking organisms," Hancock explains. "Then you can go back and say, 'OK, what gene got broken?' Since we know the sequence of the rice transposon, we can figure that out. It's kind of like figuring out how a car works by breaking one piece at a time."
---
Share this Story! Let friends in your social network know what you are reading about
---