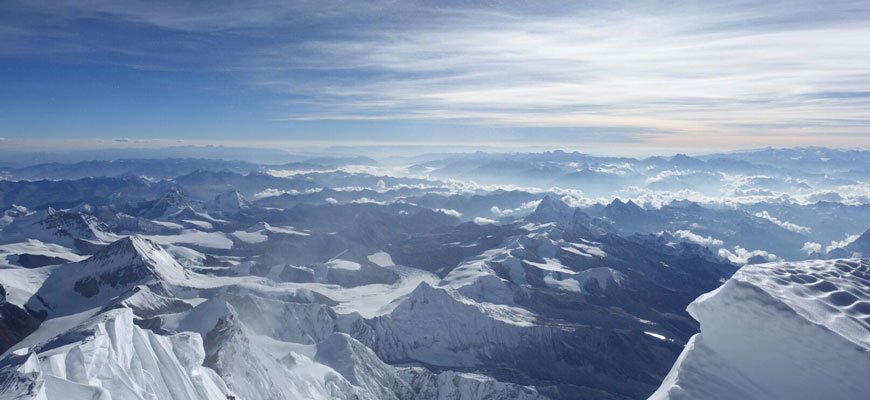 Channeling his inner drive
Alumnus conquers English Channel and Mount Everest
---
By Megan Sexton,
msexton@mailbox.sc.edu
, 803-777-1421
---
Allan McLeland loves the outdoors. He thrives on pushing himself. And he revels in the learning process — starting at zero and figuring out everything about a topic. Then he jumps in. Or starts climbing.
The combination has put the University of South Carolina alumnus in a pretty exclusive club. He's one of seven people who have swum the English Channel and climbed Mount Everest, braving the rough, cold waters off England in 2008 and reaching the summit of the world's tallest mountain this past May.
"The difficulty of training is identical. You have to put so much into it for many years to be ready for either one," says McLeland, 51. "The channel took 16 hours of pain and cold, but you're done. Climbing Everest is a grind. Every day you might climb 8 to 12 hours. You get to rest and recover in between, but you're getting weaker every day. Your body is physically deteriorating."
His journey to the channel and the top of the world started on a high school swim team in Anderson, S.C. He swam competitively, and while he never was fast, he could always swim long distances. In the back of his mind, he began thinking about the pinnacle of distance swimming.
After a brief stint at Auburn where he practiced with the swim team, he transferred to Carolina and earned an undergraduate degree in psychology in 1989 and an MBA in 1993. He also was on active duty with the Army National Guard, serving in Operation Desert Storm. But he wasn't finished with competitions. He moved on to triathlons and completed one Ironman ­— a 2.4-mile swim, a 112-mile bicycle ride and a 26.22-mile run — and really enjoyed competing and staying fit.
"I always had this little thing that I'd like to try the channel," he says. "I just loved the process of having no idea what I was doing and learning. And I loved meeting people who had done it. Knowing these people and what makes them tick is a big part of it for me. But there's no book that says how to train for the English Channel."
He did much of his preparation at the YMCA pool in Hartsville, S.C., along with open water swims in lakes and rivers. To qualify for the English Channel, swimmers must complete a 6-hour swim in Dover, England, before they can attempt the 21-mile crossing from Great Britain to the northwestern tip of France.
"It's super cold water. It's in the 50s," he says. "Your body says, 'Get out, get out, get out.' "
But he didn't get out. He crossed the channel solo in 16 hours and 10 minutes.
Then what? "Well, I loved the learning process. And I loved hiking. So, I went to Seattle for a 10-day course in alpine climbing, and I just ate it up."
That led him to climb mountains including Elbrus, Baker, Rainier and several peaks in the Alps. He had a dangerous situation with a thunder snowstorm on a ridge in Washington State that made him quit for a while. "I've got two kids. I want to see them grow up," he says.
But Everest was waiting. He summited Denali in Alaska, a physically demanding climb that's a prerequisite for Everest. "I felt ready. I felt strong. I signed up and did a whole lot of research on companies and guides."
Most people take two months to summit Everest, using weeks at the start to adjust to the altitude. McLeland says it was impossible for him to take that much time away from his job as vice president of human resources at Sonoco, so he chose a guide company that allowed him to acclimate at home, sleeping in a hypoxic tent with a low level of oxygen for 45 days, and training on climbing machines wearing a mask that simulates what he'd find on Everest. The preparation allowed him to join the trek at 14,000 feet, the equivalent of where he was sleeping at home in South Carolina, and cut in half the time it normally takes to climb Everest.
Over the next several days, McLeland and his team climbed the mountain that soars about 5.5 miles above sea level. He reached the summit soon after daybreak May 23. When he got to the top, there were only five people up there. It was a clear day, but windy and cold. They stayed just about 20 minutes before beginning the descent.
"For so much of the time, you're thinking, 'This hurts. This is painful.' And then you're there. You get excited, but even then you're trying to control it. You're only halfway. The real goal is to get down safely, so you try to moderate your emotions," he says. "I'd dreamt about this for a long time and when you're actually there, there's a fantastic feeling of accomplishment. The views. You always hear that pictures don't do it justice, and that's true. Amazing to visually see and feel the top of the world."
He says his time at Carolina, both as an undergraduate and working on his MBA with a concentration in human resources, showed him the importance of teamwork in sports and his job.
"So many of the programs emphasize working in groups," he says. "Even swimming the English Channel, there was a team on the boat to support me. I got a good grounding from USC in human dynamics, patience. Those interpersonal skills were transferable from my student days to these things."
What's next for McLeland? He's back home in Hartsville, and expects he'll have a more typical family vacation next year. But he also says he doesn't know anything about sailing. "I'd like to start at ground zero and see where that takes me. I do have a friend who rowed across the Atlantic …"
---
Share this Story! Let friends in your social network know what you are reading about
---