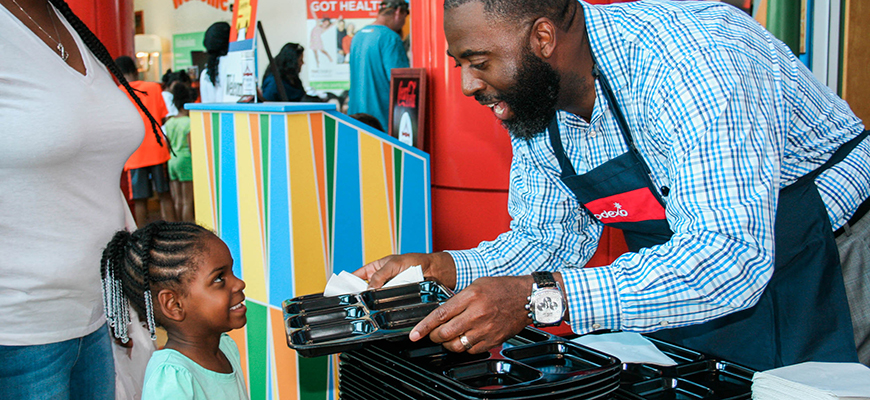 Head of the class
College of Education alumnus, Baron Davis, becomes first African-American superintendent of Richland 2 schools
---
By Kathryn McPhail,
mcphailk@mailbox.sc.edu
, 803-777-8841
---
As 28,000 students file through the doors of Richland 2 schools for the first day of a new year, a College of Education alumni will be leading the way. Baron Davis, who earned four degrees from the University of South Carolina, is making history as the first African-American to serve as superintendent of Richland 2, the largest school district in the Midlands.
"I want to encourage our entire school system — administrators, teachers, students, parents and supporters — to show a relentless and unapologetic desire to become the state's premier school district," says Davis. "To me, that's much more than high test scores and nice facilities. It's about achieving what may seem impossible through being innovative, continuously giving your best effort, fostering diversity and inclusion and having a premier state of mind."
Richland 2 is facing rapid student growth and changing demographics with more underrepresented populations attending the system's 41 schools and centers each year. Davis believes his administrative experiences at both rural, urban and suburban schools will help in his new role.
"I have been able to work with numerous students with varying needs and diverse experiences. All my career stops have helped me develop the skills I will need in my new role."
Davis earned a master's, educational specialist and doctoral degrees in counselor education, as well as a master's in educational administration, from Carolina. He stresses that his background in counseling shaped his leadership style.
"The counselor education program taught me to understand and recognize how people think and feel. As a leader, you must realize that people see the world through varying lenses. To be happy, a person must have a strong self-actualization and a balanced life. If we can help our teachers become more self-aware, they will perform better, which leads to students performing better and schools performing better," says Davis.
"Together with USC, I believe our school district can recruit and retain teachers who are leaders on a national scale. That is what our children deserve."

Baron Davis
Davis also realizes that to retain top teachers and combat the state's critical teacher shortage, Richland 2 must continue to enhance its partnership with the College of Education.
"We must continue to grow our strong and open partnership with USC," stress Davis. "We need more students going into the field of education, but at the same time, we must ensure that these new teachers are receiving excellent training so they can become highly skilled professional."
Davis says he wants more education majors to experience his school district before they graduate — through student teaching or clinical experiences.
"We want these future teachers to experience our culture and get to know our students firsthand by spending time in our schools. They should know that their home state, or adopted home state while in college, has a school system that they can be a part of — and that's Richland 2."
Currently, education majors spend an average of 650 hours in public school classrooms during their teacher preparation. Eight schools in Richland 2 are part of the College of Education's Professional Development Schools program. Education students are placed in these schools for training, where they work alongside veteran teachers as well as embedded Carolina faculty.
"Together with USC, I believe our school district can recruit and retain teachers who are leaders on a national scale. That is what our children deserve," Baron says.
---
Share this Story! Let friends in your social network know what you are reading about
---