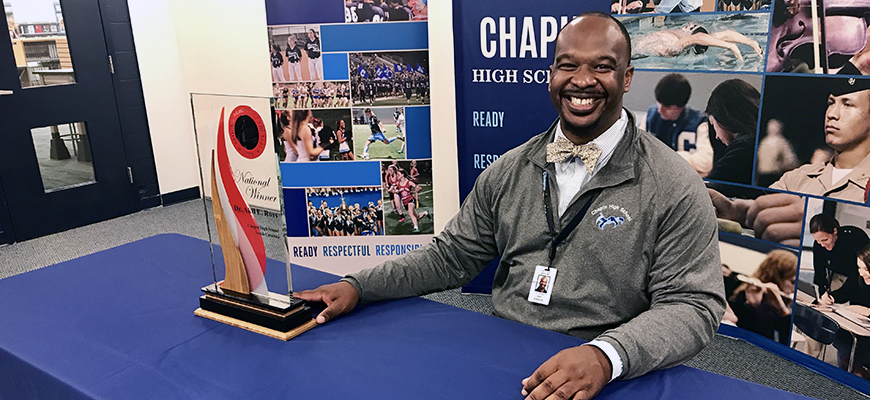 A thousand passions, one heartbeat
Education alumnus named National Principal of the Year
---
By Kathryn McPhail,
mcphailk@mailbox.sc.edu
, 803-777-8841
---
University of South Carolina College of Education alumnus and Chapin High School principal, Akil Ross, has been named the 2018 National Principal of the Year.
The honor, given by the National Association of Secondary School Principals, recognizes an outstanding middle level and high school principal who has made exemplary contributions to the profession and to students' learning.
Ross accepted the award Oct. 20 in front of a boisterous crowd that included Gov. Henry McMaster, state Education Superintendent Molly Spearman, lawmakers, the SC Association of School Administrators, area principals, Chapin community leaders and 1,400 proud students and faculty.
That shining moment was the culmination of a long and passionate career that began just a few miles from the university, where he earned degrees that shaped his life as an educator.
Getting started
When Ross began teaching and coaching football 16 years ago, he was shocked by the behavior of some of the young men at Eau Claire High School in Columbia.
"I saw them wearing baggy clothes, cussing in front of their female classmates, disrespecting their teachers. I knew right then that they must not have had a grandfather like mine," says Ross.
His grandfather had a tremendous influence on him as a child and young adult.
"He taught me that there was simply a right way people should act, especially young men — respectful and professional. And as a new teacher, I knew I could be a positive influence on the students at my high school by sharing these lessons with them," he says.
Ross went right to work — planning and implementing a program called the Mr. Eau Claire Gentlemen's Showcase. With help of the administration as well as other teachers and coaches, Ross worked with a group of male students, giving them weekly lessons on how to act professionally and personally. He taught them to be gentlemen.
"We wanted to change the climate in the school," Ross says. "We wanted these young men to be proud of themselves and maybe that pride would multiply to their classmates and the entire school."
The school bought tuxedos for the students who participated in a pageant upon completion of the program.
"You should have seen the transformation," Ross says. "These students walked down the hall, heads high, looking sharp. They were changed men from the inside out. They became leaders and slowly began to influence their peers in a positive way, too. Those students showed me that as an educator, if you can identify a child's passion, you can ignite achievement."
Ross says that experience made him realize that he wanted to impact more students than those in his classroom. He wanted to become a school principal so he could reach hundreds of students.
A Carolina experience
As a first-year teacher, Ross applied to the master's program at the university's College of Education with the ultimate goal of earning a doctorate in education and one day be a school administrator.
"At that time, most universities required that teachers work in the classroom for a minimum of three years before joining the doctoral program, but Carolina allowed me in the program knowing that I would complete those required teaching years before earning my degree," Ross says. "Carolina allowed me to realize my dream."
He credits the education faculty for immersing him in the study of equity in education where he took a deep and critical look at how race, culture and socio-economic status impacts both teaching and a child's learning.
"Those lessons stayed with me. I still draw from them today," Ross says. "While at Carolina, I came to realize that educators are artists with purpose and mission in our work. Our students bring their experiences, both good and bad, to the classroom. We must find a way to help them prepare for the world."
Head of the class
After earning his doctorate, Ross landed a position as assistant principal at Chapin High School in Chapin, South Carolina. While located a short 20 miles away from Eau Claire High, the differences between the schools and students were stark.
"I went from a high-poverty, mostly African-American school to a middle-to-upper class, predominantly white school. The fact that I was a black male, with an Arabic sounding name, was not lost on me. I knew I might not be accepted quickly by the small community," Ross says.
To overcome that obstacle, Ross engulfed himself in the community. He joined the rotary club and attended every game, concert and school or community event he could. To be successful he knew he needed the community, parents and especially the students to trust him.
And with that trust, came the realization that the schools and students weren't so different after all.
"All students face struggles – some seen, some unseen. But all children are searching for a purpose, for direction in their lives. As educators, we must use their passion – whether that be athletics, music, art, academics, whatever it is – to help them overcome the obstacles they face and move towards their purpose," he says.
He says to be successful, an educator must go beyond teaching standards and focus on the mind, body and spirit of students.
"For us, it's beyond the graduation rate. It's the preparation rate. It's how many students are we getting ready to go into the community and serve it well," he says.
Though not the sole focus, Chapin High's graduation rates increased from 82 percent to 96 percent under Ross' leadership, with 90 percent of graduating seniors attending a two or four-year college.
Math proficiency among African-American students also spiked 16-points during his tenure as principal. Now in his 13th year at Chapin High, and his eighth year as head principal, Ross says the school's motto still rings true.
"We are a thousand passions with one heartbeat. These students are mine, my children. I will give anything that I have so that they can grow and maximize their potential," Ross says.
---
Share this Story! Let friends in your social network know what you are reading about
---