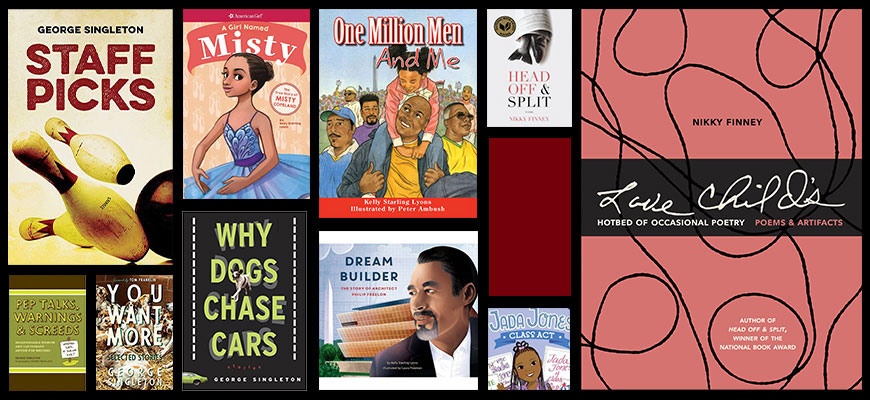 Experience the literary world – at home
Fall Literary Festival features three authors in virtual event
---
By Megan Sexton,
msexton@mailbox.sc.edu
---
When the coronavirus pandemic arrived last spring, it played havoc with the hundreds of in-person events the university hosts each semester. One of those – the Fall Literary Festival — features nationally known authors who offer talks, readings and master classes. Hosted by University Libraries and the English department, it's been taking place for more than 20 years.
The free festival continues in 2020 on three consecutive Wednesday evenings in October – with a twist.
The "Fall Literary Festival 2020, at home" will welcome three authors whose readings and talks will be shared online. The authors —poet Nikki Finney, children's book author and artist Kelly Starling Lyons, and novelist and short story writer George Singleton — will share their work with the public on Oct. 14, Oct. 21 and Oct. 28. The 7 p.m. events are free and open to the community, but registration is required.
"We wanted to continue with the intellectual and creative community that exists at the university. It's important to try and provide those kinds of venues. And it's a chance for the creative life of the university to flourish despite these challenges," says James Barilla, associate professor of English language and literature in the College of Arts and Sciences, and one of the festival's organizers.
The event is typically held in the program room of the Ernest F. Hollings Library on campus, an inviting space that has hosted hundreds for past festivals. But organizers believe moving the event to a virtual format this year may actually increase the number of attendees.
"One of the big lessons for us is that there's a huge audience of people who would love to watch these things from home, whether on their computer or streaming on TV. You don't have to get dressed, drive to campus, find a parking space. You can send in your questions for the authors and get them answered," Libraries Dean Tom McNally says. "I wish we'd thought about this years ago."
McNally likened the virtual experience to a football game, where tens of thousands of people love going to the stadium, while millions more enjoy being able to watch from home.
He says when COVID-19 eventually goes away, the Libraries will again host events with in-person audiences, but he believes it also will continue offering a virtual option.
"People want to hear speakers, but maybe they just came in from work and they don't feel like going back out. This way they can eat dinner and have a cocktail in front of the TV – and listen to writers," he says.
And in the days of physical distancing and curtailed travel, the Fall Literary Festival offers the chance to be part of a literary community and celebrate art and literature.
"If you think of our day-to-day routines right now, we don't have as many opportunities to go out," Barilla says. "Here's a chance to participate in something and join in something that might be a spark to your day, something that allows you to continue to feel you are part of the greater intellectual life of the university."
It's a chance for the creative life of the university to flourish despite these challenges.

James Barilla, associate professor of English and one of the festival's organizers
The fall festival offers writers from three different perspectives: an award-winning poet and UofSC professor; a young adult and children's book writer and artist; and a novelist and short story writer. The festival is a partnership between University of South Carolina Libraries and the Department of English, supported by the generous legacy of Libraries' friend Dorothy B. Smith.
Nikki Finney, who will read Oct. 14, was born in South Carolina and raised during the civil rights, Black power and Black arts movements. African American history, the history of America, as well as topics in popular culture, gender and sexuality, art, race and social justice are at the core of her work. She is the author of On Wings Made of Gauze; Rice; The World Is Round; and Head Off & Split, which won the National Book Award for Poetry in 2011. Her fifth collection of poems, Love Child's Hotbed of Occasional Poetry, was released in April. Earlier this year, she was elected to the American Academy of Arts and Sciences and also won the prestigious Wallace Stevens Award from the American Academy of Poets. Finney holds the John H. Bennett Jr. Endowed Chair in Creative Writing and Southern Letters at the University of South Carolina.
Kelly Starling Lyons, who will read Oct. 21, is an award-winning children's book author, a teaching artist, and a founding member of The Brown Bookshelf. Her titles span early readers, chapter books and picture books, nonfiction and fiction. They include the Jada Jones series, Tiara's Hat Parade, Dream Builder: The Story of Architect Philip Freelon, Sing a Song: How "Lift Every Voice & Sing" Inspired Generations, and Going Down Home with Daddy. Her books have received accolades including Junior Library Guild and Bank Street Best selections, national trade books in the social studies and Scholastic Reading Club picks.
George Singleton, who will read Oct. 28, has published nine collections of stories, two novels, and a book of writing advice. More than 200 of his short stories have appeared in the Atlantic Monthly, Harper's, Georgia Review, Story, Southern Review, Agni, Zoetrope and elsewhere. He has published non-fiction in Garden and Gun, Oxford American, Bark and Best Food Writing 2005. His work has been anthologized 10 times in New Stories from the South: The Year's Best. He has received a Pushcart Prize, a Guggenheim fellowship, the Hillsdale Award, and the Corrington Award for Literary Excellence. He is a member of the Fellowship of Southern Writers. Raised in Greenwood, South Carolina, he earned a bachelor's degree in philosophy from Furman University and an MFA in creative writing from the University of North Carolina-Greensboro.
---
Share this Story! Let friends in your social network know what you are reading about
---