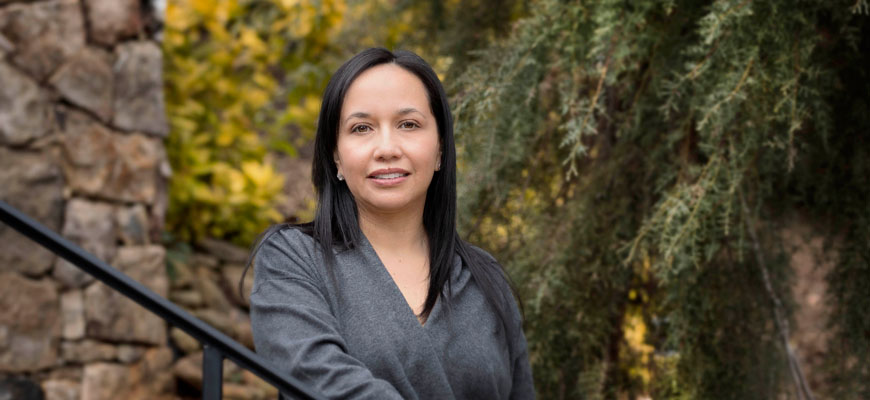 Mother of 3 plans to use UofSC experience to help communities worldwide
---
By Madyn Coakley,
mrassist@mailbox.sc.edu
---
Romina Pinto, a proud mother of three and a Peruvian immigrant, is a believer in lifelong learning and personal growth.
That motivation led her to the University of South Carolina where she is now a third-year international studies and linguistics student.
Although sometimes her path hasn't been easy, Pinto says, "I keep going with the thought that I'm doing something that I always wanted to do, getting close to my goals … and to be honest, I can't believe it."
After receiving her associate degree from Greenville Technical College, Pinto, who now lives in Taylors, South Carolina, decided to continue her undergraduate education at the University of South Carolina.
Her interest in global affairs began a few years ago when she worked on a European Union international cooperation project based out of Lima, Peru. As an assistant working to combat drug trafficking, she was able to meet with experts from the United Kingdom, France, Spain and Germany and go on study trips, which allowed her to travel to the UK. This experience, she says, helped motivate her to return to school and pursue her bachelor's degree in international studies and linguistics with a goal of studying abroad.
I think the more you participate … you are exposed to different perspectives or different points of view.

Romina Pinto, third-year international studies and linguistics student and Gilman Scholarship winner
In December, Pinto was chosen as one of 5 UofSC students awarded the Benjamin A. Gilman International Scholarship. The Gilman scholarship supports undergraduates who might not otherwise participate in study abroad programs due to financial constraints.
As a single mother who works part time while attending college, Pinto is excited about this merit award for her plans to return to the UK as a student. She looks forward to expanding her horizons with in-depth exposure to European ideas and the opportunity to compare them with her experience in the United States.
"I want to have that perspective," she says. "I will be able to address both, and I think the more you participate … you are exposed to different perspectives or different points of view."
Pinto aspires to work with international organizations that help disadvantaged communities across the globe and hopes to complement her work with her interpretation and translation skills. She has started to work with Hispanic families, helping them overcome language barriers to access information and resources available to them.
After learning about the Gilman opportunity and how it could support her study abroad experience, Pinto reached out to the university's Education Abroad Office to get started.
"Romina is honestly one of the most on-top-of-it students I have ever worked with at the university," says Anuja Parikh, an advisor and diversity and inclusion coordinator within the Education Abroad Office. "She has a really strong desire to learn, have new experiences, and share these new perspectives and knowledge with others."
Throughout the lengthy Gilman application process, Parikh says she met with Romina multiple times to go over her three personal essays, talk about programs and make sure her submission was competitive.
Payge Jennings, a fellowship coordinator in the National Fellowship and Scholar Program Office, also advised Pinto on her Gilman application.
Just one small, single step is all you have to begin with, and then it just starts rolling.

Romina Pinto
Jennings says Pinto is very intentional with her studies, knows her purpose and was even more competitive because of it. And according to Jennings, Romina Pinto is just getting started as the two have met to talk about applications to more national fellowships.
"She's ready to kind of jumpstart and take it further, and I hope that other students will look at her story and be like, 'Why am I stopping here?' She just shows that once you get something going it snowballs and keeps going. … I love working with students like her," Jennings says.
Pinto credits both Jennings and Parikh, as well as the University of South Carolina for its educators and faculty who helped her reach this point in her academic career.
"They have been wonderful," she says. "Especially in a time when, because of the pandemic and having to adjust and study from home or virtually, I have to say the quality of education has not suffered. Professors have been great in getting us the support we need."
Wanting to pay it forward, Pinto offered advice to any students looking to attend UofSC or apply for a competitive award.
"Whatever your goals are, even if you're not sure about it, just go for it; it's totally worth it," she says. "Just one small, single step is all you have to begin with, and then it just starts rolling."
---
Learn more
For more information about the Gilman Scholarship and other opportunities, visit the websites for National Fellowships and Scholar Programs and Education Abroad Office.
---
Share this Story! Let friends in your social network know what you are reading about
---