Putting history to work in the world
Graduates of the university's lauded public history program help write a more inclusive story of our collective past
It's the most public history thing a public history class could do: Interview alumni, faculty and administrators from the University of South Carolina's groundbreaking program to create a digitally accessible oral history of its first 40 years.
"It wasn't just celebrating the legacy of a program they were a part of, it was a massive oral history project organized by my colleague Allison Marsh," says Bob Weyeneth, a 30-year veteran of the university's history department and former director of the public history program.
What that massive project documented was a storied history all its own.
The public history master's program was established in 1975 and over the course of its now 46 years has graduated 300 professionals into the field. These graduates work to curate and catalogue the papers of the nation's founders and key leaders, to help organizations with the funding and expertise to do preservation work on the local level, to add the stories of previously ignored people to the robust historical narrative of America and to present it all to the public in an easily understood format.
The program's large and influential network of alumni and its superior reputation mean today's graduates can have their choice of postings, including the National Archives and National Park Service, the Johnson Space Center and state and local historical agencies.
No matter where they ply their trade, these graduates apply their knowledge and love of history to encourage civic engagement by making the past more understandable and accessible to the general public. They also are helping to refine our understanding of our past through new scholarship to tell a more inclusive history.
"The real strength of any public history program, but particularly ours, was that we were able to provide both classroom teaching and hands-on applied training," Weyeneth says. "It's thinking about ways to put history to work in the world: in museums and historic sites, in neighborhoods, and in rehabilitated commercial districts like the Congaree Vista."
Refining our interpretation of the past
Al Hester came to the public history master's program after working seven years for the National Park Service, where he found his interest in public land management. His specialized area of study at the University of South Carolina was historic preservation and he worked as an intern with the Francis Marion National Forest. His thesis was on 20th century public land management history and preservation. After graduating in 1999, he began working for South Carolina State Parks as historic sites coordinator. His work includes research, historic preservation, developing and managing museum collections and exhibits, and interpretation planning.
"I began working in public history, thinking of it in really just a strictly practical sense of applying history in the public, doing things like historic preservation and archives and museum collections management and exhibits and interpretation, that kind of stuff. And it is that. It's always that.
"But more importantly, it's a way of approaching history in and with the public. And it's a very collaborative approach."
To that end, Hester is working with a variety of groups to help "reinterpret" the histories that are being told at state historic sites, including Rose Hill Plantation — the former home of South Carolina's secession governor William Henry Gist.
The property has been open to the public since the 1940s and operated by S.C. State Parks since 1960.
The original narrative focused on the lives of the people who lived in the mansion and their roles in major historic events. Now that interpretation is looking more at the lives of all the people who lived on the property, including nearly 200 enslaved laborers.
Leading that important work is another UofSC public history master's graduate, Nate Johnson (banner image), who completed the program in 2009.
A native of Wisconsin, Johnson completed his public history internship with the National Park Service at Fort Sumter in Charleston and worked there after graduation. He has also worked for the Frederick Douglass National Historic Site and at the National Mall in Washington D.C.
Johnson also worked to open the Carter G. Woodson home as a national historic site. Woodson, an early graduate of Harvard with a Ph.D. in history, founded Negro History Week in 1926 and that ultimately became Black History Month.
"Many people refer to that home as the birthplace of Black history as a field of study in general," says Johnson, whose area of research is the U.S. South, African American history and the 19th century. "It was a fascinating site and I got to be part of its early development. That lined me up to come here to Rose Hill Plantation State historic site and to start to reinterpret it.
"A lot of plantations that were run as historic sites had a lot of interpretive and preservation focus on the mansion and the white family who owned the plantation and very little focus on African-American history. A lot of my team's work has been to reinterpret the site and do deeper research, especially in areas like oral history and archaeology, but also going through documents and doing the more typical academic sort of research."
Johnson says he thinks dealing with those difficult topics from history are important in part because they are difficult.
"We're just trying to contextualize everything historically," he says. "We should talk about the history of slavery in this country. We should talk about the history of racism in this country. We should try to be as honest as we can and realize that we don't always have the full perspective."
Digging deeper and wider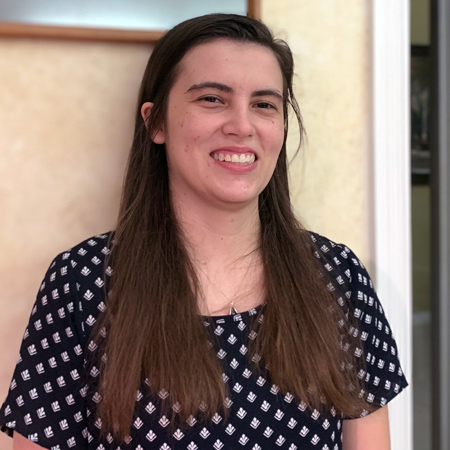 Finding those untold stories to add perspective is a big part of the work 2019 graduate Katie Hatton does as an assistant editor of the papers of Martin Van Buren at Cumberland University in Tennessee.
"What I learned from the public history program was about incorporating these various perspectives in a way that helps us to more holistically look at historical events," Hatton says, adding that her work as an intern on the university's Pinckney Papers Project with a former co-director of the public history program Connie Schultz led to her job on Van Buren's papers.
"It was there that I really learned about opportunities within public history, not just in museums, but also in the realm of what we call documentary editing — editing and compiling a historical person's papers, which is what I do now with the Van Buren Project."
Hatton says that while Van Buren's papers have been curated for quite some time, part of what she works on is expanding the story of his presidency to include the experiences of everyday Americans at that time.
"Sixty years ago when they were working on our project, it was about Martin Van Buren specifically. And today it is still about Martin Van Buren, but it's also about the citizens who are electing him, the citizens who care about him and his policies and how he's trying to help them. It's the stories of women in his life and in the New York area who are affected by his policies and try to affect change. It's about the Native Americans and the Trail of Tears and what looking at their lives would tell you about the United States at that point."
Telling those untold stories and preserving historically significant spaces that have been ignored requires research expertise and money.
That's where 1999 public history graduate Megan Brown, who heads the State, Tribal, Local, Plans & Grants Division of the National Park Service, comes in.
"Megan basically holds the purse strings for a lot of National Park Service grant initiatives," Weyeneth says of his former student. "She holds an enormously important position with the National Park Service."
Brown's division administers several grant programs through the Historic Preservation Fund that provide money to local governments for preserving historic places and history. Brown's team also helps develop and provides technical assistance to more than 2,200 organizations doing the preservation work.
"It's really kind of an interesting place where federal, state and local and tribal entities all work together on similar goals," she says. "So it's kind of unique."
Many of these grant programs focus on preserving African American heritage sites, including historically Black colleges and universities and sites important in the civil rights movement.
"We've gotten a lot of civil rights money lately, and that's a period of history that, for someone my age, we didn't talk about it much in school," Brown says. "So it's tricky. Part of what we help with is the knowledge of those events and how to work with underrepresented communities."
Brown says a highlight for her was meeting Leona Tate, one of the women who integrated the New Orleans school system as a 6-year-old in 1960.
"Preservation's changed a lot," Brown says. "We're not saving the great white man's house now. We're definitely expanding. And that's one of the most exciting things that we're getting to do, especially with recent history. There are just these amazing stories that we haven't really told yet.
"I'm hoping that the work we do tells the stories and saves these places."
Engaging the public
For 2016 graduate Will Mundhenke, the key to his work as a public historian is the public.
A native of north Georgia, Mundhenke came to South Carolina as a history Ph.D. student, but became interested in the public history master's program.
"That first summer, I went out as a park ranger for the National Park Service and Capulin Volcano National Monument in New Mexico," he says. "I went there really just as an internship to check out a different field of history to see how history was done through interpretation in the national parks and just fell in love. I absolutely loved interacting and engaging with the public and being that bridge to help the public learn about their history, learn about the interactions of man and their landscape and environment."
Mundhenke, who was one of the student interviewers in the oral history project, now uses his love of history, environmental preservation and fishing, as a public information specialist for Aquatic Education in the Wildlife and Freshwater Fisheries Division of the state Department of Natural Resources. Mundhenke is working on an exhibit for DNR's Heritage Trust Program on the history of fishing in South Carolina and regularly gets out on the water to teach fishing and its traditions to aspiring anglers of all ages.
"I'm usually the only historian in the room," he says. "I've been able to bring a unique skillset into these different fields of study to bring a new perspective in. And South Carolina's public history program and their environmental history work really helped equip me to be able to excel in those fields."
Banner image: Nate Johnson leads the effort to expand the interpretation of the history of Rose Hill Plantation in Union, South Carolina.
---
Oral history collection
In Fall 2016, 12 graduate students in the master's of public history program gathered oral history interviews as part of a semester-long project. Working with the Department of Oral History, the students collaborated on the interview questions, transcription process and developed a series of end products including informational posters, collection guides and booklets. The collection is available online through University Libraries' Digital Collections.