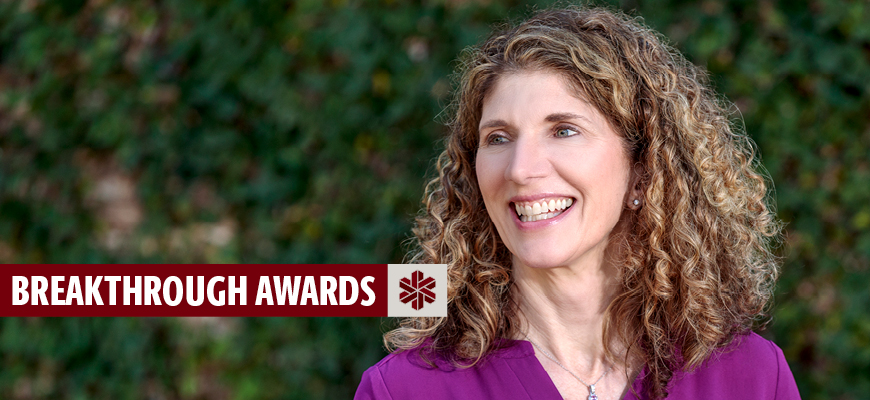 Breakthrough Leader: Sara Wilcox
Exercise science researcher helps improve health of SC residents
---
By Page Ivey,
pivey@mailbox.sc.edu
, 803-917-5882
---
Sara Wilcox has been working for 20 years to improve the health of South Carolina residents.
As an exercise science researcher and professor in the Arnold School of Public Health, Wilcox works with faith-based and community groups to create and implement healthy lifestyle interventions for their members. She then studies the efficacy of those changes and tries to scale the successful programs for larger applications.
"I really believe that research can advance science and benefit communities at the same time," she says. "I want to advance science and I want to publish papers and get information out into the scientific community, but it's important to me that my work benefits the community."
Wilcox has been an investigator on more than 50 funded grants and principal investigator on about half of those. Adding in her co-investigator projects, she has been involved with over $50 million in funding during her career at the University of South Carolina.
"Her productivity is simply remarkable," says Shawn Arent, chair of the exercise science department in the Arnold School of Public Health.
And just as importantly, Wilcox creates partnerships with the faith-based and community groups.
"She actively engages community stakeholders in the research process as well and truly sees them as agents of change rather than as research subjects," Arent says.
It's important to me that the community has a voice and feels they're in a partnership and not just contributing then being left behind.

Sara Wilcox
Wilcox began her academic career in psychology and earned a Ph.D. in clinical psychology. She has developed and taught classes in the psychology and behavioral aspects of physical activity. She also serves as the director of the Prevention Research Center at UofSC, which is funded by the Centers for Disease Control and Prevention.
She helps guide other researchers through her work at the center and in mentoring programs across campus.
"I think the theme of all of the mentors I have had was that they've been encouraging and positive," she says. "In academics, we get a lot of rejections. We get papers rejected all the time. We get grants rejected all the time. And sometimes you just need to hear from someone that your ideas are good and are something you should pursue."
She also has worked with the university's Propel Research Mentorship Program, fostering younger researchers from all disciplines, and the National Institutes of Health bootcamp for public health researchers.
"The quality and impact of her leadership has elevated not just our department and the Arnold School of Public Health, but the entire university," Arent says.
For Wilcox, the heart of her work is trying to help people live healthier lives.
"We as researchers tend to get so focused. It's important because it's the work we do. But that's not the reason the work is important," she says. "It's important to me that the community has a voice and feels they're in a partnership and not just contributing then being left behind."
---
Share this Story! Let friends in your social network know what you are reading about
---