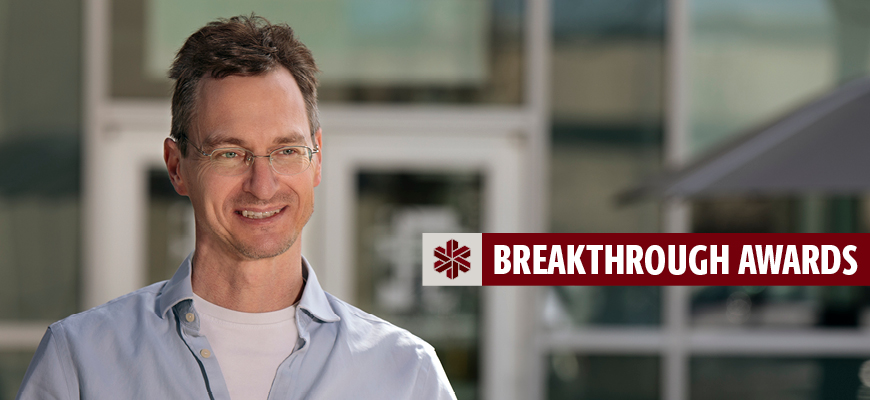 Breakthrough Leader: Chris Rorden
Psychology professor, researcher an open book when it comes to sharing expertise
---
By Megan Sexton,
msexton@mailbox.sc.edu
, 803-777-1421
---
As a psychology professor and co-director of the university's McCausland Center for Brain Imaging, Chris Rorden has made his mark with the open-source software he has developed to assist in brain visualization, image processing and statistics.
"My seminal image processing work has allowed tools designed to look at the healthy brain to be translated to clinical applications. This has provided new insights on stroke recovery and helped guide brain stimulation," Rorden says. "My visualization software remains the top download from our field's NeuroImaging Tools and Resources Collaboratory. This is widely used throughout the field to understand the function of the healthy human brain, map the location and extent of brain injury and visualize the human connectome."
It's work that has changed since he first started working in the field.
Chris Rorden will always make time to engage with junior colleagues on complex matters, from statistics to neuroimaging data acquisition, and this is immensely inspiring.

Dirk-Bart den Ouden
"When I began my career in neuroimaging many of the tools and methods were primitive black boxes," he says. "Necessity is the mother of all invention, and at the time, there were simply no reliable methods for using scientific neuroimaging tools for understanding brain injury. The methods I helped develop have filled a niche for our community.
"Since 1999, my tools have been open source and freely available, preceding modern NIH resource-sharing plans. By being open, others are able to exploit and extend these tools and enable the reproducibility that is the hallmark of science."
Dirk-Bart den Ouden, graduate director in the communications sciences and disorders department, said the opportunity to work with Rorden was one of the reasons he chose to come to the university. He calls Rorden a role model for mentoring and motivating others to get deeply involved in research and also praises Rorden's talent in cross-department collaboration. Many of Rorden's research partners hail from different disciplines, including neurology, exercise science, communication sciences and disorders, and epidemiology and biostatistics.
"Chris Rorden will always make time to engage with junior colleagues on complex matters, from statistics to neuroimaging data acquisition, and this is immensely inspiring," den Ounden wrote in his letter recommending Rorden for a university research award. "He is open to hearing alternative views, gets excited about new ideas and can be relied upon to offer smart and creative solutions, as well as to actually do the work and implement such solutions hands-on, by writing code or building hardware."
---
Share this Story! Let friends in your social network know what you are reading about
---