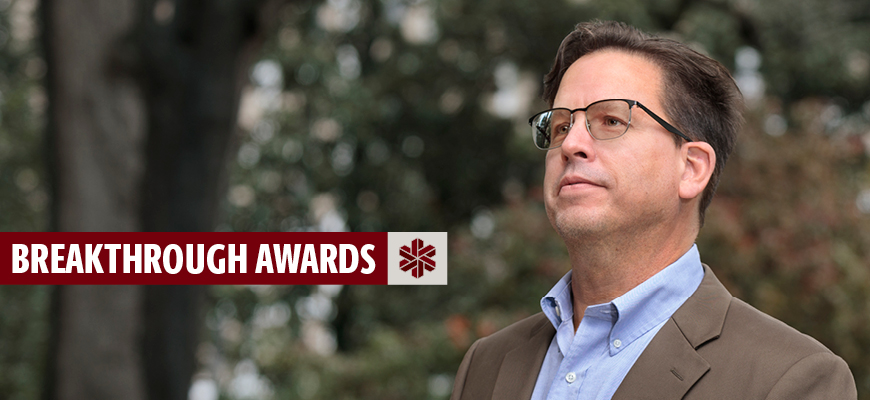 Breakthrough Leader: Ed Madden
For scholar and poet, going public is the name of the game
---
By Craig Brandhorst,
craigb1@mailbox.sc.edu
, 803-777-3681
---
Ed Madden is well known on the University of South Carolina campus as the director of the Women's and Gender Studies program and as a dynamic classroom instructor. He is just as well-known as a creative writer and arts advocate in Columbia, South Carolina, where he is wrapping up his term as the capital city's inaugural poet laureate.
But Madden first arrived at the university back in 1994 as an assistant professor of British literature, and that aspect of his career hasn't diminished. In fact, over the past quarter century he has published widely in the areas of Irish studies and queer studies, often exploring the intersection of the two.
"All of my work is about whose stories matter," Madden explains. "In my Irish work, I'm consistently looking at immigrant and queer writers whose stories are not part of the traditional Irish story."
The same holds true for his public-facing work as poet laureate and his ongoing efforts to distribute poetry to the Columbia community. He has taken poetry to the streets, distributing it via mock parking tickets and temporary sidewalk graffiti. He has brought poetry into people's living rooms through a poetry postcard campaign. He has even given poetry the Hollywood treatment, projecting it onto theater screens for people to enjoy and ponder before the start of the movie.
Rather than share canonical works, though, Madden has purposely elevated the work of average citizens, including middle school students, homeless poets and others whose voices we might not otherwise hear.
"Again, whose stories matter and who do they matter to?" Madden asks. "And how do we tell a story that convinces someone else that they should have a little bit of empathy or make a human connection?"
If that sounds like the artist overshadowing the scholar, think again. Madden refers to his eclectic pursuits as a "hybrid career," putting him in league with so many other artists in academia whose work blurs the lines between thought and expression, scholarship and creativity, education and service.
All of my work is about whose stories matter. In my Irish work, I'm consistently looking at immigrant and queer writers whose stories are not part of the traditional Irish story.

Ed Madden
Or research and performance. Example: In 2016, Madden uncovered a lost play by the late Dublin-born poet and playwright Colm Ó Clúbhán (born Colm Clifford) while doing archival research at the London School of Economics. The work, which explores the struggles of an openly gay Irish immigrant living in London in the 1970s, was in Madden's research wheelhouse. On a subsequent trip, he was asked to cap his research with a traditional academic symposium, but instead got permission to produce a stage reading of the rediscovered play at a Dublin community center.
"His work had never been performed before in Ireland, so this was officially his Irish debut," says Madden. "There were academics there, and a few of Colm Ó Clúbhán's friends and his literary executors, but there was also a group of exchange students from Exeter. It was packed."
And it only snowballed from there. After hearing about Madden's work, a researcher at EPIC, the Irish Emigration Museum in Dublin, devoted an exhibit to the Brixton Faeries, a London-based agitprop theater troupe, which counted Ó Clúbhán and a few other gay Irish emigrees among its members.
Meanwhile, Madden's archival research trip turned up other treasures, including two more Irish plays — these two about UFOs. And if exploring the Irish literary treatment of extraterrestrial life sounds like a departure for Madden, maybe it is. But it's also how his mind works, as a scholar and as an artist.
"My colleague from the English department, Debra Rae Cohen, called me a 'magpie scholar' because I see something shiny and I pick it up and I see something else shiny and I go pick that up," says Madden. "Some scholars might think of that as somehow derogatory, but she didn't mean it that way, and actually I think I want to claim it."
And if that means chasing UFOs, that's OK, too. When Madden mentioned the archival discovery to Mike Cronin, the director of the Boston University-Dublin program that funded his trip, Cronin encouraged him to follow the lead and gave him an additional lead about an Irish-born writer and filmmaker who wrote a book about flying saucers.
"I haven't done anything with it yet, but of course I've ordered the book off eBay, and I feel like that's what I want to do next," says Madden. "I want to look at Irish science fiction."
---
Share this Story! Let friends in your social network know what you are reading about
---