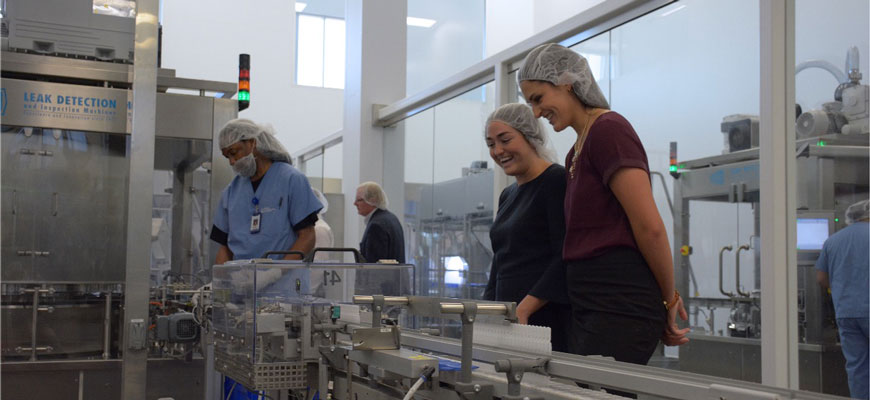 In global crisis, UofSC developing pipeline of supply chain experts
Hands-on experience, industry certification accelerate alumni career paths
---
By Alexis Watts,
wattsac@mailbox.sc.edu
---
Rony Ruiz is a conductor.
But as a supply chain leader, the University of South Carolina alumnus orchestrates teams and clients rather than instrumentalists, delivering a noteworthy $400 million in electricity for his employer, ABB.
Ruiz navigates an industry as complex as a symphony for a company that provides the critical power supply for businesses ranging from small strip malls to nuclear power plants, hospitals, airports and even pop-up COVID labs and clinics.
And like the best concert maestros, Ruiz's decisions must be timed precisely to avoid critical delays in treatment or safety hazards.
"Supply chain operations is a very dynamic environment," says Ruiz, a 2008 graduate of the Darla Moore School of Business's operations and supply chain program. "If you enjoy problem-solving, then this is the place for you."
The supply-chain industry has been thrust into the spotlight over the past three years as unprecedented demand and limited global supply have yielded consumer shortages in goods such as toilet paper, lumber, cream cheese and cars.
But as the demand for industry professionals to manage the crisis has grown, so, too, has recognition of the Moore School's undergraduate and graduate programs. The undergraduate program climbed in June to No. 3 in the nation, jumping two spots from 2020 on the rankings list from global research firm Gartner, while the graduate program soared in July to No. 6, climbing 16 spots.
Tsvetelina Mueller chose the Moore School's OSC program because it combines industry certification with classroom learning and hands-on experience. The 2009 international MBA alumna now applies that knowledge as a supply chain manager for Roche in Thailand.
"The practical experiences of directly consulting with a customer was very beneficial," says Mueller.
Sanjay Ahire, Mungo distinguished professor and co-director of operations and supply chain management, ties the success of leaders like Ruiz and Mueller to the Sonoco-UofSC Lean Six Sigma Green Belt Certification Initiative, which launched in 2008 and recently celebrated a milestone of 1,500 Green Belt graduates.
Through that industry-recognized certification, students learn to see everything as a process that can be streamlined, and then they apply statistics to ensure their redesigned and improved process can easily be repeated.
Liz Lafitte, a 2009 graduate, still uses the essential skills from the Green Belt curriculum in her current role as the global operations manager for Meta.
"Define, measure, analyze, improve, control — that is the exact same thought process I take with everything I do," Lafitte says. "That foundational understanding is the spinal cord of my job."
The Moore School's undergraduate and graduate OSC students alike learn to apply the process to real-world scenarios by completing intensive capstone consulting projects with Fortune 500 companies. Every semester, teams of four to six students address a live operation and supply chain challenge with guidance from a faculty expert. The teams identify recommendations, pilot them as needed and then provide clients with a road map for execution.
Supply chain operations is a very dynamic environment. If you enjoy problem-solving, then this is the place for you.

Rony Ruiz, 2008 graduate
"Over the years, students have provided us some very good, implementable and practical solutions," says Jim Prescott, Sonoco's industrial supply chain director. "The capstone program creates a framework for a student to learn the specific skills they're going to need when they go to a company."
In 14 years, the student teams have worked on more than 300 projects, identifying more than $315 million dollars in client-validated recurring savings.
"We help companies not only solve their current challenges but also make their supply chains and operations robust for any uncertainties and unforeseen scenarios like what has happened with the pandemic-related issues of supply chain," Ahire says.
BMW project manager Chris King says he didn't realize the uniqueness of the Moore School's capstone program until he entered the workforce.
"It was unbelievably beneficial to have that kind of real-life experience, to get out of a classroom, to get out of theory, to get out of a textbook and see what it really looked like," says King, who graduated in 2013. "That jumpstart was paramount for my career."
---
Share this Story! Let friends in your social network know what you are reading about
---