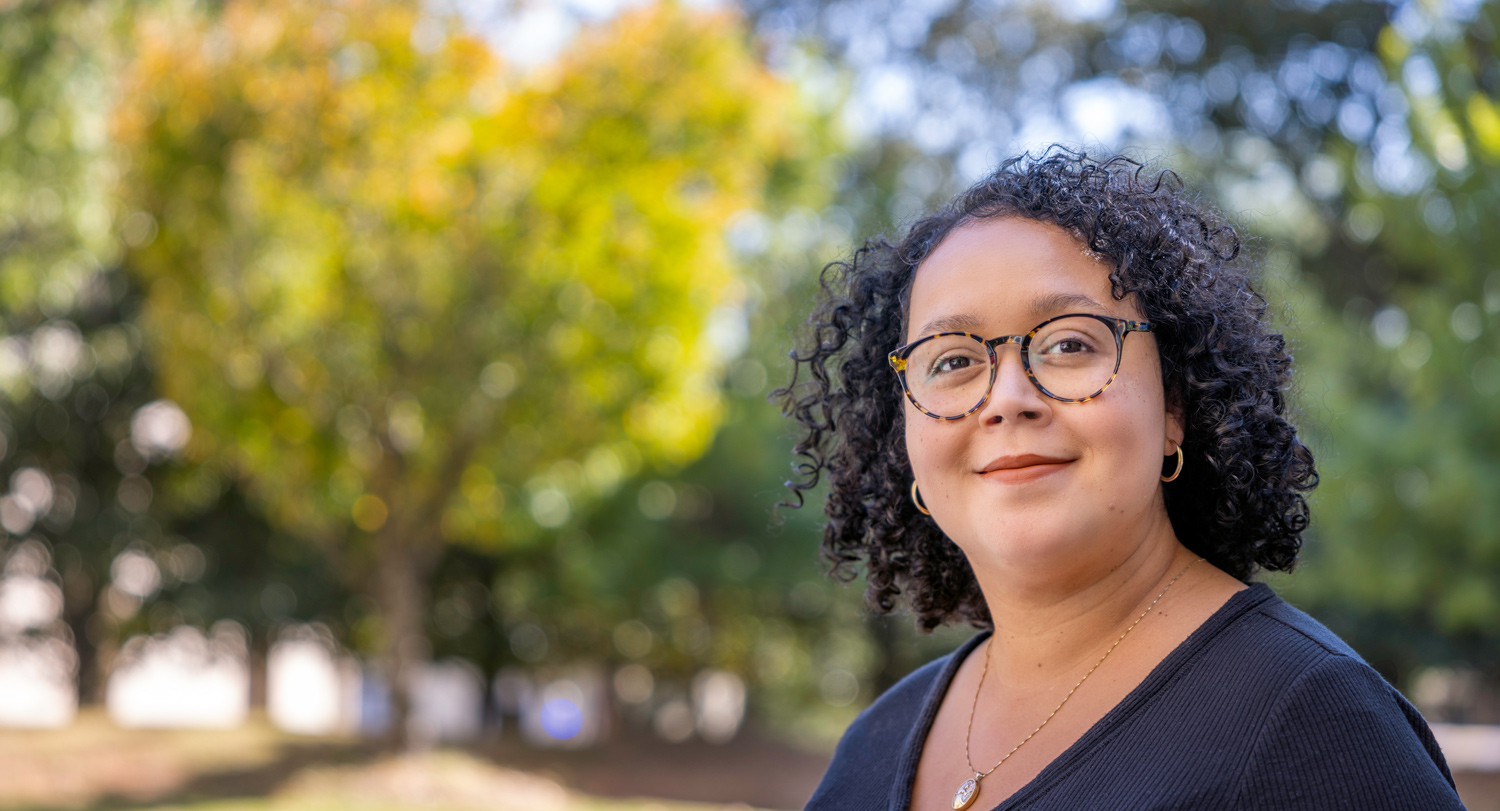 Fiction writer joins faculty
Claire Jiménez brings her love of storytelling and exploration of the Puerto Rican experience
Growing up in a Puerto Rican family in Staten Island and Brooklyn, New York, storytelling and books were always part of Claire Jiménez's life.
"The women in my family would tell stories and craft these brilliant jokes. And my father introduced me to a lot of beautiful writers," she says. "When I was growing up, he was going to college, and he would bring back his college books and say, 'Oh, look at this. This is James Baldwin or this is Eugene O'Neill or this is Tennessee Williams.' And obviously, these things are way too difficult for a fourth-grader. But just seeing him bring those books home, it created this appreciation for books."
But while she always loved to read and write, earning a living as a published writer and college professor was hard to imagine.
"Really, I was just a nerdy girl who liked to read."
Fast forward a few decades and Jiménez is now a new assistant professor of English language and literature and African American Studies at the University of South Carolina, and her debut novel will be published this spring by Grand Central Publishing.
It's a writing journey that started when she was selected as a Posse Scholar and left Staten Island for Colby College in Maine. The Posse Foundation identifies and recruits underserved students with leadership potential, and the scholars receive full-tuition scholarships from the foundation's partner colleges and universities. Jiménez was part of the first Posse cohort to attend Colby, where she majored in English.
She graduated into the Great Recession, moved back home to New York and found a job working at the mall. But she kept thinking about the writing classes she took in college and her love of telling stories.
So, on something of a lark, she applied to the MFA program at Vanderbilt, thinking she wouldn't get in to the selective program that accepts only a handful of students each year. But it was free to apply.
"And then when I got in, I was just so surprised. It changed my life," she says. "I ended up going to Nashville, Tennessee, and those years were a gift. I got three years to write and I had teachers who spent time with me to help me develop my stories and become a better writer."
While she was there, she wrote a short story called "Catfight," a tale that would eventually become the novel What Happened to Ruthy Ramirez, which will be published in the spring.
The story follows a Puerto Rican family in Staten Island when a 13-year-old goes missing in the 1990s. Eight years later, the girl's sisters think they see her on a reality show.
"It's really an examination of loss and trauma, the ways in which black and brown women's bodies are depicted on TV and the ways in which missing black and brown girls, especially in the '90s, were not given a lot of attention," she says. "That's basically the premise of the novel.
That attention to highlighting the Puerto Rican experience is part of her research as well as her personal writing. She studies and writes about the lack of Puerto Rican authors being published by mainstream presses. In 2020, she co-founded The Puerto Rican Literature Project, a free digital archive, with a team of Puerto Rican writers and scholars in partnership with the U.S. Latino Digital Humanities Program at the University of Houston. In 2021, the team was awarded a $1.3 million grant from the Andrew W. Mellon Foundation to further develop the archive.
"I never thought I would become a professor even up until I received my MFA. And then I didn't think that I would go get a Ph.D. I wasn't so sure that was in the cards for me," Jiménez says. "It took a lot of work and a lot of years of writing and struggling as a writer. You see all your friends who have these jobs with 401Ks and you're like, 'Why am I doing this?' And then finally it's like, 'Oh, it paid off.' But it took many, many years."
Now she's thrilled to be part of the university's English and African American Studies departments. She will teach the fiction workshop next year, and she hopes to craft a course around ethnic literature.
"There are so many great writers here. I mean, Nikky Finney teaches here. It's just a dream. It's just extraordinary. I love that it's on the East Coast, that it's in close proximity to New York for my research. I love how diverse the city is. The creative writing program is really growing, and there's a lot of opportunity here. That's exciting to me."