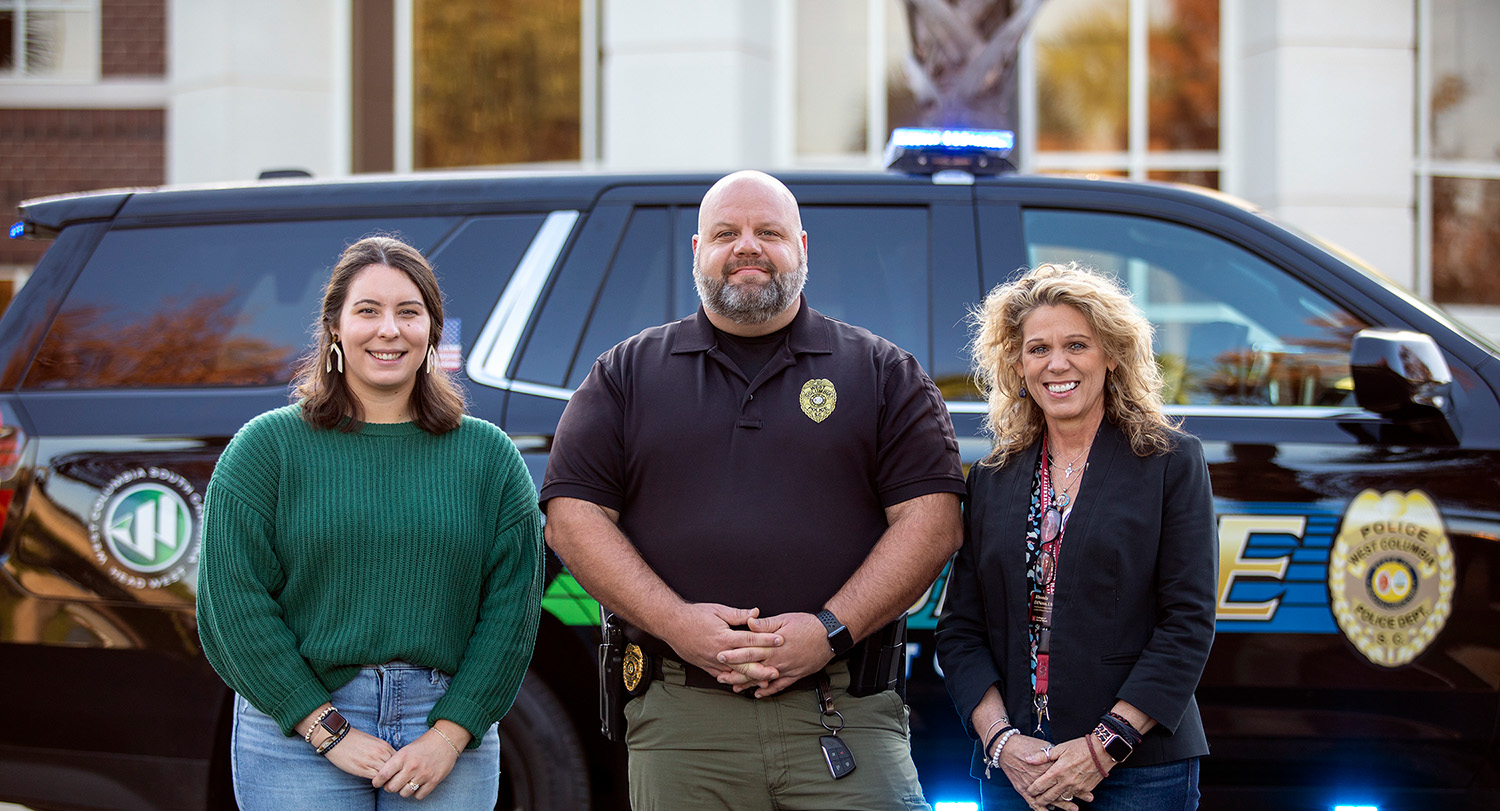 USC, West Columbia police continue to see success in social work outreach program
Olivia Darr, University of South Carolina College of Social Work master's student, spent 10 hours a week managing social work cases with the West Columbia Police Department in 2021, and it didn't take long for her to understand the clear connection between social work and law enforcement.
It's a connection the police department and the College of Social Work have been strengthening with a training program that introduces social work students to the world of law enforcement. The West Columbia Outreach Program allows graduate students to complete field work with the police department as part of their course requirements.
"Law enforcement and social work are a fantastic marriage," West Columbia police chief Marion Boyce says. "They go together so beautifully."
Nearly half of the 37,000 calls for help the police department gets every year are related to mental health or substance use. The program — birthed due to jail overcrowding in Lexington County — allows for officers to deescalate a situation, return people to safety, and then lets social work students assess the cases and discover people's needs. The students then connect those people to the appropriate services within the community and the records are kept confidential.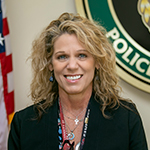 For seven years, the partnership between USC and the police department has not only supported officers by reducing 911 calls when residents with mental health or substance use issues need assistance; it's also given social work students experience with case management in real-world situations where people in need are referred to the appropriate service providers.
College of Social Work professor Rhonda DiNovo played a big role in creating the partnership and says the services offered by the program have given officers more time to respond to other emergencies. She also points out that the program does not alleviate people from their legal responsibilities.
"This is not a diversion program. If someone is doing something illegal that requires them to be held accountable to the law, they are held accountable," DiNovo says. "We work with them after arrest or after they serve time with the goal of their behaviors not happening again."
In addition to mental health and substance use intervention, the program has also helped with cases regarding runaway children, trafficking, DUIs, and even senior services and food drives.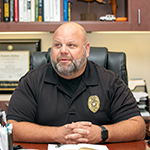 Each fall semester, students in the Evaluation of Social Work Programs course collaborate with community organizations to evaluate their program effectiveness. Last year, one student group evaluated the West Columbia Outreach Program and found there was a 50% reduction in repeated behaviors by people who had received the program's services.
Aiding the outreach program in identifying target areas in which people might need help is a GIS mapping system coordinated through the City of West Columbia. The GIS tracks where incidents occur and records the hot spots for crimes and crises. The system also pushes alerts to officers who may be responding to situations in which they could be harmed.
Darr worked as DiNovo's graduate assistant when she completed field hours through the program. She believes it's important to ask why certain behaviors happen and learn about the experiences that have led people to the moments which require law enforcement intervention. This program, she says, is great training for people who want to go into social work.
"The GIS was really interesting to see, especially for research purposes," Darr says. "On this street, there would be a lot of people experiencing food insecurity. On that street, there would be more interpersonal violence situations. It was compelling to see the patterns of cases in different locations."
Boyce points out that people who choose to go into the professions of law enforcement and social work want to help people, and that commonality is what has helped everyone affiliated with the program work so well together despite differences in communication and perspectives. He's pleased with the program and expects it to continue flourishing.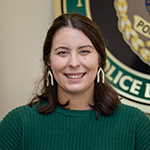 "It's unique because, to my knowledge, we're the only law enforcement agency in South Carolina to have a partnership like this with a major university," Boyce adds. "We're very fortunate to have USC in our backyard."
Some people suffering from mental illnesses may commit crimes, and providing the right services for those people helps keep them and responding officers safe. While some mental conditions do not go away, they can be properly managed so people can live better lives.
"Society has always moralized the issues of mental health and substance use," DiNovo says. "I like to look at it as, rather than a character flaw, a cry for help. It's an act of desperation. So let's offer them helpful resources so they are supported in making safer, healthier choices."