July 29, 2022 — It's a little after midnight, and Sarah Davis is sitting in the dimly lit neonatal intensive care unit of Prisma Health Children's Hospital trying to feed her newborn son Sam.
It's been four days since Sam was born — four whirlwind, stressful days. A challenging childbirth followed by concerns about extra fluid in the baby's lungs. Davis has barely slept.
As she rocks her son, an email notification on her phone catches her attention. It's an update from eRA Commons, a portal used by research scientists applying for grants through the National Institutes of Health.
Davis has been waiting for this moment. You see, she is not only a new mother; she's also a fifth-year pharmaceutical sciences Ph.D. student on track to graduate in 2023.
She's not sure if she can trust her sleep-deprived eyes, but when she blinks it's still there: Status, Awarded.
Those two words can catapult her research career to the next level. They mean that she has officially been awarded an NIH National Research Service Award, a grant designed to develop high-potential predoctoral students as research scientists.
With one hand, she starts composing an email to Dr. Jun Zhu, her mentor in the lab. With the other hand, she squeezes Sam a little tighter. When he's released from the hospital, they will have two things to celebrate.
Blazing the trail
It's rare for students to pursue motherhood while working full-time towards a Ph.D., particularly in the sciences. The roles of "mom" and "researcher" come with extensive time commitments and often competing priorities.
But Davis wasn't willing to sacrifice one of her dreams for the other.
A Michigan native, Davis discovered her love of science while seeing her dad work in a plating shop in Detroit. It was this initial interest in plating that connected her with professor Eric Ramson at Grand Valley State University while earning her master's degree. Ramson encouraged her to explore fast scan cyclic voltammetry, and to improve the tool using principles similar to plating to jewelry.
"I had no intention of doing a Ph.D. originally," Davis says. "But I thought this tool was so cool. I had learned so much about how it worked that I wanted to use it. It can be applied to so many things, and I couldn't wait to do research with it."
That's how she ended up working in Zhu's lab as a Ph.D. student, where she's been able to build the tool from scratch and use it to conduct neuropharmacology research. These days, Davis spends most of her time using that tool to study how HIV affects dopamine in the brain. She hopes her research can shed light on why HIV patients are so susceptible to methamphetamine abuse.
It was this research that earned her the prestigious NIH grant and that confirmed her commitment to academia. She is currently writing a first author review paper about the neurobiology of disease and will pursue a postdoc program after graduating later this year.
But outside of the lab, Davis was facing a personal challenge: endometriosis, a reproductive disease that causes severe pain and can making getting pregnant difficult. Davis discovered that if she wanted to conceive, she would have to go through multiple surgeries and hormone therapy, a process that could take years.
Davis knew what this meant for her future: "I had to face the reality that if I want to be a mom — and I really do — I was going to have to try to have children while I was still in school."
Though Davis is certainly not the first person to balance pregnancy and motherhood with an academic career, she knew she was venturing into largely uncharted territory. In her years at the university, she had not seen a single other graduate student in her program become a mother.
At times, she still struggles with the weight of this, knowing that the women who follow in her footsteps may be judged by her success or her failure.
"I want other people, especially professors, to see that a student can get pregnant and still be successful. Still get fellowships. Still do great research," she says. "I have to make this look easy."
She hopes her example can normalize the idea of graduate students having children. After all, many are at a stage in their lives where it's natural to want to start a family, and they should be able to do so without judgement, she argues.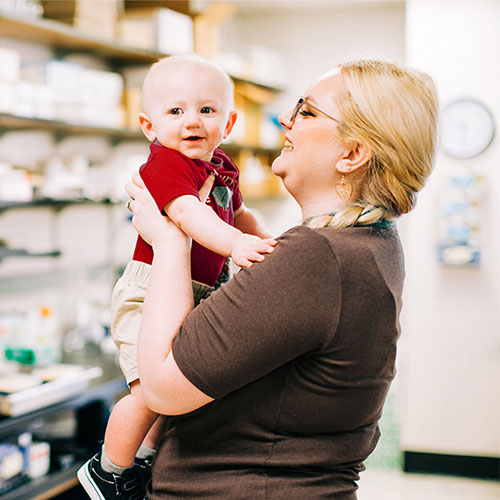 A safe space
As her first Mother's Day approaches, Davis admits that the past year has been, at times, harder than she imagined. But it's also been vastly more rewarding.
One surprisingly difficult part of balancing motherhood and research was that it meant dialing back her engagement in the graduate school community.
As a first-generation student, Davis recognizes that the mentorship she received at each level of her academic journey has been instrumental in her present-day success. This motivates her to pay it forward by supporting her peers and the future generation of scientists through leadership and mentorship.
Davis will continue to serve as a fellowship peer mentor for graduate students pursuing external funding such as NIH grants, but she's chosen to step down from her role as president of the College of Pharmacy's Graduate Student Association.
"I want there to be a sense of community. I've worked very hard with our GSA to bring everyone together. I gave it my all … but I need my mom time," she explains.
Another major factor in getting her "mom time"? Support from her husband, along with Zhu and their team in the lab.
A smile lights up her face as she reflects on all the ways they have helped her. "Having a supportive environment makes a huge difference," she emphasizes. "Having a mentor who understood my goals made me feel like I was in a safe space."
Early in her pregnancy, when she was battling morning sickness, Zhu brought an electric kettle into the office so she could make her favorite tea. After Sam was born, there was a day when her child care fell through before a major grant deadline. There was no time to rearrange experiments, so she set up Sam's playpen behind her desk and her lab mates took turns watching over him while she ran tests.
Some nights, her experiments can run until 7 or 8 p.m. But if she finds herself feeling worn down and missing her time with Sam, her husband, Jordan, is there to support her. The Saturday after Thanksgiving break, Davis was facing a particularly long and lonely day in the lab … until her husband surprised her by showing up with dinner and the baby. They turned on the football game and ate takeout during the downtime between experiments.
It's the little moments like these that make the hard work worth it.
"Spending time with Sam and Jordan is my favorite part of the day. Doing whatever we can to make him laugh, it makes my heart happy," she says. "And that means every day can be a good day, even if nothing goes well in lab."
---
Learn more
Students interested in learning more about NIH grants or other external funding opportunities for research can contact National Fellowships & Scholar Programs.