---
The College of Pharmacy has issued provisional approval to start a student chapter of the Industry Pharmacists Organization at the University of South Carolina this fall.
When students enter pharmacy school, their knowledge of potential careers that can be pursued with a Doctor of Pharmacy degree is often limited to retail or hospital pharmacy. The pharmaceutical industry is one of those often-overlooked directions – despite having a variety of functional areas which employ pharmacists.
Clinical Assistant Professor Michaela Almgren, has contemplated bringing the organization to UofSC since 2019 to prepare students for industry-focused careers.
"I was not sure if there would be enough interest since this area of pharmacy is not as widely known," she says. "Over the following year, I noted that I was precepting a greater number of APPE students who were interested in industry after graduation."
Almgren, who will serve as faculty advisor to the student chapter, is a clinical advisor and special projects manager at Nephron Pharmaceuticals Corporation in West Columbia, South Carolina. She cites the college's strong partnership with Nephron as playing a significant role in the increased interest.
"We have a number of students who have worked at Nephron as interns and now work at Nephron as pharmacists. The majority of pharmacists working for Nephron are our graduates, she adds."
Work-life balance as a pharmacist in industry is also a draw for students. Unlike traditional patient-care fields, night and weekend shifts are not usually required and industry pharmacists tend to have more control over their schedule.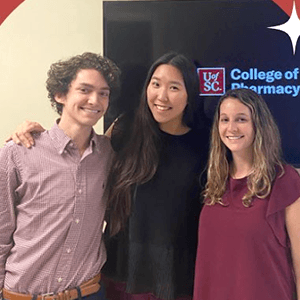 Nikki Chen, a third-year student pharmacist and president of the IPhO student chapter, hopes that bringing the organization to UofSC will continue to expand students' perspectives and help students at UofSC become more competitive candidates for industry careers.
"Even if our students end up pursuing something outside of industry, the skills IPhO can bring for our students, especially communication, will be transferrable to all careers," says Chen.
Activities planned for the year include guest speakers, fellowship application preparation, case competitions and a medical affairs newsletter.
"As a new student organization, we need all the support we can get to ensure we're able to carry out everything we have planned for our students - from providing us with your ideas, being a speaker, attending our events, helping form connections, hiring summer interns, or mentoring a student. We are all ears as we aim to grow IPhO into a great resource, not only for our college of pharmacy but also for our community."
IPhO will be eligible for final approval by the College of Pharmacy in the spring semester. Almgren invites any alumni or professionals interested in getting involved with the UofSC IPhO chapter to reach out by email at almgren@cop.sc.edu.
---
Topics: Student Organizations, Pharm.D. Program