---
The UofSC College of Pharmacy has received a $20,000 scholarship from the National Association of Chain Drug Stores Foundation. The College was among ten schools and colleges of pharmacy to receive scholarships for their innovative and diverse educational programs which aim to advance patient care and public health.
Patti Fabel, executive director of the Kennedy Pharmacy Innovation Center, says the scholarship will be used to implement a community pharmacy-based training program to teach student pharmacists, pharmacists and pharmacy technicians how to effectively utilize digital health in patient care.
"Once developed, the program will be offered to all students within the college and then submitted for consideration as a required component of the Pharm.D. curriculum," says Fabel. "Additionally, it will be offered to pharmacy professionals across the country."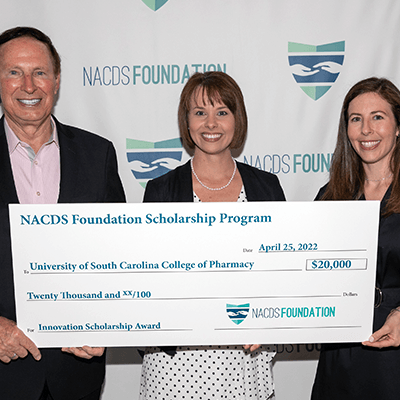 The NACDS Foundation Scholarship Program is designed to fund prospective projects that have the potential to significantly advance patient care and engage pharmacy students. Accredited colleges and schools of pharmacy were asked to submit applications for projects that may include community-based research projects and patient-centered coursework, or other innovative curricula.
"We are thrilled to announce this year's NACDS Foundation scholarship awardees and the innovative, educational initiatives that these schools and colleges of pharmacy will launch to help improve community-based health outcomes and advance patient care," says Sara Roszak, NACDS Foundation president.
---
Topics: Pharmacy Education, Kennedy Pharmacy Innovation Center