---
Many students in the College of Pharmacy choose this profession because of their desire to help improve their patients' lives. That oftentimes means more than just treating their patients; it also means enhancing their communities as well.
In the spirit of giving back this Thanksgiving holiday, we asked leaders of some of our student organizations why it is important to be active within the community and what it means to them.

Student National Pharmaceutical Association
Helen Knoche, Class of 2024, serves as president of the Student National Pharmaceutical Association. The group's mission is to serve people from historically underrecognized and underserved patient populations. Their initiatives range from chronic kidney disease to HIV patients which aim to spread awareness, increase advocacy, and give back to these populations.
SNPhA held a variety of service events this semester, including the annual Walk to End Alzheimer's, HIV and PrEP education tabling on local college campuses, volunteering in the South Carolina Pride Festival, a book donation drive for Prisma Health Children's Hospital - Upstate, and many more.
For the holidays, the chapter has set up a "Socks for Seniors" drive which provides socks to local long-term care homes, a much-needed resource during the cold months.
"This community has given so much to not only myself but all of the students within the College of Pharmacy which I, along with every member of SNPhA, believe is just one reason why the work we do is so important," Knoche says. "Giving back to a community that has given so much to us is the least we can do."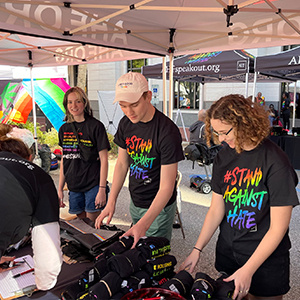 American College of Clinical Pharmacies
Moji Awe, Class of 2024, is president of the college's chapter for ACCP. The group sponsored a donation drive to assist victims of Hurricane Ian and, for the past few years, ACCP has volunteered at the flu vaccine clinics at Prisma Health
"We have all recently seen that vaccines are an essential part of public health, and this is always a wonderful opportunity for us to contribute to maintaining the overall health of our community in a small way," says Awe. "It is also heartwarming whenever those that come to receive their vaccines show genuine gratitude that we are taking the time to help them."
ACCP plans to partner with the Pediatric Pharmacy Association to provide Christmas gifts for the children of Epworth Midlands Foster Care and create holiday cards for the children at Prisma Health Children's hospital.
"Giving back is important to me personally because serving others has always been a core value of mine, and it brings me great joy to positively impact others' lives. Giving back is important to the goals of ACCP because as future health professionals, it is our mission to use our talents to help others, and it is never too early to start. I also think it helps us become well-rounded future pharmacists," she adds.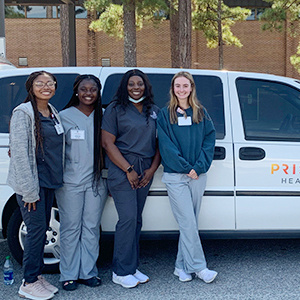 Christian Pharmacists Fellowship
Katie Hindman, Class of 2025, leads CFP as president. The group hosted a stuffed animal drive for Midlands Orphan Relief, along with a Halloween candy drive for residents of Mill Creek Manor, a senior living community. They also joined with Kappa Psi to hold a sock and underwear drive for children of Saxe Gotha Elementary School in Lexington, South Carolina.
"Our donation drive for Midlands Orphan Relief was very rewarding for me," Hindman says. "We collected 65 stuffed animals for kids that have a challenging home life. It made me very happy to see our donations serve a valuable purpose, and it warms my heart that these orphans received a lot of comfort from our stuffed animal donations."
CFP will also hold Operation Christmas Child, supporting Samaritan's Purse, to send Christmas gifts to children.
"This is one of my favorite events and I look forward to bringing smiles to the children's faces during the holidays."
---
Topics: Pharm.D. Program, Student Experience, Student Organizations