---
The College of Pharmacy had a tremendous showing at this year's American Pharmacists Association Annual Meeting and Exposition held in Phoenix, Arizona in late March. Among those representing USC were 25 Pharm.D. students, two Clinical Pharmacy & Outcomes Sciences graduate students, three faculty members, five community-based pharmacy residents and two residency program preceptors.
USC students took part in eleven poster presentations and were able to network with pharmacy thought leaders, learn more about cutting-edge drugs and treatment options, as well as hear the latest research within the field of pharmacy.
Danny Schreiber, Class of 2024, feels he has gained invaluable experience by attending the conference.
"As a representative of APhA-ASP, I served as a delegate at the conference," he says. "I was able to present research, serve as a speaker and moderator at information sessions, gain scholarships, and I received invitations to valuable receptions."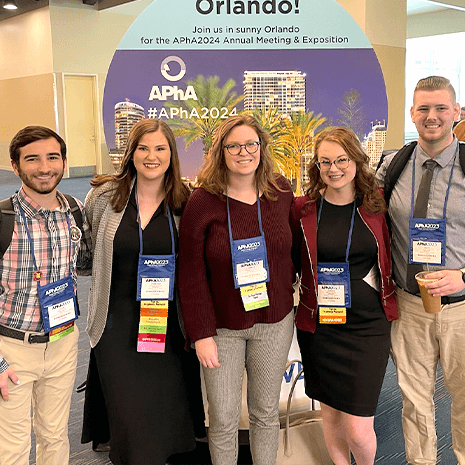 CharLeigh Steverson, Class of 2024, received the 2023 Mary Louise Anderson APhA Foundation Scholarship.
"As a student, you have hundreds of pharmacists that are generously eager to help guide student pharmacists along their journey," she says. "I have attended the APhA conference two years now. All the people you meet and the experiences you have will prepare you to be a more knowledgeable, compassionate, and well-rounded health care professional."
Anna Rayfield, Class of 2024, attended as the COP's current president of APhA-ASP.
"I shared with other student pharmacists the ways in which our local chapter grew not only in membership but in our community footprint," she says. "In turn, hearing from other student pharmacists about the innovative ways they impact their own communities is crucial to allowing our local chapter to continue to grow."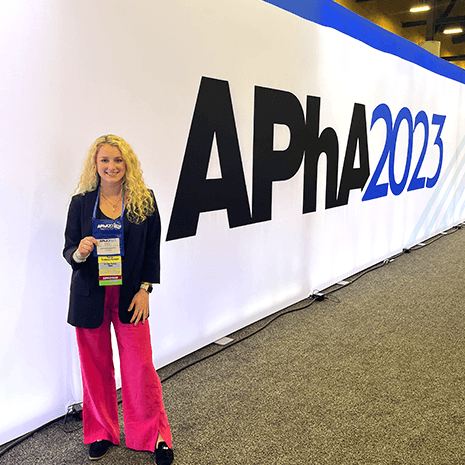 For Kendall Kerr, Class of 2025, attending the conference is a chance to focus on the 'why' behind the work that students do for exams, presentations and research.
"Students get to see the end result of their constant studying and hard work. I come back feeling reenergized to finish my coursework strong so that I can contribute to our profession," she adds.
As faculty advisor for APhA-ASP, Jordan Ballou is proud of how all the attendees representing the USC College of Pharmacy were received.
"Everywhere I went, someone told me they had interacted with a USC student and how impressed they were with our students' professionalism and passion for pharmacy."
---
Topics: Pharm.D. Program, Student Experience