---
The USC College of Pharmacy Graduate Student Association is finding ways to showcase the wonders of science. The student organization recently hosted the Future STEM Heroes Fair which highlighted many STEM fields, including biology, neuroscience, chemistry, engineering, physics, and more.
The goal of this graduate student-driven event is to inspire and educate students about the endless possibilities in the fields of science, technology, engineering and math. Graduate students from the USC College of Pharmacy Graduate Student Association helped organize the event, along with the Graduate Student Associations for the Biological Sciences and the Graduate Association for Brain Awareness.
Ph.D. Candidate B. Celia Cui, financial chair of the event and College of Pharmacy GSA treasurer, says the goal of the fair is to inspire young people to explore the exciting world of STEM and imagine themselves pursuing these fields.
"Through the engaging and memorable experiences with science, our hope is to inspire and encourage the next generation of creative thinkers and problem-solvers," says Cui.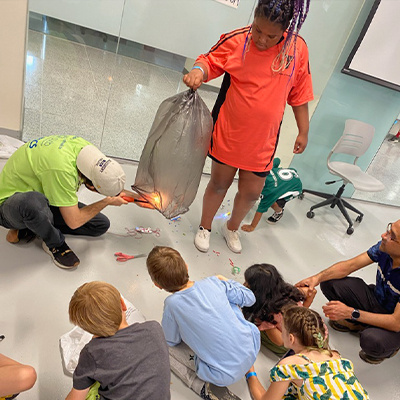 "This event was truly a collaborative effort which took hundreds of hours of planning." says Ph.D. Candidate Sarah Davis, director of the event and College of Pharmacy GSA president.
"We planned a wide range of scientific activities, from building lava lamps to exploring the inside of cells with virtual reality headsets, and I think everyone was able to connect with science in some way," says Zach Stryker, activity coordinator of the event and vice president of the College of Pharmacy GSA. "The best part of the event was seeing the enthusiasm from all the young kids who got to learn something new,"
The event featured interactive displays, hands-on science experiments, and educational talks provided by graduate students, organized by Cui, Zach Stryker, Sarah Davis, Blair Stokes and Courtney Buchanan.
The USC Graduate Student Association, Integrated Micro-Chromatography Systems, and the American Society for Cell Biology generously supported the fair, helping to inspire the next generation of scientists.
---
Topics: Graduate Programs