---
Peter Hiller, Class of 2025, has been named to the inaugural class of Aspiring Academics by the American Association of Colleges of Pharmacy, one of only twenty students nationwide to receive the honor.
Hiller, who was selected from among 200 applicants, applied to the program at the recommendation of his mentor, Jordan Ballou, clinical associate professor after expressing an interest in pharmacy academia.
"Teaching and pharmacy had never mixed up to this point, but I have had wonderful professors along the way who have instilled in me a desire to further advance medicine and teach others about it," he says, "and AACP has the resources and network to help me reach these goals.'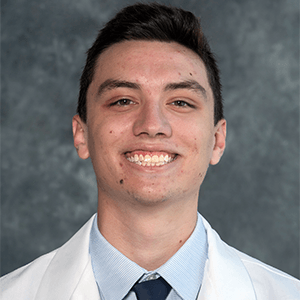 Upon completion of the nine-month program, students will be able to understand the various types of pharmacy faculty positions; state the expectations of faculty regarding scholarship, teaching, and service; describe the process and skills needed to advance in a career in pharmacy academia; and more. Requirements include meeting with member cohorts, networking opportunities, and experiential activities.
"I sincerely hope that taking part in this program will allow me to grow and benefit from being part of a cohort of students and faculty who want to advance the profession," Hiller adds. "I am striving to learn what it means to be a part of a staff of professionals who want to see their students succeed and have their patients heal. I want to gain insight into how I can achieve my dreams."
Hiller hopes to complete a residency and a teaching certificate to build a foundation to develop better teaching skills. He is also considering earning a master's in education in hopes of becoming a clinical associate professor.
Ballou, Hiller's advisor, cited his selection as a testament to his experiences, including his leadership roles, research, and service to the USC community.
"This program is the first to my knowledge to allow students an extended exposure to receive mentorship from a home mentor, as well as other academic mentors across the country, specifically related to becoming a faculty member," says Ballou. "A USC student getting this opportunity is a testament to the emphasis that our faculty and our college place on developing well-rounded leaders in the profession of pharmacy."
---
Topics: Pharm.D. Program, Academic Programs