---
Discover USC is the university's annual event which showcases research, scholarship, leadership and creative projects by undergraduate and graduate students, postdoctoral scholars, and medical scholars. The event was founded in 2017 by the USC Office for the Vice President of Research as an opportunity to bring the university's research and academic community together to celebrate innovation and scholarship.
Discover USC 2023 was the biggest event yet, welcoming more than 1,000 presentations and more than 2,400 attendees, including reviewers, mentors, visitors and volunteers. Several student pharmacists took part in this year's showcase, including seven Pharm.D. students, 12 Ph.D. candidates, eight Prisma postgraduate year one residents and five PGY2 residents.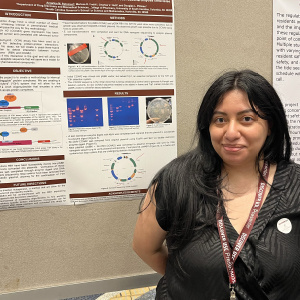 Angelica Balcarcel, Class of 2025, earned a second-place recognition for her presentation "A Drug Discovery System using the Baker's Yeast Saccharomyces cerevisiae."
Balcarcel says events like Discover USC help her hone her presentation and communication skills along with the opportunity to see what other research is being done by her peers and to talk with them about their work.
"In research, it's very easy to lose sight of the end goal and get bogged down in the tiny details after months of work, but Discover USC gives me the opportunity to organize everything I have accomplished in lab and present it to my peers and faculty," she says. "This experience is always extremely beneficial and informative to me because it allows me to see what parts of my presentation I need to improve on and what aspects of my research that attendees found exciting and useful."
Abby Davies, Ph.D. candidate, is looking forward to future opportunities to take part in Discover USC.
"I took part in Discover USC to share what I have done in the College of Pharmacy and learn from others who have completed research projects in topics I would have never been exposed to otherwise."
---
Topics: Research, Academic Programs