---
As part of their initiative to provide a platform for student leaders, the Zeta Chapter of Phi Lambda Sigma at the University of South Carolina College of Pharmacy held its inaugural leadership retreat in late January.
"The retreat was intended to help share that PLS is an organization that actively cultivates leaders," says PLS President Danny Schreiber, Class of 2024.
Supported by a chapter development award from the PLS National Executive Committee along with support from PSyn and several PLS Zeta Chapter alumni, the retreat utilized discussions, workshops and presentations to provide hands-on, interactive leadership training for students.
"It was our goal for students to leave with both soft and technical skill development through sessions on communication, innovation, adaptability, and empowerment," Schreiber adds.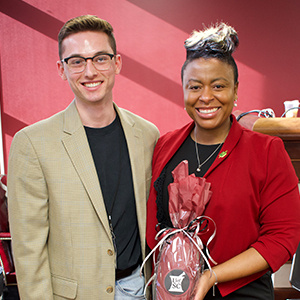 The retreat concluded with a 3-course etiquette dinner, sponsored by the Kennedy Pharmacy Innovation Center, to help students in future professional settings. Speakers for the day included Ranarda Jones, Pharm.D., '03, CEO of PSyn, Inc.; Pamela Hite, KPIC program coordinator; Bob Davis, Pharm.D., former KPIC professor; Anthony DeClue, Pharm.D., national president of PLS; Shawn Hodges, Pharm.D., CEO of Revelation Pharma Corporation; and Jennifer Baker, Pharm.D., '02, USC COP director of experiential education.
Schreiber hopes the retreat will become an annual event for the college.
"This is an event that is near and dear to my heart," he says. "The College of Pharmacy has so much potential and drive within its student, and I want my legacy as president to be one of empowerment and development for students to reach that potential and new heights as student leaders."
---
Topics: Student Experience, Student Organizations, Pharm.D. Program