---
During its June 2023 Annual Conference, the South Carolina Pharmacy Association presented awards to COP faculty, students, and an alumna.
Kathy Quarles Moore, '86, clinical associate professor and director of Community and Compounding Laboratories received the Bowl of Hygeia, presented to an SCPhA member with an outstanding record of community service that reflects well on the profession of pharmacy, who is well known throughout the state for their contributions to the profession through volunteerism within pharmacy, involvement in SCPhA activities and who provides encouragement of professional development of young pharmacists.
Moore is deeply touched by receiving the award.
"To be selected for this esteemed honor by my peers, individuals whom I hold in the highest regard, is truly a humbling experience," she says. "The recognition and support of one's peers is invaluable and holds a special place in the heart of any professional. I, too, cherish this."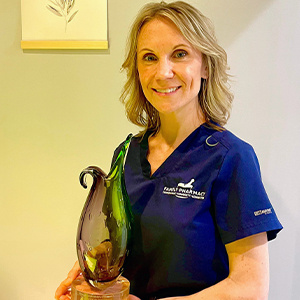 Brandi Johnson, '09, received the Excellence in Innovation Award, given to a pharmacist who demonstrates commitment to improving patient care through expansion of drug therapy management and pharmacy technology into a unique practice setting.
Johnson is the Pharmacist in Charge at Family Pharmacist South Aiken. She has worked in her family-owned pharmacy since she was in high school and opened the Price Avenue location with her father in 2009. Brandi specializes in traditional pharmacy as well as compounding. She has a particular interest in helping patients with smoking cessation and maintaining healthy lifestyles.
CharLeigh Steverson, Class of 2024, was named as the SCPhA Student Pharmacist of the Year. Nominated by Associate Dean for Student Affairs and Diversity Amy Grant, CharLeigh is a member of SCPhA and demonstrates involvement in and promotion of SCPhA at USC as well as passion for the profession, her patients, and her community.
Grant notes that Steverson was a unanimous choice to be nominated for the award.
"Our students are asked to self- or peer-nominate individuals who meet and exceed the award criteria established by SCPhA. All nominees are then vetted and voted on by our college-level Honors and Awards Committee, which consists of faculty, staff, and student members," she says. "In addition to her roles within SCPhA, her reach to students and the profession is broad in nature, through various organization involvement, legislative efforts, and patient care focus. When you speak with CharLeigh about any topic, she will always work into her response 'because there is a patient at the other end.' She understands the "why" behind all the legislative efforts, creation of new programs and processes, and networking with others in the profession."


Gamecocks Receive Statewide Recognition

Kathy Quarles Moore, '86
Bowl of Hygeia Award, South Carolina Pharmacy Association
Brandi Johnson, '09
Excellence in Innovation Award, South Carolina Pharmacy Association
CharLeigh Steverson
SCPhA Student Pharmacist of the Year, South Carolina Pharmacy Association
---
Topics: Pharm.D. program, Student Organizations