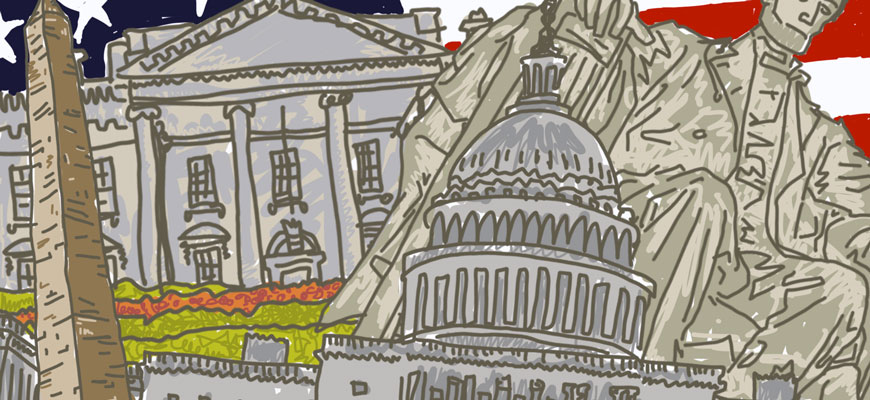 DC at 25: Seth Ismail, junior
---
By Craig Brandhorst,
craigb1@mailbox.sc.edu
, 803-777-3681
---
The Washington Semester Program celebrates its 25th anniversary this fall. Administered through the South Carolina Honors College, it provides fulltime, semester-long internships at congressional offices, federal agencies, nonprofits and other D.C.-based organizations — plus courses on politics, current events and theater — to qualified college students from around the state. Several program alumni and current participants from the University of South Carolina recently shared their experiences in the nation's capital with USC Times, the university's news magazine for faculty and staff.
---
Seth Ismail
Junior, economics and global supply chain management
Internship: Fall 2016, Office of Congressman Jim Clyburn
You're interning with Congressman Jim Clyburn. Where are some of the other people in your house stationed?
Not everybody works for the S.C. delegation. We have one person working for Mark Sanford, one person working for Trey Gowdy and one person for Lindsey Graham. There are 10 of us in all — three from College of Charleston, one from Lander and the other six are from USC.
Did you know any of your housemates before you got up there?
I did not, but we all get along super well. And the program is really good at getting you acquainted with D.C. When we first got here we did scavenger hunts throughout the entire city, all day. It was really fun. And we did a lot of good bonding activities. We went to Nationals game. We did a lot.
What attracted you to the program?
I was always pretty involved in politics — I've been involved with College Democrats, I worked at the State House for the Democratic Caucus — but since I'm a business major, it was always kind of on the back burner. I wanted a semester where I can, one, just be a politics junkie, and two, see if living in D.C. is something that I would like. Also, I just wanted to get out of my comfort zone a little bit.
What's the internship like?
Some days you're answering phones, but you could also be doing legislative research. That's my favorite thing. I also love getting to go to hearings. Jim Clyburn just hosted an event for the Congressional Black Caucus, and they had a choir for that, so I helped with event support and showed them around. A lot of us give Capitol tours, too.
I'm learning so much. If I'm at the office, I can pull up a hearing or I can talk to somebody on staff. Everybody on staff was here during all these crazy times — during the Affordable Care Act debate, or the fast-track TPP vote, or they were here when John Boehner retired — and they have great stories. Somebody on our staff, Craig Link, actually started in the Washington Semester, doing exactly what I'm doing. It has tangible effects.
"Obviously, we're dealing with engaged, academically high-achieving students. We look for things that benefit either their educational goals or their career goals. We ask what they're interested in."

Steve Beckham, the university's federal legislative liaison, who helps place students in appropriate offices once they have been selected
You're up there during a presidential election — and a pretty contentious one. What's the vibe right now?
First of all, everybody in Washington is super-informed. That whole Beltway knowledge is something — I got in a taxi one time and the driver started talking about Strom Thurmond. Or one time I ended up talking to strangers about Dodd-Frank, the Wall Street reform act. I was having coffee with one of my roommates, and two people came up to our table and started contributing to our conversation. Everybody's passionate and enthusiastic about politics. When everybody's passionate and involved in their cause, it makes for a very interesting town.
What are your long-term plans?
What a question! The cool thing about D.C. is that you can network a lot. I've been talking to people about hopefully interning at a government relations firm or a consulting firm. The goal, if everything works out, is to work in the private sector, or to do a volunteer program like Teach for America before I go to graduate school.
---
Read more
The Washington Semester Program celebrated its 25th anniversary this fall. Several program alumni and current participants from the University of South Carolina shared their experiences in the nation's capital with USC Times, the university's news magazine for faculty and staff. Read all of their stories: Heidi Brooks, Greg Ferrante, Meghan Hickman, Seth Ismail, Kimberly Medina and Katie Schwichtenberg.
---
Share this Story! Let friends in your social network know what you are reading about
---