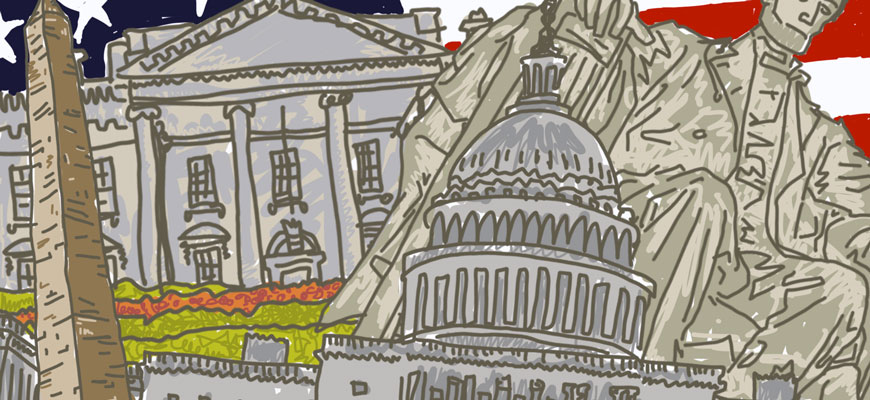 DC at 25: Meghan Hickman, alumna
---
By Craig Brandhorst,
craigb1@mailbox.sc.edu
, 803-777-3681
---
The Washington Semester Program celebrates its 25th anniversary this fall. Administered through the South Carolina Honors College, it provides fulltime, semester-long internships at congressional offices, federal agencies, nonprofits and other D.C.-based organizations — plus courses on politics, current events and theater — to qualified college students from around the state. Several program alumni and current participants from the University of South Carolina recently shared their experiences in the nation's capital with USC Times, the university's news magazine for faculty and staff.
---
Meghan Hickman
Executive director, Engenuity SC
Internship: Fall 2005, Office of U.S. Sen. Lindsey Graham
What led you to apply for the Washington Semester?
It was one of the reasons I applied to the Honors College and why I came to USC. I saw it as my study abroad opportunity, and for a little girl from the Upstate of South Carolina, it was essentially like doing study abroad.
It was without question the most intense interview I'd ever been in. But it's intentionally intense because they want to test your ability to handle yourself in a Capitol Hill office where you'll be faced with everything imaginable. I walked out convinced that I had blown it, but I not only made it into the program, I was selected to be in Sen. Graham's office. In terms of my professional life and my personal life, it completely changed my trajectory.
What was going on in D.C. at that time? What were the hot button issues?
It was just before immigration started to heat up, but it's more the experiences and less the politics that I remember. I got to go on the set of Meet the Press shortly before Tim Russert passed away. I remember being around the senator, being entranced by Tim Russert and knowing right then and there, "This has to be a part of my future. I've got to make this a part of my journey."
You describe yourself as a bit of a political junkie. How far back does that go?
Probably around sixth grade. I was that kid who was class president every year. I was student body president my senior year of high school, I did freshman council my first year at Carolina and then continued to be active in student government at Carolina my entire way through, so the idea of getting to spend a semester not only in the hotbed of political activity, nationally and internationally, but to do it in a format where I got work experience and stayed on track academically, was a no-brainer.
It gives students a better understanding of the big picture — how government works — and they're active participants in the process. When they get there, they have that kind of aha moment when they realize that being one person involved in this process can have an impact. That is invaluable.

Julie Hutt, director of internships at the Honors College

What did you do on an average day in Sen. Graham's office?
As an intern, your job is to make sure that the rest of the office functions as smoothly and efficiently as possible. Whatever anyone needs, whenever they need it, your job is to attend to that, to support them, and to try to remove as many obstacles as possible so that the office can do the service to the constituents and the work of the senator.
I was on a public relations track and I was a political science minor, so I got to specialize a little bit. I got to go to press interviews, media events, radio spots, but the office was really good at giving interns the chance to see every facet. It was about exposure, understanding what it takes to operate a congressional office, what it takes to attend to the needs of four million constituents across the state of South Carolina, and every day was different, which I loved.
You're up there with a dozen other students and everybody's got their own political views. Did it ever get contentious?
Sure, it absolutely did, and that was one of the richest parts of that experience. It forces you to get comfortable disagreeing with people, supporting your position, and, ultimately, one of two things happens: you get confident with the way you think or, more importantly, you start to question the way you think. That's a really healthy thing. That exchange of ideas, the difference in political philosophy, the opportunities to discuss and debate — that's where the real learning happens. And that's one of the things that the program encourages.
Frankly, it's that collegiality that's missing from the political world right now. Members of Congress can disagree — they can have divisive debates — but you know what? They don't have to go back and live in the same house, they don't have to eat meals with each other, they don't have to interact with each other outside of what happens during debate. We're missing that ability to develop a relationship with someone you might vehemently disagree with but who, ultimately, you respect as a human being and as a friend.
Now that you're no longer in D.C., do you still draw on those formative experiences?
Working in D.C. in my early 20s, where I was thrust into situations that required enormous maturity, taught me that age doesn't matter, gender doesn't matter. That's what enabled me to step into a role running a nonprofit where the board consists of the president of the largest research institution in the state, the mayor of the city, elected officials from the region and CEOs of major companies. Stepping into that role as a 30-year-old female could have been incredibly intimidating — and in some cases it was — but those experiences early in my career taught me to lean on my skills and abilities, the things that I was uniquely qualified to do. It gave me the confidence to handle whatever comes my way.
---
Read more
The Washington Semester Program celebrated its 25th anniversary this fall. Several program alumni and current participants from the University of South Carolina shared their experiences in the nation's capital with USC Times, the university's news magazine for faculty and staff. Read all of their stories: Heidi Brooks, Greg Ferrante, Meghan Hickman, Seth Ismail, Kimberly Medina and Katie Schwichtenberg.
---
Share this Story! Let friends in your social network know what you are reading about
---