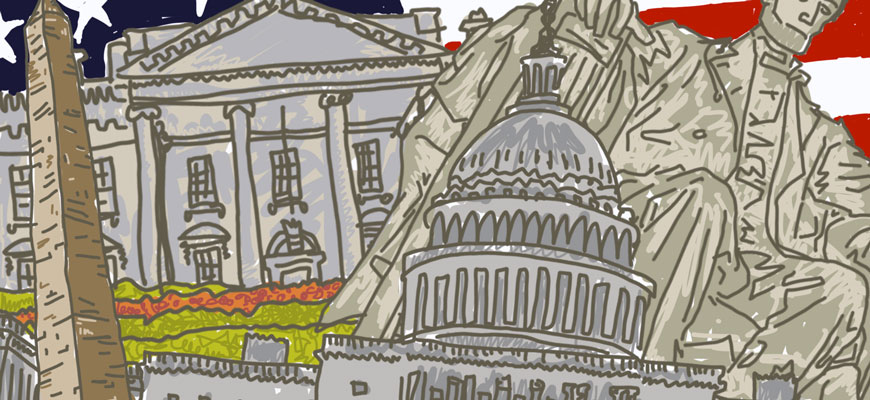 DC at 25: Heidi Brooks, alumna
---
By Craig Brandhorst,
craigb1@mailbox.sc.edu
, 803-777-3681
---
The Washington Semester Program celebrates its 25th anniversary this fall. Administered through the South Carolina Honors College, it provides fulltime, semester-long internships at congressional offices, federal agencies, nonprofits and other D.C.-based organizations — plus courses on politics, current events and theater — to qualified college students from around the state. Several program alumni and current participants from the University of South Carolina recently shared their experiences in the nation's capital with USC Times, the university's news magazine for faculty and staff.
---
Heidi Brooks
Chief Operating Officer, Schott Foundation for Public Education
Internship: Fall 1991, Office of U.S. Sen. Ernest F. Hollings
You were part of the inaugural class back in 1991. What was the program like then?
It was the first year, so it was pretty unformed. It was me, Lee Royal — who I just reconnected with after 25 years — and a guy named David O'Berry. Lee was working in Strom Thurmond's office. David worked for a representative, I don't remember which one. I worked for Sen. Ernest Hollings.
We ended up, the three of us, living in a two-bedroom, two-bathroom apartment in Alexandria, and we would usually commute in Lee's 10-year-old BMW. We would listen to Howard Stern every morning, and we had heated debates. We didn't agree on anything!
So what were you guys arguing about?
Lee was Republican, and I was a Democrat. I think David was also a Democrat but maybe a little more conservative. So we just had really lively debates. But there was no name calling. It was never disrespectful. We had one or two really big disagreements that we had to work through, but I have fond memories of that time because I love to debate. It's good to know what other people think, especially if they think differently from you.
What was it like working in Sen. Hollings' office?
Great! I just had coffee with David Rudd, who was legislative director and went on to be chief of staff for Senator Hollings. But in the '90s it was a different era. Every time has its challenges, but people did talk across the aisle then. There was much more of a can-do approach to Congress. Sen. Hollings was always very engaging and charming, and he was very thoughtful about his positions.
What did you do on a daily basis?
There was a pecking order. There was a guy who was a driver but he also answered the phone. If the senator needed something on the floor, I might take it. I got to sit in on some meetings. I was there during the Clarence Thomas hearings, so I got to see Anita Hill testify. I don't think I fully understood the enormity of it, though. It was all very new and exciting.
Some people are dead certain they want to go into politics, but I wasn't. I enjoyed walking the halls of power, but what I really wanted to do was move to D.C. I fell in love with D.C., and I moved to D.C. to go grad school at the Johns Hopkins School of International Studies right after USC. I'm fortunate. I had a lot of huge formative experiences in college, and each of those experiences helped shape who I am. Trying new things in places where I didn't know anybody whet my appetite to try more new things. It helped me realize who I am and taught me that, "Yeah, I can do this."
And now you're in Cambridge, Mass., with the Schott Foundation. How did you wind up there?
I spent the first decade of my career in international development in Africa and Southeast Asia, and after a few years became frustrated by the slow pace of change. I concluded that the way to get people out of poverty is for them to have jobs, and business is the easiest way to accomplish that. I didn't know enough about business so I went to business school. After that, I worked for a strategy consulting firm called Bridgespan Group that spun off of Bain and Company, the management consulting firm. Then I got in to philanthropy and worked at John Hancock and at Citizen's Bank. So I've been at the intersection of business and community for more than a decade.
But as much as I enjoyed trying to really balance business objectives and the ways that community work could also enhance those, I wanted to be in a leadership position at an organization that was mission-driven. I found the Schott Foundation, which is dedicated to ensuring that public education lives up to its promise of opportunity for all, because it really is the cornerstone of American democracy. We work with large foundations to accelerate the impact of grassroots advocates pushing to end the school to prison pipeline, improve discipline policies, ensure fair funding, ensure student access and access to early childhood education.
---
Read more
The Washington Semester Program celebrated its 25th anniversary this fall. Several program alumni and current participants from the University of South Carolina shared their experiences in the nation's capital with USC Times, the university's news magazine for faculty and staff. Read all of their stories: Heidi Brooks, Greg Ferrante, Meghan Hickman, Seth Ismail, Kimberly Medina and Katie Schwichtenberg.
---
Share this Story! Let friends in your social network know what you are reading about
---