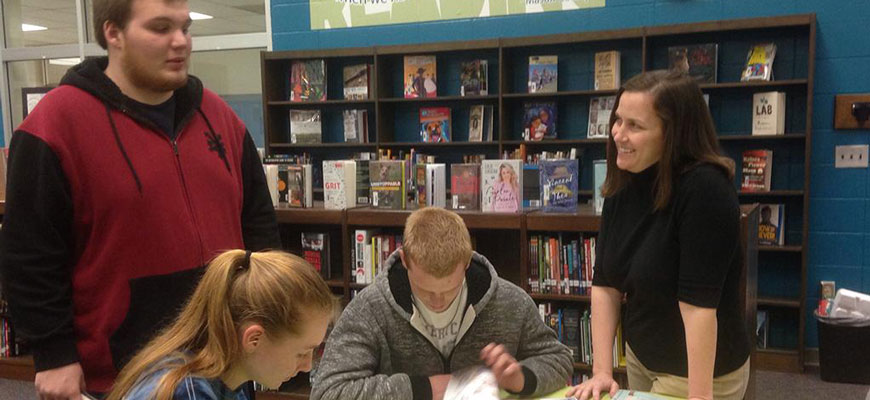 Passion for profession lands SC librarians on Movers & Shakers list
3 School of Information Science alumnae recognized by Library Journal
---
By Carol J.G. Ward,
ward8@mailbox.sc.edu
, 803-777-7549
---
Having an impact on their students and communities, being more inclusive for underserved populations and encouraging a lifelong love of reading and learning are passions shared by three alumnae of the University of South Carolina's School of Information Science who have been recognized as 2020 Movers & Shakers by Library Journal.
"The information and resources available in libraries can provide empowerment, and we want everyone to have that access and opportunity," says Caroline Smith, inclusive services consultant for the South Carolina State Library.
Smith earned her master's degree in library and information science in 2011. She along with Christy James (2016 MLIS) and Tamara Cox (2010 MLIS) are among 46 librarians honored by Library Journal. They were chosen from hundreds of nominees nationwide.
James is library and media services specialist for Charleston County School District, and Cox is the school librarian at Wren High School in Piedmont, South Carolina.
"The fact that we have three alumnae on this year's list and have had alumni included in the past demonstrates not only our commitment to librarianship but our commitment to preparing leaders and innovators," says David Lankes, director of the School of Information Science and associate dean in the College of Information and Communications.
Having graduates included on the Movers & Shakers list is a recognition of the innovation throughout the field that represents a good cross section of the library professionals that UofSC is preparing.
"It's a field that touches just about every sector and every demographic from librarians who help scholars with research, who work in medical fields or business and government, law librarians, school and public libraries," Lankes says. "We have graduates who work for places like Microsoft and Google and across the tech industry or who go to work at the Library of Congress and the park service."
Sharing her passion for the profession: Tamara Cox
The first librarian ever to be named a finalist for South Carolina's Teacher of the Year award (2018-19), Cox works to amplify the voices of school librarians as the legislative committee chair of the South Carolina Association for School Librarians.
Cox began her education career as a seventh-grade history teacher before completing a master's degree in library and information science in 2010.
"The 2008 recession really hit school budgets. We had lots of cuts to library staff all over the state. Starting my library career at that time showed me the importance of being aware of legislation and being involved in policy-making," Cox says. "Librarians have to speak up more and make sure that we're not forgotten in big discussions about education policy."
In her role as legislative chair, Cox monitors legislation to keep association members informed and organizes ways for librarians to share the positive impact of their work. She meets with lawmakers at both the state and federal level to increase awareness of the work librarians do and the effect they have on students' academic success. Cox also works with classroom teachers and students to increase civic involvement.
It's when she talks about her students that Cox's passion for her profession really shines.
"I just want to make sure that our kids have all that they need for a good education and that, to me, includes a staffed and funded school library. I tell my kids that if they're already a reader, then we're going to be great friends, and if they're not, I'm not giving up on them until they walk across the graduation stage. I'm going to be hounding them to try to connect them with a book that will change their mind. And I've had kids last quarter of their senior year finally find a book that they love," she says.
Finding solutions for a librarian shortage: Christy James
There were 19 openings for librarians in the Charleston County School District in 2017, the year James started her job as library and media services specialist, overseeing the district's library services. There were still four openings in August at the beginning of the next school year.
To James, that was unacceptable.
"The turnover (was) making it tough for us to work on anything beyond just getting spaces filled. We were in survival mode," James says. "We weren't able to work together to advocate for more funding, promote collaboration or focus on professional development."
To address the shortage, James worked with the district's chief human resources officer to create a program with UofSC that helps current teachers work toward an MLIS degree. In South Carolina, library media specialists are considered a high needs area, so candidates are allowed to get a job at a district library after they have finished 12 hours of courses while continuing to make progress toward the total of 36 hours required.
"The rigorous application progress is designed to identify top-notch instructional providers who have leadership skills and who are collaborative and tech savvy," James says.
Through the partnership with the university, two cohorts of 10 teachers in 2018 and 2019 started their degrees in January with the goal of getting a job by August. Fifteen of the 20 cohort members entered jobs as school librarians. A third cohort of five teachers started in January 2020, and several other districts in the state have joined in with similar partnerships.
The program helps with job retention because cohort members agree to stay in the school district for at least five years, and even though they are not new teachers, they are assigned a mentor and receive other support.
"By building our talent pool, I think the program has allowed schools to find librarians who are really a great fit and put the library at the center of learning to focus on creating a culture of readers," James says.
Empowering libraries to serve diverse populations: Caroline Smith
In her role as inclusive services consultant for the South Carolina State Library, Smith works with public libraries throughout the state to expand and improve service to underserved groups.
"You have this ideal of the library as a place where anyone can come and everyone's welcome, but seeing the reality, that's not always happening," Smith says. "In my previous jobs, I saw that people may lack skills for using the computer, or they could have a lack of literacy, language barriers or issues such as arthritis or memory problems that make it very difficult for them."
Smith draws on that experience to provide resources and training to other librarians around the state to be more inclusive for groups such as immigrants and migrant workers, the LGBTQ+ population and those with sight loss or other disabilities.
Recent opportunities include a series of American Sign Language webinars and an online library group to practice speaking Spanish and discuss outreach strategies and services for Spanish speakers.
For El Día de los Niños on April 30, Smith organized three virtual multilingual storytimes on Facebook Live with presenters who read in Spanish, Chinese and American Sign Language. She followed up by providing training resources and programming guides for libraries that wanted to offer their own multilingual storytimes.
An unexpected benefit of COVID-19, Smith says, is that library staff are more comfortable with online environments, which she hopes will allow her to better serve libraries in all corners of the state through virtual training programs and other online opportunities.
"I think it's empowering to librarians to have access to support from the state level, but the training sessions and events also connect them to their peers around the state," Smith says. "When I was working at a branch of a public library and trying to create new services to reach diverse populations, I sometimes felt like I was on my own. Now I can support other people who are doing that work."
---
Share this Story! Let friends in your social network know what you are reading about
---