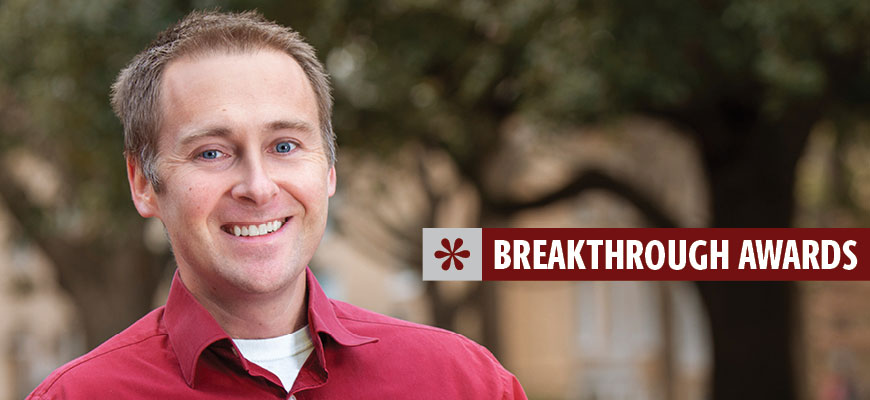 Breakthrough Star: Demetrius Abshire
Nursing researcher studies obesity among rural African Americans
---
By Chris Horn,
chorn@mailbox.sc.edu
, 803-777-3687
---
Demetrius Abshire has made plenty of hay in the field of rural health research in the four years since he joined the College of Nursing faculty.
The assistant professor was selected for the National Rural Health Association's Rural Health Fellows Program for 2019 and authored or co-authored 15 articles for high-impact journals in 2020 alone. The focus of his K23 career development grant from the National Institutes of Health addresses obesity among African American men in the rural South, an often neglected population that experiences multiple health disparities linked to obesity.
"Very little has been done to address obesity in rural areas, and the programs that have been implemented have focused exclusively or mainly on women," Abshire says. "We saw that as a huge need to learn how can we do a better job at engaging men in addressing obesity and preventing chronic diseases."
Abshire was the lead author on a policy paper about the state of the science on rural obesity and policies that might help address rural-urban obesity disparities. And he's using his NIH-funded research grant to advance not only his own research but also to mentor non-research faculty in conducting research with human subjects, says College of Nursing Dean Jeannette Andrews.
Students need to see how the content will play out in their careers … I try to make clinical connections and talk about scenarios that really challenge them to think about how they might use some of the content from the class in their practice when they graduate two or three years down the road.

Demtrius Abshire
"He has also mentored multiple undergraduate and graduate students on research addressing obesity, behavior change and rural health disparities," Andrews says. "Two of his undergraduate mentees have received Magellan Apprentice awards to work with him on his research."
Rural health isn't an abstract concept for Abshire, who grew up in the mountains of eastern Kentucky, a region with some of the nation's worst health disparities. South Carolina, with its 46 counties that each contain at least pockets if not large expanses of underserved residents, presented a broad opportunity for Abshire to apply his research.
"Plenty of my colleagues here share similar interests in rural health issues and rural health research," he says. "South Carolina was a good fit for me, especially from a research connectedness perspective."
In the classroom, Abshire is a big believer in making the content clearly relevant.
"The students need to see how the content will play out in their careers, and that's challenging in a lower-division, introduction to nursing course that students have a hard time getting excited about," he says. "So I try to make clinical connections and talk about scenarios that really challenge them to think about how they might use some of the content from the class in their practice when they graduate two or three years down the road."
---
Share this Story! Let friends in your social network know what you are reading about
---