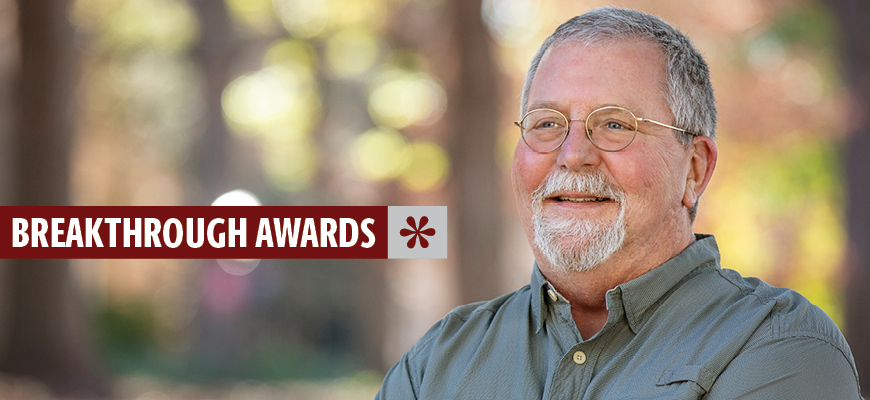 Breakthrough Leader: Jay Pinckney
Marine science professor Jay Pinckney has spent his career doing what he loves
---
By Megan Sexton,
msexton@mailbox.sc.edu
, 803-777-1421
---
Growing up in Orangeburg, South Carolina, Jay Pinckney spent a lot of time in the outdoors, hunting and fishing with his father. By the time he was in the eighth grade he knew he wanted to be a marine biologist, part of the generation fascinated by Jacques Cousteau's undersea adventures.
But his ties to the sea go back even further; he is the 13th generation of Pinckneys to grow up in South Carolina. The first Pinckney to settle in the Carolinas was a pirate, arriving in 1692.
Pinckney, a biological sciences professor in the College of Arts and Sciences and director of the Belle W. Baruch Institute for Marine and Coastal Sciences, has kept that connection to the ocean alive as a researcher, teacher and mentor. His has spent his career understanding the complexities of coastal and marine environments.
"I have been gifted with the tools and freedom to follow whatever I'm interested in. I think that's what makes this job a lot different from everybody else's," Pinckney says. "Very few people have true freedom to pursue their interests. That's what this occupation allows. And I've really enjoyed it."
After earning his undergraduate and master's degrees at the College of Charleston, Pinckney begin his doctoral work in the late 1980s at the University of South Carolina, spending some of his research time at the Baruch lab on North Inlet, near Georgetown, South Carolina. He remembers visiting the site in the days after Hurricane Hugo struck the coast in September 1989.
Pursue your dreams. It's not always an easy road. But ultimately, you'll be a happier and more fulfilled person if you can do that.

Jay Pinckney, biological sciences and marine science professor
"Anything that was human-built was devastated. But I had never seen the marsh look prettier than it did after that storm. The high water had washed all the mud off the Spartina grass. Everything was a bright green. All the animals were swimming around. It was life as normal," he says. "Then you turn your head around to see the lab. It was flattened. That's a picture that has stuck with me a long time. It was an impressionable moment. Nature has adapted to these events, and we haven't."
He's focused his research on the working of coastal ecosystems, with much of his work in the Lowcountry and Grand Strand of South Carolina, where the Baruch Institute offers the ideal venue for marine scientists to work in a relatively undisturbed ecosystem at North Inlet.
"How ecosystems work is interesting from a variety of perspectives. One of those is 'How do ecosystems respond when you disturb them?' (A person) catches a cold and your body responds; the same is true for ecosystems. And understanding those responses is fascinating to me," he says.
The Baruch Institute has been fundamental to Pinckney's career, offering the opportunity to research the healthy North Inlet ecosystem. Seeing what a healthy ecosystem looks like, he says, offers a baseline and lets researchers better understand what happens to a sick ecosystem.
It also has given him the opportunity to work with and mentor students and fellow scientists.
"I like for science to be fun. I enjoy assembling a group of really good people who I want to work with who are doing really cool stuff," Pinckney says. "That's a real positive in this job; I have the freedom to do that."
He also enjoys collaborating with other faculty members around the university, including a project he is working on with faculty members Alicia Wilson and Susan Lang. Wilson, director of the School of Earth, Ocean and the Environment, is a hydrogeologist who studies groundwater transport. Lang is a geochemist who studies hydrothermal vents in the deep ocean.
"I know nothing about those areas, but the three of us put our heads together and came up with a proposal to look at groundwater inputs on the continental shelf off Charleston. We were able to bring together three disparate disciplines to address an ecological question. That was a lot of fun."
For Pinckney, his childhood dream to become a marine biologist did come true — and it informs his message to others: "Pursue your dreams. It's not always an easy road. But ultimately, you'll be a happier and more fulfilled person if you can do that. I can't tell you how many people ask me what I do. And when I tell them they say, 'I thought about doing that.' Or 'I wish I had done that.' You should have. You should be out there doing what you love to do."
---
Share this Story! Let friends in your social network know what you are reading about
---