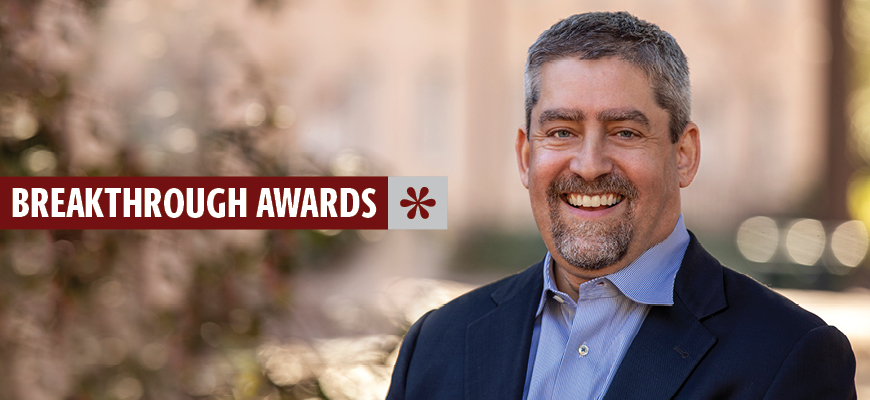 Breakthrough Leader: Joel H. Samuels
Law professor works to preserve rule of law, access to justice at home, around the world
---
By Page Ivey,
pivey@mailbox.sc.edu
, 803-777-3085
---
University of South Carolina law professor, and now interim dean of the College of Arts and Sciences, Joel Samuels works to preserve the underlying principle that holds societies together: the rule of law.
"If you search for a through-line, what you will find is that my work lies at the intersection of the practical and the theoretical," he says.
As part of his scholarly work in the field, Samuels has served as director of the university's Rule of Law Collaborative since 2014, where he has had the opportunity to mentor younger researchers in law and other disciplines in their efforts to address challenges to rule of law and access to justice at home and around the world.
"Over the past six years, the team at the Rule of Law Collaborative has worked to strengthen protections against government overreach in countries around the world, helping to ensure that rule of law is respected," he says.
Samuels, who has spent a combined total of more than six years living in countries across Sub-Saharan Africa and the former Soviet Union, has seen firsthand what a breakdown in rule of law can mean. While in college in the 1990s, he wrote for a Russian newspaper about organized crime and government corruption. In 1995, he worked for the World Bank in Zimbabwe and witnessed the start of Zimbabwe's economic collapse as a result of the failure to preserve the rule of law and protect citizens from government overreach.
Now, as director of the Rule of Law Collaborative, Samuels leads a variety of projects, including one that is working to improve access to justice in countries that make up the g7+ — a group of countries that have faced major conflict and political instability — countries like Afghanistan, Yemen, Sierra Leone, Somalia, South Sudan, and Timor-Leste.
"When you start thinking about those countries,the common demoninator they share is tremendous instability and fragility," Samuels says.
"What many leaders and foreign donors fail to see, however, is that weak access to justice is actually one of the biggest contributors to that insecurity and instability. In some cases, where the state fails to ensure access to its own system of justice, insurgent forces gain support for their movements by offering their own versions of so-called justice to local people."
If you search for a through-line, what you will find is that my work lies at the intersection of the practical and the theoretical.

Joel Samuels
In the g7+ countries, Samuels and his team at the Rule of Law Collaborative have worked with ministers of justice to develop projects that focus on access even during times of political instability.
"To give an example of the holistic way in which we try to think about the rule of law, we talk about literacy. How do you help populations with low levels of literacy? How do you use formal legal systems if citizens don't have the basic tools necessary to navigate them?"
Closer to home, several years ago, Samuels helped to organize a conference that looked at the conflict between law enforcement and African-American communities in the United States. From that conference, follow-up projects have been developed in Ferguson, Missouri, and Oakland, California in an effort to understand how African American communities and law enforcement engage and to seek models for engagement.
Samuels has also led the development of programs through the Rule of Law Collaborative that train U.S. government personnel working on rule of law reform activities in a variety of different agencies, as well as judges and lawyers in Ukraine, to do their jobs more effectively and play a part in upholding rule of law.
Through the Rule of Law Collaborative, Samuels has also made efforts to develop the skills and knowledge of scholars and practitioners in the rule of law field.
"Joel spearheaded ROLC's Emerging Scholars Workshops, which paired ROLC faculty associates with junior scholars to help them workshop their research and build a network of peers and mentors," says Kiel Downey, research director at the Rule of Law Collaborative, which has received grants and research budgets of more than $12 million since 2014.
"Based on personal experiences — both positive and negative — I believe deeply in the value of mentoring," Samuels says. "My mentoring philosophy starts with remembering how it felt to be a new lawyer and later a new professor, and to remember the places where it would have been helpful to have someone to provide guidance and advice on matters both big and small. At the same time, to me, mentoring is about much more than just the scholarly enterprise; it's about the whole package, thinking about the impact of the work we do on our communities, whether those communities are local or global."
He says that one key role model and mentor in his life was the Rule of Law Collaborative's founding director, Gordon Smith, who helped Samuels develop his own leadership style.
But he points to another unique experience — coaching a women's roller derby team in Columbia for seven years — that helped flesh out that style.
"What I learned from that experience was to coach the things that I knew, but I didn't overstep and try to the things that I didn't know," he says. "I don't even know how to skate. So the players worked with each other on technique, while I focused on strategy and team-building. Roller derby also taught me important lessons about inclusive decision-making and governance. The ethos of roller derby is 'For the skaters, by the skaters.' What that means for the coach is that you're the final decision-maker, but not the ultimate authority, so you have to make decisions thinking not only about what you would do, but also what the group would want as a whole. Without a doubt, that experience in roller derby was the best training I have ever gotten for leadership."
---
Share this Story! Let friends in your social network know what you are reading about
---