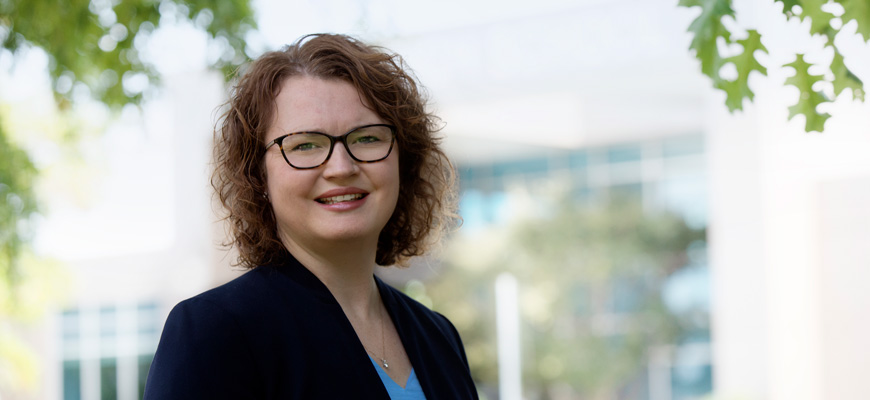 Hindsight 2020: The teacher
Gamecocks reflect on how COVID-19 changed their jobs and how they work
---
By Megan Sexton,
msexton@mailbox.sc.edu
, 803-777-1421
---
This summer, Carolinian magazine reached out to a cross-section of alumni, faculty, staff and students to ask how the COVID-19 pandemic has changed their work, and their workplace philosophies. College of Education alumna Amy Carter teaches English at Chapin High School in Lexington-Richland School District 5 and is the 2022 South Carolina Teacher of the Year. "A lot of people say, 'Oh, the teaching hasn't been that great.' I'm going to take an issue with that," she says. "With all the moving and changing, it is kind of impressive to think we've taught four different ways in the span of a year and a couple of months."
The interesting thing about the past year and a half is that there is no autopilot. There's no resting on your laurels and pulling out that lesson that has always really worked well. You really do have to reinvent the wheel.
Teachers who are less fearful of technology tended to be the front runners. For teachers who are more hesitant with the technology, I think this has ripped the Band-Aid off a little bit so that people are more willing to try new things. I think a good thing that's come out of this is it has made technology a little less intimidating for a lot of educators.
Good teaching works no matter what medium you're in. When the kids walk in my room, I try to say hello to each of them by name. You have to translate that by just saying good morning by name to each of them as they populate your computer screen. There's something very intimate about someone saying your name. You feel more welcomed into the community, wherever that is. It's confirmed that idea that human connection has to happen before that digital one does.
I'm a big believer in the power of the moment. Moments matter to people. And if you celebrate even the small moments like the beginning of school or transitions in the school year or the end of something, you tend to create a culture in your own space and that makes people more willing to work together. That has been something that I've been trying to pay attention to as we do school differently. Maybe it's February in a class of seniors and instead of starting with an English lesson, you just talk about what everybody is thinking about for their next steps. College, career, military — where is everybody headed?
I'm not saying that you shouldn't teach content. You absolutely should. But we're trying to make them learners and discerners of information. And so, when you do break the script and have those moments of conversation and human connection, when you see them in a coffee shop 10 years later they'll say, 'Hey, remember when you let us hang up our college plans on that bulletin board?'
I teach teenagers, and teenagers are masters of conformity. They don't want to stand out too much. And I tell them when you take a few steps out of the line and you do something that is impressive or shiny or magnetic, people will naturally follow you. That's what we've all had to do this year —everybody. We've just all had to be innovators.
---
Share this Story! Let friends in your social network know what you are reading about
---