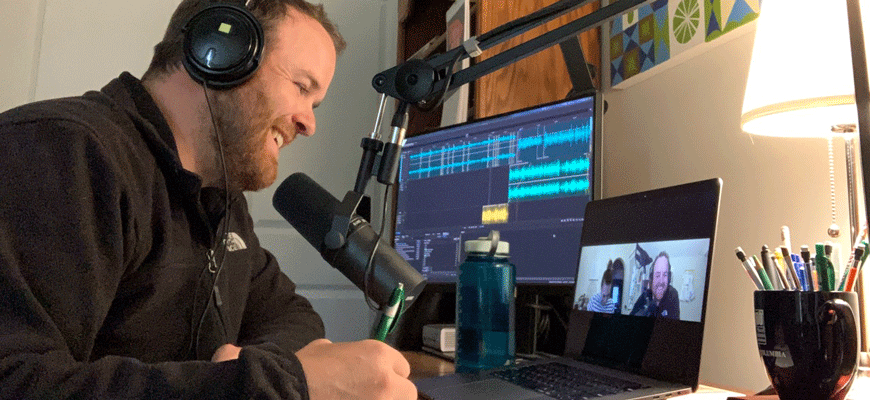 Podcast bridges the gap between students, real-world opportunities
---
By Matt Edwards
---
Pandemic or no pandemic, job searching can seem like a tall order.
Visual communications instructor Jason Porter acknowledges students can be anxious and second-guess their abilities when the time comes for them to enter the real world.
"I think when students look at careers post-graduation, there is sort of an ivory tower look to it," he says. "They may think, 'Oh, I can't get that job. I'm not qualified. I'm not good enough.'"
But Porter also knows his students are talented and deserving of the dream jobs they've worked hard to prepare for. That's why he makes careers more accessible to them by welcoming guest speakers into his classroom.
When the COVID-19 pandemic put a halt to in-person classes in spring 2020, Porter launched his Let's Get a Job podcast as a way to continue sharing guest speakers with students.
In each episode, he interviews guests who work in creative media fields such as augmented reality, visual journalism, graphic design for athletic apparel, animation design and wedding photography.
"The guests are all based on the jobs students want, and I try to stick to it as close as possible," he says. "If a student says, 'I'm interested in moving to Nashville, and I'm really interested in art direction,' I want to specifically try to find an art director in Nashville who's doing the type of work they want."
Porter strives to capture the guests' perspectives on how his JOUR 560: Capstone Portfolio Development students can get started in the industry and what it will take for them to achieve continued success in their careers.
One of his favorite aspects of hosting is the interview process, which he excitedly says has allowed him to talk to some of his own design "heroes."
"Last semester I talked to a design duo whose names are Adi Goodrich and Sean Pecknold, and I am very much obsessed — I have a professional crush on Adi's work," Porter says. "So, the idea that a student was interested in the type of work they were doing, I was like, 'This is amazing.' I could not only answer questions for the students but also get to meet some of my design inspirations."
Although Porter teaches fewer than 20 students in his Capstone Portfolio Development course, each episode of his podcast gets listeners from all over the country.
One of those listeners is Kayla Reese, a December 2020 graduate and Fremont, Nebraska, native who has landed a job as an associate graphic designer with Gallup Inc.
After transferring to South Carolina from the University of South Dakota, Reese found her niche in the visual communications sequence in the School of Journalism and Mass Communications and ultimately had Porter for two out of four classes in her final semester.
Porter strives to inspire students like Reese however he can and help open doors for them — even if they don't know those doors exist.
After Reese listened to the episode featuring TV and film graphic designer Megan Greydanus, she reached out to Greydanus to learn more about her career — a niche field within graphic design the podcast introduced Reese to.
"I still listen to the podcast and I'll continue listening because I have learned so much about different kinds of jobs," Reese says. "I've always been super interested in the film industry, so I reached out to her to ask her how she got into the field."
Although Reese took a lot away from Porter's classes — namely his augmented reality and portfolio development classes — his impact on her extends beyond her time at the University of South Carolina.
"Even if I am not trying to go into a field that one of the guests on the podcast are in, I am still really interested in listening to it because it inspires me and motivates me to continue pursuing what I want to do," Reese says.
Porter finds pleasure in knowing his podcast allows him to play a role in the professional development of students like Reese.
"I've had multiple students tell me that there is a career path that they had not considered based on somebody who was interviewed and that they were going to reach out to that person," Porter says. "Then the guests will reach out to me to tell me a student reached out. It's amazing. We're connecting the circle of careers here, and I get really excited about that."
---
Share this Story! Let friends in your social network know what you are reading about
---