Nine years ago, a pair of interns from the University of South Carolina walked the streets of Amsterdam as part of the Anne Frank House international youth conference that they helped plan. Today, those interns — Morgan Bailey and Coy Gibson — serve as director of educational programs and outreach and director of finance and operations, respectively, at USC's Anne Frank Center, the Anne Frank House's official partner in the United States.
When Bailey returned from the Netherlands nearly a decade ago, the seed was planted for a dream that would come to fruition this August. Thanks to the team at the Anne Frank Center, a grant from the Claims Conference* and a generous private donation through the Anne Frank Center USA, the center launched its first national Anne Frank Youth Conference this August for students interested in expanding community-based Holocaust education.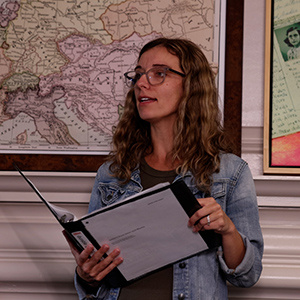 The group of students — 19 high school and college-aged students hailing from South Carolina, North Carolina, Nebraska, California, Louisiana and Ohio — arrived for the conference in Charleston, where their agenda was packed with interactive activities designed to foster engagement with history. The Lowcountry was the perfect place to start the conference.
"We had people here from all over the country, so we didn't want to lose the opportunity to expose them to the local history," says Bailey.
While in Charleston, the group visited the state's oldest synagogue then toured the International African American Museum and McLeod Plantation on James Island. They also took a walking tour of the city, learning about key Jewish sites, visiting the Charleston Holocaust Memorial, and joining Holocaust survivors and their families for dinner.
Eye-opening experiences
For Mason Guy, a Black Air Force ROTC cadet from Baton Rouge, Louisiana, Charleston provided an entry point into Holocaust education that resonated deeply. "I plan to take back to my community an open mind and share more about the Jewish-American culture, but also African American culture. The two can come together to build prosperity."
The opportunity to draw connections between his experience as a Black man and the experiences of Jewish people has been transformative. "Touring McLeod Plantation was a very eye-opening, deep and personal experience. I've learned more about my culture," Guy says. "The similarities that I've seen are the plights: particularly the discrimination, the racism, the overall antisemitism and antiblackness sentiment throughout the globe," says Guy.
Some students came to the conference already deeply immersed in Holocaust education. Eliana Spector, a student from Charlotte, North Carolina, served as a docent for a traveling exhibit that the Anne Frank Center sent to her hometown. Her passion for community education is personal: As a Jewish woman, she leads weekly Holocaust education at her religious school and even spoke at a panel session for the Anti-Defamation League.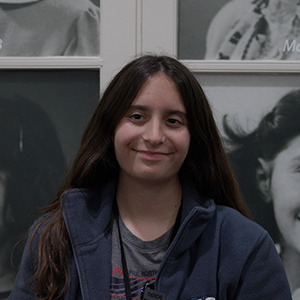 Her interests drew her to South Carolina for the conference, where she looked forward to meeting a diverse group of students passionate about the same goal.
"Education is one of the ways we stop misunderstandings. That's one of my biggest goals: to educate on the Holocaust but also Jewish culture and heritage." she says.
Like Spector, Hector Estrada's involvement with the Anne Frank Center began with a traveling exhibit in his hometown. Having emigrated in his early childhood from Mexico to Taylor, Nebraska, Estrada had to navigate elementary school initially without speaking English. It was a challenge, but he felt lucky to have been accepted into his community with open arms — for the most part.
Some of his classmates were less understanding than others. "Going through those things fueled my fire," he says. "I learned English really fast, people welcomed me, but for some kids it's not like that. It's important to show other kids that they need to welcome someone that might be different from them."
Now, Estrada stresses the importance of peer education, recognizing the social pressures that make it difficult for young people to speak out and work toward change. He particularly enjoyed learning from Donna Tarney, the Anne Frank Center's education specialist, who provided skills students could implement during difficult conversations — a training extremely relevant to his own journey.
Tools for the future
Students left the conference with useful skills, lasting memories and even tangible action plans. Thanks to the grant from the Claims Conference, each group of students, designated by geographical proximity, will receive a fully funded traveling exhibit during the coming school year to train local students in the peer education model employed by the Anne Frank Center.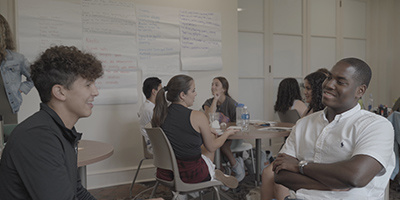 Bailey hopes that by empowering students to bring exhibits to their own communities, they will develop leadership skills and take pride in providing a transformative educational experience to schools that lack the resources to offer these sorts of programs.
She is thrilled by the success of this year's conference and eager at the prospect of what is still to come. The Anne Frank House in Amsterdam hosts international youth conferences every other year, and Bailey hopes to launch an international conference to host Anne Frank House student affiliates at USC in the off years. "It's exciting to think about how what we've just done is going to be the start of something," she says. "Hopefully, it'll keep growing from there."
---
* With Assistance from the Conference on Jewish Material Claims Against Germany Supported by the Foundation Remembrance, Responsibility and Future and the German Federal Ministry of Finance