---
During the past two years, the University of South Carolina and the College of Pharmacy have put much effort into keeping our campus and our community safe throughout the COVID-19 pandemic. That includes providing testing for the university's entire athletic community.
Carolyn Banister, Ph.D., director of Diagnostic Genomics Laboratory, and her team of staff, graduate students and undergraduates have worked tirelessly to process thousands of saliva tests for all of university athletics, including team members and athletic coaches and staff.
"The COP has not been in the business of supporting athletic endeavors for the university," Banister says. "I am so pleased that through this pandemic, we have been able to allow students, faculty and staff to engage in very important sporting activities that help with mental well-being and physical strength and social activities that would not have been possible in a safe manner without routine testing."
And as the number one ranked UofSC Women's Basketball team advances to another Sweet 16 in the NCAA tournament, Coach Dawn Staley shared her appreciation for the on-campus testing availability.
"The health and well-being of players – on the basketball court and off it – have been top of mind throughout my career, but that hit a new level as we brought them back together during the COVID-19 pandemic. We are a team that took the responsibility of keeping each other safe extremely seriously, and one of the key tools of that for us was the ability to have everyone in our program regularly tested right here on campus in a more non-invasive way. That convenience and confidence allowed our team to keep more of its focus on basketball and school and allowed them to be successful in both through the last two years," says Staley.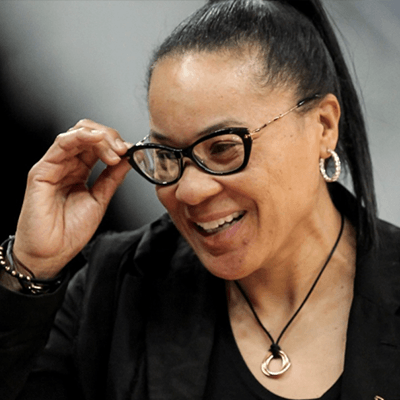 "It's one thing to have to do nasal testing once a week, but to have it every day for seven days, it helped our athletes to be able to do the saliva test, as swabbing can cause damage to the nasal cavity," Banister notes. "In preparation for the women's basketball team to enter the NCAA bubble last year, they had to be tested seven days in a row. They were appreciative to do the spit test rather than nasal swab."
Senior Associate Athletic Director and Director of Sports Medicine John Kasik says the efforts provided by the College of Pharmacy are invaluable as, at the height of the pandemic, athletics conducted approximately 1000 saliva tests weekly, including athletes and staff.
"We were able to have all of our athletes surveillance-tested weekly in an effort to reduce the spread of the virus," he says. "Getting results quickly enabled us to have positive individuals isolated before they could potentially spread the virus to other members of their team or department. This was paramount in our ability to have athletes and staff available for practices and competition."
The saliva test developed by the College of Pharmacy was helpful for teams not in season and not in SEC competition when nasal swab testing was required per the SEC.
The NCAA has updated its COVID-19 testing guidance, and surveillance testing is no longer required for student athletes who are fully vaccinated or show documentation of a COVID-19 infection in the past 90 days; however, university guidelines still require monthly testing for all students, faculty and staff.
---
Topics: Diagnostic Genomics Laboratory, Novel Coronavirus (COVID-19)