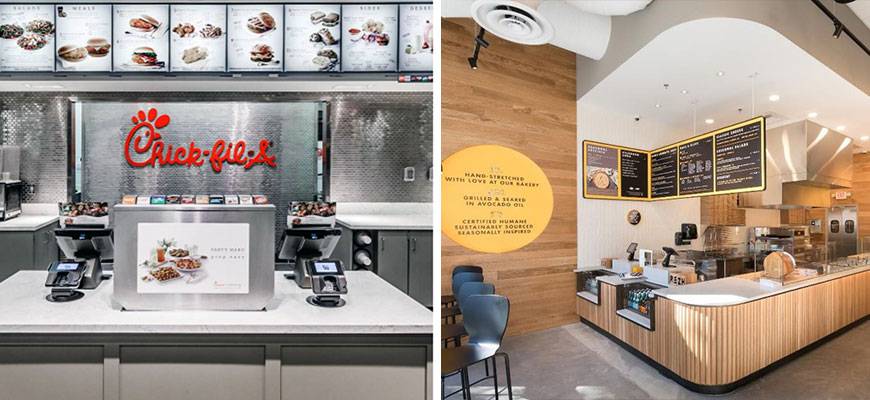 Russell House renovations to yield new spread
National brands Panera, Chick-fil-A, others coming
---
By Koby Padgett,
kpadgett@sc.edu
, 803-576-6701
---
The University of South Carolina community has a full slate of exciting new options of food choices coming this fall to a renovated Russell House.
After the spring semester ended, the dining area on both the first and second floor closed. That made areas around the Russell House inaccessible as construction crews work on the space that will bring 10 new options for the community to enjoy. One big change will be the checkout system, which will go to a checkout from each location instead of from central locations.
National brands Chick-fil-A and Pei Wei, a fast Asian-inspired concept from the same company as P.F. Chang's, as well as Olilo by Cat Cora, a new fast-casual Mediterranean concept, and the Congaree River Smokehouse, which will offer smoked and grilled meats among other options, will occupy the first-floor spaces. The new options on the second floor include the following:
Oath Pizza, a build-your-own-pizza concept that is based in Boston and is opening its first location south of the Washington, D.C., area.
Twisted Taco, a Tex-Mex concept that started in Atlanta and has grown to over 15 locations, including an ever-expanding reach onto college campuses.
Two holdover concepts, the Horseshoe Deli and Southern Kitchen, move from the first floor.
The first signs of the new work began the first weekend of May, as the Topios space was closed. Coming in that area will be a full-service Panera Bread as well as an ice cream shop to be named. The frozen treats concept is a collaboration with Lowcountry-based Wholly Cow Ice Cream that will feature special flavors made just for the Carolina community.
Einstein Bros. Bagels will continue in its second-floor location.
This summer, Aramark will have other campus locations open, including Preston's at Noon in Gibbes Court Bistro, Counselor's Café in the law school, Hampton St. Café, Global Café (opening June 4) in the Darla Moore School of Business, Einstein Bros. Bagel in the Russell House and the two Starbucks locations.
---
Share this Story! Let friends in your social network know what you are reading about
---