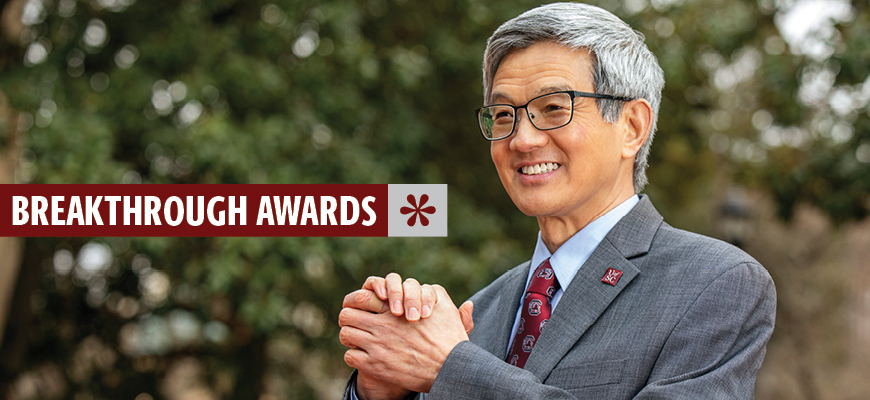 Breakthrough Leader: Xiaoming Li
Public health professor is all-star of research, mentoring
---
By Chris Horn,
chorn@mailbox.sc.edu
, 803-777-3687
---
If Xiaoming Li was a professional athlete instead of a public health professor, he would make the All-Star team every year.
Since joining the university in 2015 as director of the South Carolina SmartState Center for Health Care Quality, Li has authored or co-authored 179 scholarly publications and instituted an interdisciplinary campuswide Junior Scholar program that has successfully trained 41 doctoral students from different disciplines.
He has also garnered large NIH research grants that have made him an internationally renowned leader in HIV/AIDS research, scholarship and education.
"He challenges his students — ranging from undergraduate junior scholars to postdoctoral fellows — to think imaginatively, critically and analytically," says Arnold School of Public Health dean Thomas Chandler. "In turn, these students leave our program as accomplished scholars and secure impactful positions in academia, nonprofits, and national/international agencies advancing knowledge about HIV/AIDS and other critical issues of public health and health care."
Many of my trainees have become academic leaders and independent researchers in the U.S. and other nations.

Xiaoming Li, public health professor
Li has worked with interdisciplinary teams of clinicians, psychologists and other health care professionals for more than a quarter century in the social and psychological aspects of HIV/AIDS, the HIV treatment cascade, mental health, child development and research training in both domestic and international settings.
He has been principal investigator on 23 extramurally funded research projects — 19 from NIH — and co-investigator on more than 35 extramurally funded research projects. Currently, he is funded by NIH to study both HIV treatment gaps and the COVID-19 pandemic in South Carolina by using statewide electronic health records and big data analytics. His work in these two areas is instrumental in understanding how big data science can advance important discoveries in disease surveillance, transmission, natural history and progression important for treatment and necessary for targeted intervention purposes in the state.
During his career, Li has served as primary mentor for more than 142 junior researchers, including 51 pre-doctoral students, six doctoral students, 39 post-doctoral fellows, 30 visiting faculty members and 16 junior or middle-career faculty.
"Many of my trainees have become academic leaders and independent researchers in the U.S. and other nations," he says. "We are fostering the next generation of researchers through high-quality research training programs and developing new programs that will improve the university's regional and national standings."
---
Share this Story! Let friends in your social network know what you are reading about
---