Data Stewards oversee the capture, maintenance, storage, use, and dissemination of University Data and Information for a particular function or operation; they may be considered System Owners for stores and systems they purchase, operate, or contract with a third party/service provider to operate and/or host (University Policy UNIV 1.51). They execute key functions in three intersecting spheres.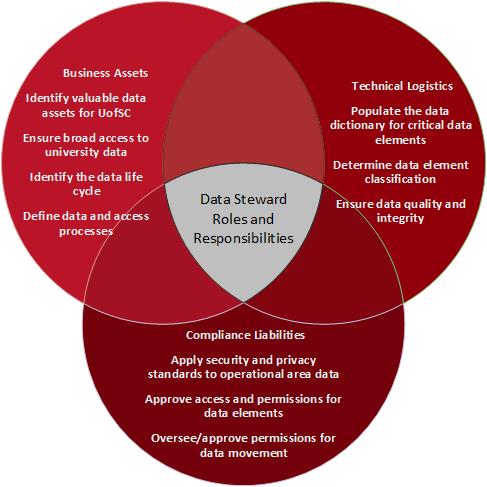 Data Steward Program Manager:
Sue Porter serves as the Data Steward Program Manager for the Division of Information Technology at the University of South Carolina to support the Data Steward community as they oversee university data care and use. She works with university data stewards to ensure that they understand their data oversight roles and tools, business processes, and best practices that can be used in fulfilling their responsibilities. With a degree in Management Science and more than 30 years of experience with University of South Carolina enterprise information systems, Sue brings a familiarity with the university community and an understanding of critical data systems that will facilitate the establishment of a robust data stewardship practice.