Students who pursue a Master of Fine Arts degree in Scenic Design at UofSC embark on an intensive program of high-level study and production work. It all culminates with an internship in the professional world that puts what they've learned into real-world practice. For scenic design candidate Mona Damian Ulmu, the experience led to an entire academic year of work with a pioneering experimental theatre and recognition in The New York Times.
She interned at the legendary LaMaMa Experimental Theatre Club (LaMaMa E.T.C.), an Off-Off-Broadway venue that for over 50 years has helped to nurture the artistry of such notable figures as Lanford Wilson, Harvey Fierstein, Sam Shepard, and Julie Taymor. When the theatre received a Regional Theatre Tony Award in 2018, the American Theatre Wing called it "a staple of the New York theatre scene" and "an exciting space where artists can grow, create, and push boundaries."
That's just what Mona did, working at full force on several productions in a wide variety of capacities, from scenic painting and decorating to costume, hair and make-up design. For one recent show, the fantastical Misdemeanor Dream by feminist-indigenous ensemble Spiderwoman Theatre Company, Mona assisted with scenery and costume/hair/makeup design, helping to create a fairy world that wove together native myths and personal stories. She ended up getting a mention in The New York Times as a result, with a reviewer calling one particular "best-dressed" creation "a cosmic star-spangled dress with sleeves adorned with what look like tiny wind chimes hanging from her wrists; every movement of her arms is accented with an airy tinkle and chime."
Below, Mona answers a few questions about the amazing opportunity, her action-packed year, and her plans after completing her degree.
How did you get the opportunity to intern at LaMaMa and how long was the internship?
I was recommended for an internship at LaMaMa by my mentor, professor Nic Ularu, the Head of the MFA Design program, who constantly collaborated with this institution for about 20 years. Usually, LaMaMa offers short, office-related internships, but I was accepted to work closely with the technical director for the whole academic year and was involved in all the projects developed at this theatre.
Was Misdemeanor Dream your main focus or have you been working on other productions? What other duties or work have you done with them?
LaMaMa is one of the most known experimental theatres in the world that hosts and co-produces many shows. Due to the specifics of the theatre productions presented during the season, I have worked in different positions. I collaborated as a stagehand, and I was involved in the technical preparation of the shows presented at the International Puppets Festival and various other plays. I worked as a drafter for some sets and had the opportunity to be involved in creative teams for many productions, such as creating canvas and mural paintings for the play The Indigo Room by Timothy WhiteEagle; set art and set assistance for Theodora Skipitares's play Grand Panorama; set assistance and set art for the production Cannabis! A Viper Vaudeville; set decorator for Christmas in Nickyland; and costume assistance for Gabriel Berry in Balkan Bordello [the most recent production at the time of the interview - Ed.]. For the last production, Misdemeanor Dream by Spiderwoman Theatre, reviewed by The New York Times, I made the 2D Vectorworks drafting, the set arrangements, costume design, and the hair and make-up.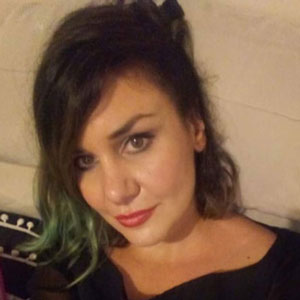 Can you describe the intention of your designs for Misdemeanor Dream?
The nature-inspired characters in Misdemeanor Dream dictated the essence and the symbolic elements in creating the costumes. Characters such as Tiger Badger (a human-animal connection embodied in one creature), Super Badass Senior (a scarred fierce superhero), or Root (a combination of earth and natural elements) were very inspiring. The play's characters, who live on the border of natural and supernatural, fantasy, dreams, fairytales, and reality, allowed me to design fantasy costumes, hair, and make-up.
What was the design process like?
I collaborated on Zoom with a design team located in Canada for the set. I designed the 2D drafting in Vectorworks and adapted it for the stage of LaMaMa. It was an amazing experience, a great exposure to the Native Culture, world, traditions, and an opportunity to be a part of a fantastic team to accomplish a complex work that allowed me to practice all I learned as an MFA student in theatre design at UofSC.
What has been most inspiring or influential to you during your time at LaMaMa?
The most influential and significant gain as an intern at LaMaMa E.T.C. was their openness to introduce me to various theatre productions. I had the opportunity to meet and work with many directors and designers, a diversity of worlds that artistically collided and definitely changed and broadened my vision and perception of contemporary American theatre. This internship with a theatre company in New York City taught me a lot about the making of a production in a professional venue. Besides my design collaboration, I also participated among 50 other artists in the LaMaMa Family Show Winter Exhibition at LaMaMa Galleria with a pastel chalk costume rendering.
What are your future plans after completing your internship at LaMaMa?
My plans are to use the theatre and film experience I gained in Europe and the University of South Carolina. I intend to continue working in theatres here in New York and maybe in the film industry. I want to exhibit more of my art, individually and in groups, and enhance my expertise area to make a living as an artist.