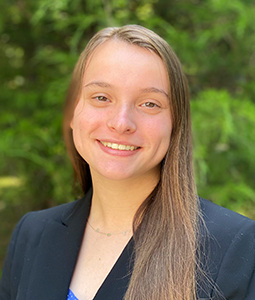 Emily Frame, Class of 2026
Emily Frame is from Powhatan, Virginia, and completed her prerequisites through the Gamecock Pharmacy Assurance Program at the University of South Carolina. She always knew she wanted to pursue a career in the sciences and decided to pursue pharmacy after completing a mentorship program in human genetics laboratory research. Emily is interested in a variety of fields including compounding pharmacy, veterinary pharmacy, forensics and toxicology, and oncology pharmaceutical research.
Having been awarded a Magellan Scholarship for the 2023 academic year, Emily does research in overcoming breast cancer resistance in the Center for Translational Cancer Therapeutics under Dr. Eugenia Broude and Dr. Amanda Sharko. She also serves as a Teaching Assistant in the Compounding and Community Labs and as a mentor in the USC College of Pharmacy Mentorship Program. Emily is involved with the Beta Theta chapter of Phi Delta Chi and the USC chapter of the American Pharmacists Association Academy of Student Pharmacists.